Cozy cocktail spots: Chicago isn't done with the chilly weather just yet, so here are a few favorite bars and lounges to warm up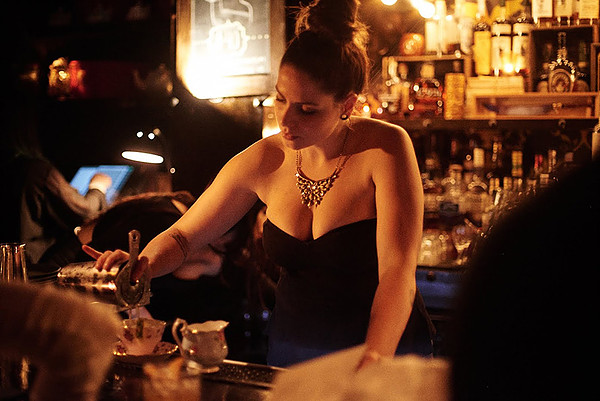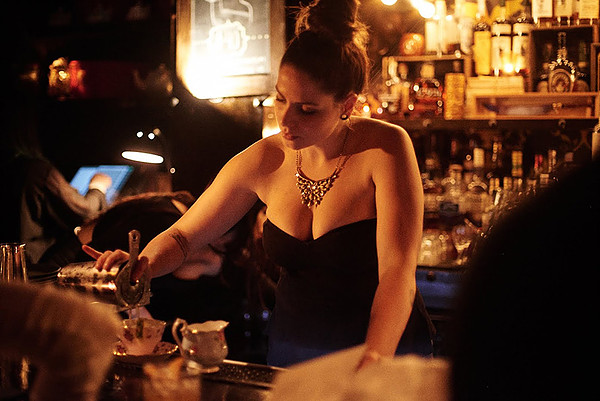 Located along Division street above Black Bull restaurant is a swanky prohibition-themed speakeasy or, as the locals call it, a neighborhood bar. However you like to label Bordel, one thing for sure is that it is cozy. Whether you mosey up to the bar or get situated in one of the maroon velvet booths, it's bound to stop you in your tracks as you take in the stylish and lavish setting. Bordel's craft cocktail creations are very unique and well thought out thanks to a knowledgeable staff. Being able to order off Black Bull's food menu is a bonus. Whether it's a DJ, live jazz, magician or burlesque show, Bordel seems to stand out on its own and is also one of my favorite cozy places in Chicago.
For my second pick, although this establishment is a known restaurant and bar, I can't help but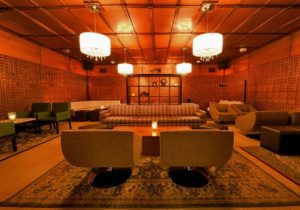 to visit their lounge, and as much as I try to shy away from it, it reels me in every time. The coziness of the lounge in the vault at The Bedford is the perfect place for an intimate gathering over cocktails. The low lighting and comfortable furnishings set the perfect seclusion that makes you feel like a million bucks. Maybe because the walls are still adorned with the original safety deposit boxes from the bank that used to occupy the space. Rotating DJs and live music acts make the scenery and vibe complete, but let's not forget their upgraded mixology program, weekly specials and superior staff that impresses me more with each visit. Who would've thought one of the coziest places to hang out at would be in a former bank vault? Certainly not I, but it has left a mark in my book.
— Luis Torres
The coziness of the lounge in the vault at The Bedford is the perfect place for an intimate gathering over cocktails.
During cold Chicago weather, Duke of Perth is lively, warm and packed — even on a Wednesday. Known for their all-you-can-eat fish and chips and large selection of whiskeys, this Lakeview spot is the epitome of cozy. The dark wood tables are candlelit and close together, emphasizing the intimate setting.
In addition to their classic Scottish dishes like bangers and mash, they also serve a variety of burgers and salads as well as traditional pub-food appetizers. Their drink menu is as long, if not longer, than the food menu, especially when it comes to beer and whiskey. For the experienced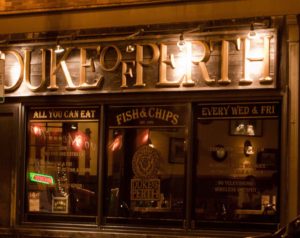 drinker, the whiskeys are listed by price as well as the region of origin. Flights are also available for those who want to sample or share a few different selections.
Manager Mike Millar says his favorite thing about the place is that "we're a family, in every sense of the word." The coziness is exemplified by the friendly staff and the commitment to an authentic Scottish pub feel. The decorations on the wall range from vintage beer posters and a farmer's scythe to model ships and old newspaper cartoon cutouts.
There are three options for seating: stools at the bar, long wooden booths, and tables and chairs that can easily be moved to accommodate larger groups. At night, it's perfect for meeting up with friends or a casual date, but during the slower early hours (it opens at noon) it's great for relaxing with a beer or eating a filling lunch as you catch up on emails.
Though it's definitely a great wintertime destination, the patio is open in the warmer months, making for a surprisingly quiet lunchtime spot.
From the outside, Duke of Perth looks like a haven for those seeking a warm escape during Chicago's brutal winters. And a bonus if you're looking to break from the norm: Unlike most other bars in the Lakeview and Wrigleyville area, the refreshing lack of TVs is advertised on the window.
— Kelly Cunningham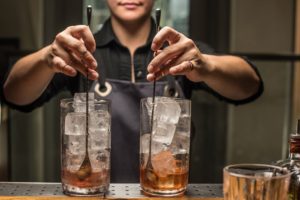 Drama Queen, Chorus Girl and Lawmaker are just some of the ingeniously named cocktails at The Annex, or as I call it, the speakeasy in the sky. The Annex is part of GreenRiver, a restaurant at 259 E. Erie. It's a delight to watch the bartender make these unique and intoxicating cocktails, but it is also delightful to watch snow come down over this beautiful city from this 18th floor gem. It's a winter/spring equivalent to a rooftop lounge. It's small, cozy, warm and only open Thursdays through Saturdays. Do not miss it.
— Jan Viscum
The thing that makes Queen Mary Tavern exceptional is that they do both ends of the cocktail spectrum very well — everything from fun, fruity cocktails to stiff, boozy drinks.
The Chicago Athletic Association Hotel is very unique, as it welcomes the public to lounge and explore multiple bars and restaurants within the historic hotel property. In the Drawing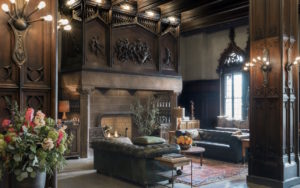 Room, visitors can lounge on one of the sofas by one of three fireplaces and nibble on shared plates surrounded by cozy Edison light bulbs that were introduced to the world during the Columbian Exposition. In the next room is the lively Game Room with elevated snack foods and live gaming, such as a pool table, foosball, chess and checkers. The Cherry Circle Room (winner of a James Beard Award) would be the spot for fine dining in a beautiful, sleek and ultra-private atmosphere (no window = no peeking). Being a Paul McGee space, CCR is a must for at least one cocktail. If time permits, a stop at the wildly popular Cindy's Rooftop (open year-round) for pastries and drinks (their hot chocolate is exquisite and plentiful). These can be enjoyed while checking out the lakeside view and Millennium Park people watching, which really gives visitors a true sense of downtow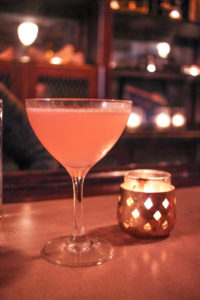 n Chicago.
— Flor Sigaram
Queen Mary is the best cozy spot to bring a date because their long bar is designed so that people can sit on both sides. In other words, you can sit across from your date. Genius, right? The thing that makes Queen Mary Tavern exceptional is that they do both ends of the cocktail spectrum very well — everything from fun, fruity cocktails to stiff, boozy drinks.
— Kit Graham, The Kittchen
Think red leather and dark wood, and the venerable Coq d' Or in the Drake Hotel comes to mind. Serving drinks since the repeal of Prohibition, (whisky was 40 cents a glass back in 1933), the Coq d' Or is a Windy City institution. New to the Gold Coast is another cozy bar, La Storia, also with red leather, dark wood and an Ed Sorel mural. Two classic bars to relax, unwind and celebrate.
— Andrea Behrstock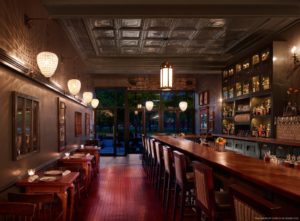 My favorite cold-weather bar is definitely Billy Sunday in Logan Square. In fact, I tend to only go there in the fall and winter because it just screams cozy to me. The bar itself is intimate, dark and warm, and the drinks are quite stiff (they make the best old fashioned). The last time I was there it was snowing outside, and I loved enjoying a cocktail and snacks while looking out the window.
— Amanda Topper, food blogger at The Ghost Guest and Thrillist