First Look review: Green Day-inspired punk rock opera "American Idiot" provides an eye-opening experience of political unrest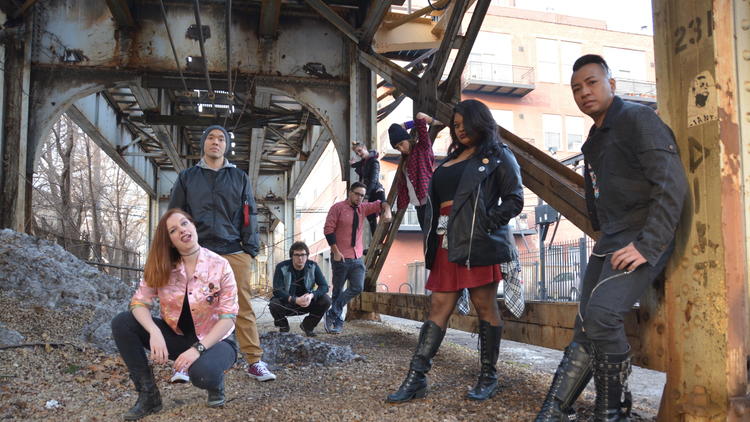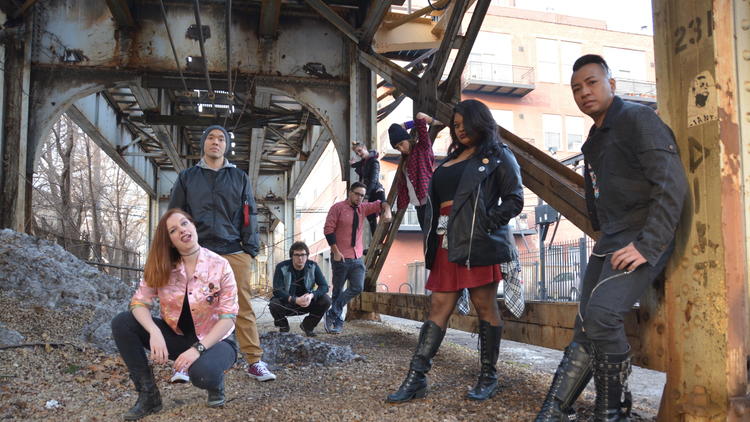 By Jina Bute

Playing at: Prop Theatre, 3505 N. Elston through March 19. www.PropThtr.org
Storyline: Expanding from punk rock band Green Day's 2004 concept album American Idiot, this rock opera of the same name centers around three young men: Johnny, Will and Tunny. Each of these characters must learn to adapt to new lifestyles, as Johnny and Tunny flee their suburban home and Will stays home to support his pregnant girlfriend. American Idiot addresses common themes in coming-of-age storylines such as searching for meaning in life, drug experimentation, military enlistment, relationships and heartbreak.
"What is the worst that could happen in our nation under a new media? A punk rock song cycle of political confusion, a war with oneself, a war at home, a war with the world. Who are the people that will stand in your corner and fight? Are they informed? Are you informed? Between the tweets, Facebook propaganda, and alternative facts, do you know what is worth fighting for? Are you ready to escape or give in? Do you feel homesick for places you have never been? Hearts you have never loved? What does it mean to be an American? An idiot? Forget the story. Remember the message. Look at the world. It is bigger than the bubble you live in. Punk rock saved my life, or did it? P.S. Open your f—ing eyes." — Director's note
With plenty of middle fingers, sex and sense of rebellion, American Idiot shows society what punk rock is really all about.
What stood out: Between each scene and even before the show started, clips of various political events and controversies played, such as Trump's presidential campaign and public speaker Milo Yiannopoulos, to establish the atmosphere of political unrest. The production included all songs from the original album, as well as select songs from the album "21st Century Breakdown." The score also included original songs and closed with Good Riddance (Time of Your Life) sung by the whole cast as the audience chimed in at the end.
Some of the best musical numbers included Jesus of Suburbia, Holiday, Boulevard of Broken Dreams and She's A Rebel. While not all of the cast members' solos stood out, Niki-Charisse Franco as Whatshername really stole the spotlight. The cast as a whole offered a presentation of multiculturalism, and other notable cast members include Robert Johnson as Will and Daven Taba as Tunny.
Final thoughts: While only half of the cast members really shined, the fun choreography and sequence of the score still made the production very enjoyable. If you are a Green Day fan, you will definitely have the urge to sing and dance along; and even if you are not, the overall energy and enthusiasm will still provide you with a good time. With plenty of middle fingers, sex and sense of rebellion, Green Day's American Idiot punk rock opera shows society what punk rock is really all about.