First Look review: Cathy Rigby returns to the stage in the enchanting "Peter Pan"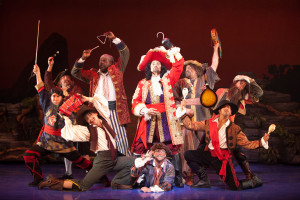 Your ads will be inserted here by
Easy Ads.
Please go to the plugin admin page to set up your ad code.
More than a decade since her award-winning run on Broadway, Rigby is back in this magical production for all ages

By Corey O'Day
Playing at: Cadillac Palace Theater, 151 W Randolph
www.BroadwayinChicago.com
When: Every day except Monday, through February 10.
History: This production of Peter Pan is a musical adaptation of the novel, Peter and Wendy and the 1904 play, Peter Pan, by J.M. Barrie. It debuted on Broadway in 1954. Cathy Rigby played Peter Pan in the same adaptation from 1990-1999. During this time, she received a Tony Award nomination for Best Leading Actress in a Musical, and the production itself earned a nomination for Best Revival of a Musical. Rigby, an Olympic gymnast turned actress, is back to wow audiences with her acrobatics at the age of 60.
Basic Storyline: Peter Pan is the boy who won't grow up, living in a magical land where time stands still. He and his fairy sidekick meet the three children of the Darling family: Wendy, John, and Michael. They fly off — second star to the right and straight on 'til morning — to Neverland. Here, they have many daring adventures, including various battles with the unconscionable Captain Hook and his pirate crew.
What to Expect: A fast-paced, family-friendly evening that will encourage a spirit of youthful adventure. Rigby tumbles about on stage with boyish restlessness and curiosity. And the reactions of the audience display an age-old love for this character. They cheer for Peter Pan's entrance, clap to revive an ailing Tinkerbell and boo the villainous Captain Hook. The Lost Boys and pirates bumble about with slapstick antics and so much tableau vivant that it seems like you are watching a flipbook.
Your ads will be inserted here by
Easy Ads.
Please go to the plugin admin page to set up your ad code.
What Stood Out: The agility of Cathy Rigby as Peter Pan, the commanding presence of Brent Barrett as Captain Hook, and the
enchanting Jenna Wright as Tiger Lily. Rigby was bounding about, bursting with fairy dust. At times she was moving with such fervor that it seemed like she was being thrown from one side of the stage to the other. And Barrett was a worthy opponent as Captain Hook with his booming voice and animated stage presence. Tiger Lily and her Indian friends have undergone a few alterations to attempt political correctness in a dated script. The result is an alluring and mystical energy that follows Wright through to the finish.
Final Thoughts: This imaginative production full of exaggerated caricatures will delight audience members of all ages. Patrons can't help but feel a renewed vitality as Peter Pan declares: "I am youth! I am joy! I am freedom!"
Your ads will be inserted here by
Easy Ads.
Please go to the plugin admin page to set up your ad code.