First Look Review: The captivating Heartbeat of Home blends cultures through dance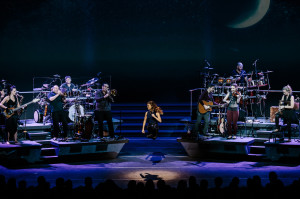 From the producers of Riverdance comes a variation of the traditional Irish dance with a fusion of Latin and Afro-Cuban beats
By Margot Thomas
Playing at: The Oriental Theatre, 24 W Randolph
When: Running through March 16, 2014 with the following performance schedule: Tuesdays at 7:30, Wednesday at 7:30, (additional 2 p.m. performance March 12), Thursdays at 7:30, Fridays at 7:30, Saturdays at 2 and 8 p.m., Sundays at 2 and 7:30 p.m. (no 7:30 performance March 16). www.BroadwayInChicago.com
History: The roots of Heartbeat of Home come from the sensational hit known around the world as Riverd
ance. The show is created by the same duo, John McColgan and Moya Doherty. The two felt there was a harmonious bond and beauty built when combining these cultures and dances. Performing first in Ireland and China for sold-out audiences, Heartbeat of Home continues to Toronto, Chicago, then Detroit, Boston, New York City and Los Angeles.
What to expect: Entertainment and wonderment. Initially, you will recognize the dance and the music, but just when you're starting to feel cozy in Ireland, Argentina comes your way, sweeping a Latin diva off her feet on stage while a cast of 20 clicks their heels in unison. There are no spoken words in this dancing extravaganza, just song. The story is light and cheerful as you travel through the performance and see the collaboration between three very different cultures.
What stood out: The entire cast has incredible poise and precision coupled with a sense of humor. There are smiles on stage and off, and the cast does not take itself too seriously. A live band accompanies the dancers on stage with some spectacular solo acts.
Final thoughts: The performance is impressive and captivating. Whether you've seen Riverdance or not, it's difficult not to be astonished at the energy and beauty of the show.