The Halsted boutiques: Don't be afraid to break away from Michigan Avenue to explore some of Lincoln Park's trendy shops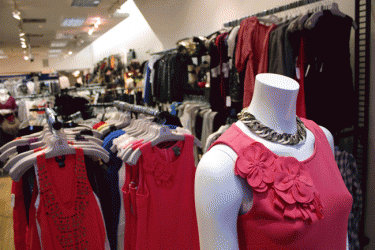 Your ads will be inserted here by
Easy Ads.
Please go to the plugin admin page to set up your ad code.
By Patricia Hall
Spring has always been a favorite time of year for me. St. Patrick's Day is around the corner, daffodils are blooming and I have a new excuse to shop. After months of wearing tons of layers to keep warm, I love being able to lighten up my wardrobe with brightly colored pieces. I must not be the only one, because when visiting some of the boutiques on Halsted in Lincoln Park recently, there were plenty of shoppers. If fresh accessories, gifts or clothes are what you're after, the stores in this neighborhood definitely deliver.
FRANCESCA'S
2012 N. Halsted, also at 1920 W. North Ave. and 3539 N. Southport
www.FrancescasCollections.com
As soon as you walk into Francesca's, you see sparkly and bright jewelry. Two huge tables, chock full, hold racks and baskets full of earrings, bracelets, rings and necklaces. Along the walls are makeup bags and pill boxes with quirky sayings and scenes on them. One of my favorite aspects of Francesca's is the variety of flirty and feminine tops and dresses perfect for spring in light greens and floral prints. There's something to flatter any figure. Francesca's also carries gift items ranging from little office supplies, like a Scotty dog stapler, to name- and dream-meaning books.
LONDO MONDO
2148 N. Halsted, also at 1100 N. Dearborn
www.LondoMondo.com
If you like to get an even bigger head start on the warmer weather, head to Londo Mondo. They carry swimwear and accessories year round, and just in time for the new season, you'll find bikinis, tankinis and one-pieces in yellow, teal, turquoise and magenta. I can never resist browsing for flip-flops in a variety of prints and colors. They have bathing suits for every size here, along with fun coordinating cover-ups and sundresses. Londo Mondo also carries a good assortment of yoga wear and fashion accessories. To top it off, the staff is incredibly friendly, taking the dread out of buying swimwear.
FOX'S
Your ads will be inserted here by

Easy Ads.

Please go to the plugin admin page to set up your ad code.

2150 N. Halsted
www.Foxs.com
Take a swing by Fox's if you're hunting for discount designer clothing for work or play. According to manager Tina Schmidt, Fox's carries "pieces that are going to go a lot of different places." If you're out shopping with the girls, note that Fox's caters to a large age range with youthful styles for teens, professional or fun styles for the office or first date, and more conservative choices. Color is definitely rotating into the collection now that the spring season has arrived. You'll find all sorts of tops in bright blues, corals and pinks, as well as colorful accessories. New items arrive throughout the week, so you're sure to get something fresh no matter when you stop in.
THE BLUES JEAN BAR
2210 N. Halsted
www.TheBluesJeanBar.com
I could tell I was going to love this store as soon as I walked in the door, and if you're like me, you can never have too many pairs of jeans. As the name implies, the store is outfitted with an actual bar, but jeans line the back wall instead of booze. With a helpful and friendly staff, you'll be fitted with a pair of designer jeans according to your wants and needs. Ordering up a pair of jeans here is infinitely more fun than your basic clothing store. Not only does the Blues Jean Bar have your basic fits, but they also cater to specific trends. "We are always going to carry a wide array of jeans," says manager Amanda Lunacek, like some 20-30 rotating brands that change on a fairly regular basis. The Blues Jean Bar also carries a selection of tops and t-shirts for both men and women.
Your ads will be inserted here by
Easy Ads.
Please go to the plugin admin page to set up your ad code.