The Great Outdoors: We asked Chicagoans for some of their favorite outdoor venues to grab a bite or drinks this summer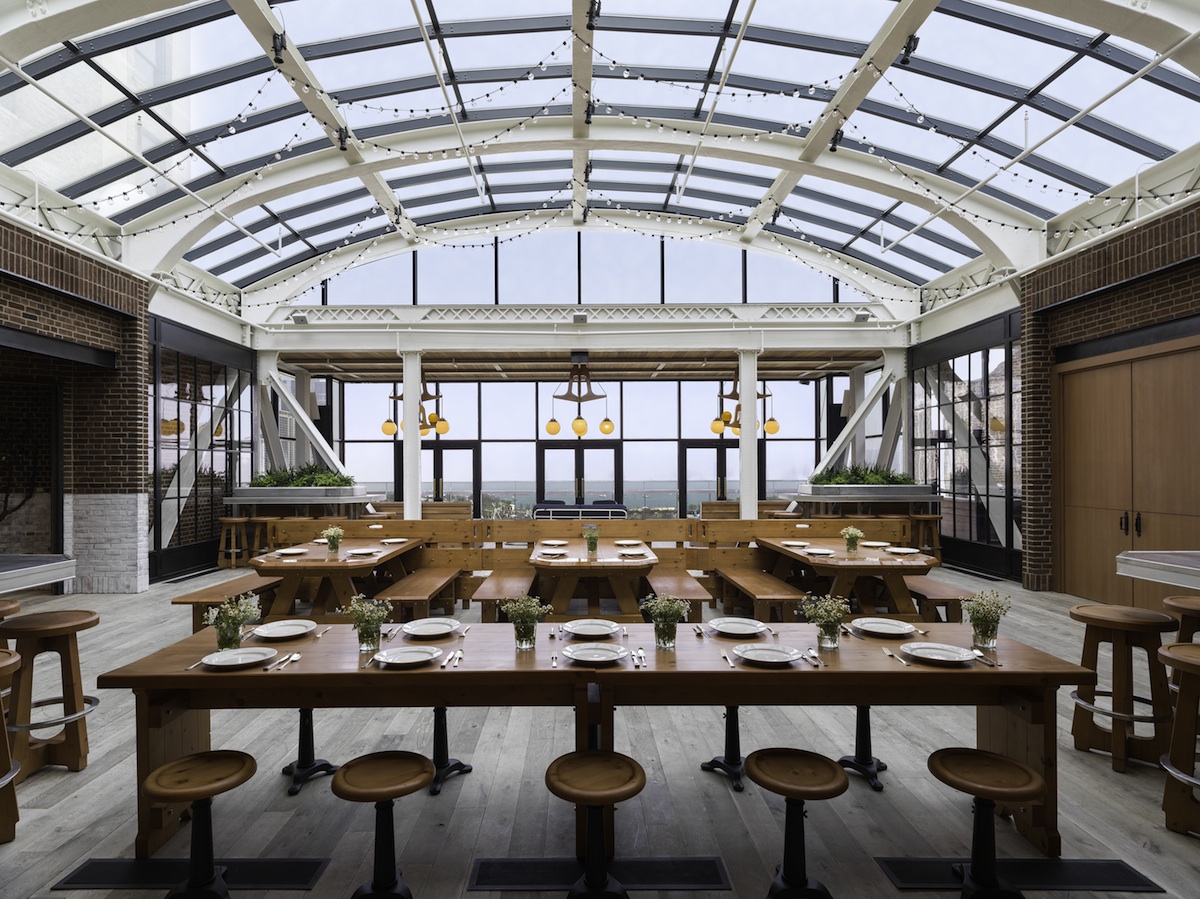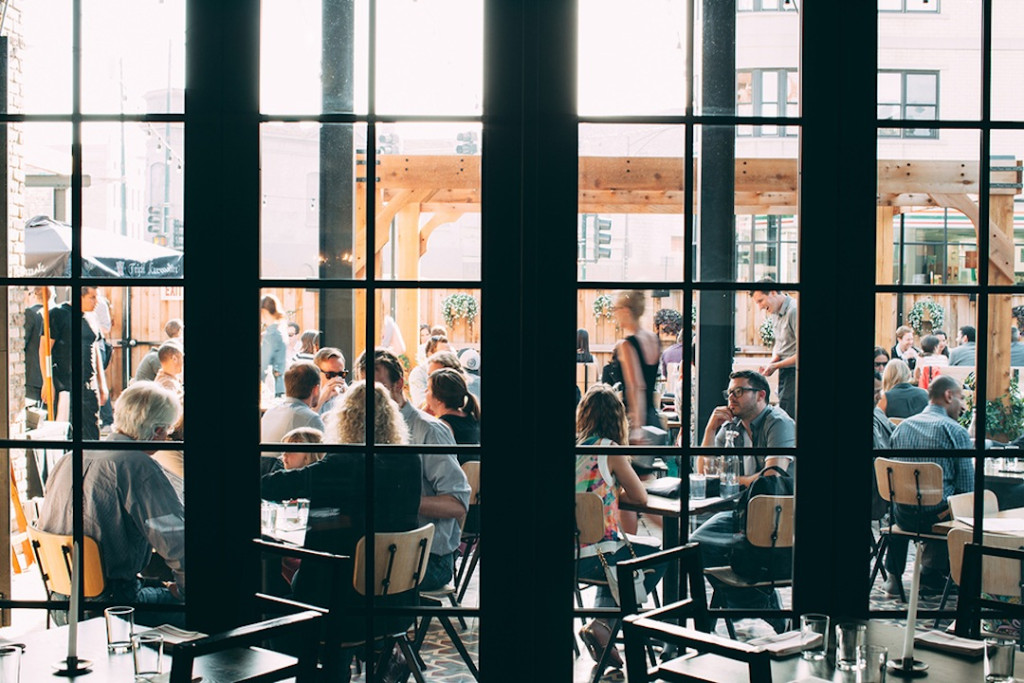 The Dawson
Besides being one of the hottest cocktail bars in Chicago, The Dawson also has the coziest outdoor patio. Equipped with a full bar, fireplace and chaise lounges too. Go for brunch and get the bacon flight and spicy crispy chicken sandwich. Nothing beats a frozen cocktail outside on a hot summer day, so be sure to wash it all down with a mai tai because, after all, this is one of the best bars in the country.
— Bobby Gonzalez, Hotel Palomar
Ada Street
The location of Ada Street has the propensity to make you feel as though you discovered the best-kept secret in Chicago. However, it is no secret that this restaurant, now in its third year, has received well-deserved accolades since its inception. Besides the food being among the best in the city — every single dish exceeded my expectations — the outdoor space is incredibly fun and relaxed. Case in point: the ability to play or watch ping pong while dining. It is not always easy to find a place that serves phenomenal food and cocktails outdoors without an ostentatious vibe. Ada Street succeeds.
Homestead on the Roof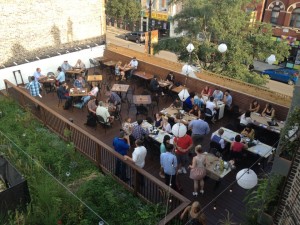 This farm-to-table restaurant is situated among the organic rooftop garden that provides vegetables and herbs for many of the dishes and cocktails they serve. The care-free atmosphere makes this one of the best summer spots for socializing over food and drinks. Although the food is very good, it is really the hand-crafted cocktails that stand out. If you're looking for a fresh, healthy and unique dining experience, you should check out Homestead.
52Eighty Rooftop Lounge
On the 29th floor of the MileNorth Hotel, you will find the perfect spot to take out-of-town friends. This lounge has an especially cozy and laid-back outdoor area that provides a beautiful cityscape view. The food and drinks are good, but it is the view that won me over. Seating was easy to find, and it was tranquil enough to enjoy conversation. If you work downtown, it makes for a very happy hour on
a nice night.
— Meghan Johnson
North Avenue Beach at sunset
When the weather is hot and humid this summer, forget packing into some overpriced venue to keep cool. Grab yourself a volleyball net (don't forget the ball), a six pack of beer (cans), and white styrofoam cups along with some ice in a bag. Just before sunset, head to North Avenue Beach just as all of the sun-beaten bodies are departing. Find the southeastern-most point and set up camp at a beach volleyball court. Enjoy the evening, knock the volleyball around and jump into Lake Michigan to cool off. Fathom yourself with the best skyline view in Chicago for the evening until beach patrol comes by to close the beach (bonus points for clear skies and a full moon). Then, in your beach attire, head to a random bar in the Gold Coast, Lincoln Park or Boystown.
— Dan Walasinski, The Ivy Boutique Hotel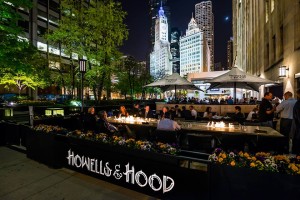 Howells & Hood
Find yourself walking down Michigan Avenue in need of a drink and food on a beautiful summer afternoon? My recommendation is to check out a semi-hidden gem called Howells & Hood, which is located at the base of the Tribune Tower. They have an awesome outside patio with TVs and 114 beers on tap. The food isn't too shabby either. Take a walk around the building too — it's part of Chicago history.
— Loyanna Grierson
Cindy's at the Chicago Athletic Association Hotel
Cindy's rooftop restaurant in the new historic Chicago Athletic Association Hotel is the plac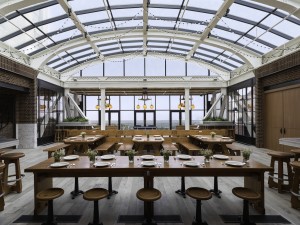 e to be! You might not want to leave with the breathtaking views overlooking Millennium Park, Lake Michigan and beyond. Stop by on a Wednesday evenings and cozy on up by the fire pit and enjoy unobstructed views of the fireworks (9:30 p.m.) from Navy Pier. It's open every day for cocktails and dinner and brunch on the weekends.
— Rhoda Kucuk, concierge at the Westin Mag Mile
The Chicago Athletic Association is a historic 1890s building that has been transformed into an impeccable Chicago boutique hotel with killer views of Millennium Park, Lake Michigan and part of our incredible skyline from Cindy's atop the hotel. When you add on to that their specialty cocktails, outdoor patio with a fire pit, entire game room with an indoor shuffle board, pool tables, and bocce ball, and delicious bar food including fried calms and lobster rolls, you really can't go wrong.
— Caitlin Scheinblum
NoMi
NoMi's rooftop in the Park Hyatt is a great little upscale hideaway. The bartenders are friendly and can serve up some of the best cocktails in the city. Their food is made with the freshest ingredients and is almost too pretty to eat. This is definitely the place to be on a Friday at 5 p.m.
— Andra Turner
IO Urban Roofscape and Kirkwood
A couple of my favorite outdoor hotspots are the IO Urban Roofscape at the Godfrey Hotel and the patio at Kirkwood. The Godfrey Hotel's rooftop is great for a swankier downtown experience, while Kirkwood's patio is great for a more casual and laid-back vibe. Street festivals are another great way to take advantage of Chicago's summer weather and explore different neighborhoods.
— Nikki Gaub
Sheffield's, Ranalli's and Castaways

Sheffield's beer garden is one of my favorites for enjoying a few cold ones on a nice summer evening. Large open space, good seating and standing room, and a great neighborhood.
Ranalli's at the end of Lincoln Avenue has a really nice-sized outdoor patio to sit and grab pizza and a couple drinks. You'll see sports teams gather after playing beach volleyball or softball. It makes for a good crowd and good time.
Castaways might be a little touristy, but grabbing a drink and some food sitting up top during a summer sunset overlooking the beach crowd, Lake Michigan and the Chicago skyline is tough to beat.
— Mark Schwalenberg
IO Urban Roofscape and Gemini Bistro

The IO rooftop at the Godfrey Hotel has a fun, swank vibe and offers a fabulous southern exposure of the city from River North. The cocktails are great, and there is an interesting mix of locals and tourists enjoying the views and warm weather. For a neighborhood patio, I love Gemini Bistro. Their outdoor dining is tucked away on Dickens, a beautiful street in Lincoln Park that provides a tranquil setting for a delicious Sunday brunch or dinner. The service is top notch, and the food is always good.
— Tanya Hamilton
The Matchbox
True to its name at 460 square feet, The Matchbox (770 N. Milwaukee) in River West is considered Chicago's most intimate bar. Whatever your libation is — from a gin gimlet to a rye Manhattan — at $8.50, each drink is accompanied by the cocktail shaker containing nearly an entire second glass. In the summertime, enjoy the sounds of the city, a great book or catch up with a friend in their small outdoor patio.
— Etienne Padin, concierge at the Hyatt Regency Chicago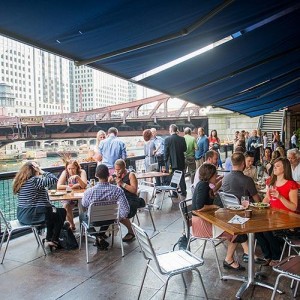 The River Roast
One of my favorite places for some good eats while sitting outside enjoying Chicago's river view is The River Roast (312 N. LaSalle). How can you wrong with one of chef Tony Mantuano's restaurants? He is a recipient of the James Beard Foundation Award for "Best Chef Midwest and a Top Chef Master on the TV show Top Chef. This American tavern restaurant is loaded with great roasted choices of meats, vegetables and fish. If you can't make up your mind, go with the roasted chicken or beef. They carve it right at your table, and it is always tender and flavorful. Enjoy the view and happy eats!
— Joan Hohs, concierge at the Wyndham Grand Chicago
Homeslice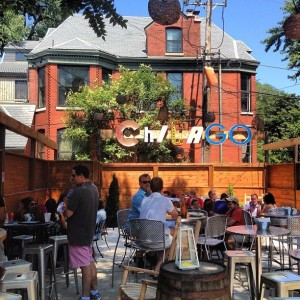 Homeslice is a favorite neighborhood patio spot in Lincoln Park with a cozy, rustic feel and amazing food. If it rains and you need to head indoors, this is still a top pick, as it feels like a log cabin. Don't forget to stop by in the winter, as the patio is covered and has some balmy heat lamps. We watched the snow fall there in February while laughing and telling stories, barely realizing eight hours had passed.
— Kristen Daly