A Round of Drinks: Toe-tapping classics and more at The Redhead Piano Bar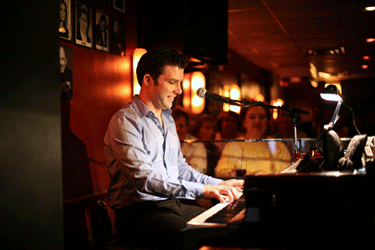 Toe-tapping music and more: The Redhead makes it easy to enjoy yourself late into the evening
Do you enjoy live music, singing along to songs you know by heart, an impressive array of liquor options and a step back into old-school Chicago? If so, The Redhead may become your new favorite bar during your stay here. Read on for an introduction to a well-known Chicago establishment that will entertain patrons of all ages and never charge a cover.
WHER
E YOU'LL FIND IT
16 W. Ontario St, near State Street in the River North neighborhood. (312) 640-1000. www.RedheadPianoBar.com
WHEN IT'S OPEN
7 p.m.-4 a.m. Sunday through Friday
7 p.m.-5 a.m. Saturday
PEAK TIME
Friday and Saturday nights are huge at The Redhead, and the crowds tend to come in two waves, around 10 p.m. and 2 a.m., but it's not uncommon for the place to be filled at any hour.
HISTORY IN SHORT
A classic Chicago nightspot for nearly two decades, providing upbeat and premier live music seven nights a week. It's been voted "Best Live Music Venue," "Best Bartenders" and "Best Over-30s Single Scene" by Citysearch.com readers.
FIRST IMPRESSIONS
Tucked into a basement-level space off bustling Ontario Street downtown, The Redhead feels like a walk down memory lane with the dimly lit room, walls lined with sheet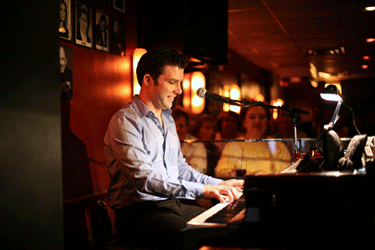 music and famous movie stars of yesteryear and a diverse crowd enjoying cocktails. … During busy times, a crowd gathers to stand and even dance a little next to the piano. … A great seat, if you can get it, is around the rectangular bar that dominates the room, or at the intimate tables for two. The rear of the bar offers tables where groups who are more interested in conversation than a sing-along can sit. … The Redhead recently opened a covered, heated smoking area in the back.
THE ATMOSPHERE
Very warm and inviting atmosphere with a well-dressed crowd, reminiscent of Chicago's truly elegant nightlife scene of years gone by. … A healthy mix of locals and visitors, so there is always someone new to meet. … The piano players are true performers. Expect everything from Sinatra to Cold Play, Elton John and Billy Joel, from pop to rock and roll. Definitely something for everyone's tastes.
GET YOUR DRINK ON
With 420 different liquor, wine and champagne products, The Redhead challenges anyone to find a venue that surpasses its selection. "We have more wines and champagnes than most fine restaurants, more liquors than any club in the city and more martinis and cocktails than those bars that specialize in martinis or cocktails." says co-owner Stephen Doherty. Try 281 different liquors and liqueurs, 40-plus martinis and any cocktail you can think of, 26 by-the-bottle champagnes, 113 by-the-bottle wines and a host of premium products like Cristal Brut and Johnny Walker Blue.
WHO TO EXPECT TO SEE THERE
It truly is an eclectic customer base that can mingle without any awkwardness. On a typical Saturday night, there will be bachelorette parties, post-wedding parties, first dates, pre-dinner drinks, post-theatre drinks, special occasions, out-of-towners, downtowners, singles, groups and anyone between 25 and 70 years of age.
IT'S A GREAT SPOT TO…
"bring a group of friends, sing along with the talented performers and enjoy possibly one of the largest selections of liquor in the city. … meet fun singles of any age. … step back in time to enjoy a classic atmosphere with a great music and fun crowd."
WHAT PEOPLE ARE SAYING…
"What I like is that it truly is so easy to enjoy yourself there. You never go in wondering what kind of night it will be. It's consistently enjoyable and classy. Very old-school Chicago."
— JENNIFER, 35, CHICAGO
"Love this place. I travel to Chicago frequently, and The Redhead is a must-stop. The employees make me feel welcome and completely at home. Great bartenders and music for everyone's taste."
— VICKY