The Big City Blog: Rick Bayless' new Xoco, Broadway in Chicago's free concert, wine events and more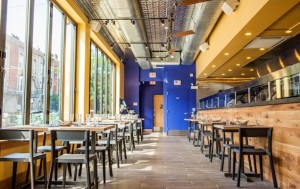 Your ads will be inserted here by
Easy Ads.
Please go to the plugin admin page to set up your ad code.
By Scott Hartge
New Xoco opens in Wicker Park
Wicker Park is now home to the second installment of Rick Bayless' Mexican restaurant, Xoco. Bayless, the celebrity chef who is best known for his ever-popular Frontera Grill, opened this second Xoco location near the Milwaukee-North Ave. intersection on Aug. 13.
The new restaurant will be serving the same flavorful Mexican street food as its predecessor in River North, but it boasts a more comfortable, relaxed atmosphere for customers. Open early for breakfast and late for sweets, it's a must try.
The new Xoco is located at 1471 N. Milwaukee.
Kit Kat Lounge hosts Madonna birthday bash Aug. 17
If you are an avid fan of the famed pop star and are looking to completely surround yourself with all things Madonna, then look no further because the Kit Kat Lounge will be hosting a Madonna birthday bash on Sunday, Aug. 17 from 11 a.m.-2 a.m. There will be performances by Madonna impersonators, Diva Madam X and Diva Sunny Dee Lite, while all of Madonna's music videos, movies and concerts will be played throughout the lounge. On top of all that, martinis will be half off. Make your Sunday a material girl Sunday.
The Kit Kat Lounge & Supper Club is located at 3700 N. Halsted. www.KitKatChicago.com
Broadway in Chicago's free summer concert Aug. 18
On Monday, Aug. 18, Millennium Park will be rocking. Broadway In Chicago will be gracing the Jay Pritzker Pavilion stage with a free collaboration of performances from Evil Dead-The Musical, Dee Snider's Rock & Roll Christmas Tale, Million Dollar Quartet, Disney's Beauty and the Beast, Jersey Boys and more. The free summer concert starts at 6:15 p.m.
For more information, visit www.BroadwayInChicago.com
Uncorked wine event at the Redhead Piano Bar Aug. 20 
On Wednesday, August 20, the Redhead Piano Bar will be hosting another Uncorked event, this time with Beaulieu Vineyard (BV) from 6:30-8 p.m. You will enjoy snacks and a flight of wine including a coastal sauvignon blanc, pinot grigio, chardonnay and riesling. Admission is just $15 plus tax, and there may even be a surprise if you attend.
RSVPs are appreciated but not required. Call Stephen at (312) 640-1000 or email Stephen@redheadpianobar.com. Item of note: There is a business casual dress code.
Boulevard Festival in Logan Square Aug. 22-24
The Boulevard will take place along Logan Square Boulevard from Aug. 22-24 and will feature top bands in bluegrass, jazz and electronic music.
On Friday, Greensky Bluegrass are set to headline the west stage. The Dean Ween Group will headline the west stage on Saturday, and on Sunday, Rubblebucket and the Dirty Dozen Brass band are set to headline.
For the full schedule, visit https://lineup.boulevardfestival.com/events/2014/08/22/
Chicago's Packing House hosts rooftop dinners and movies in August
Packing House has provided some tasty details about their August events. On Tuesday, Aug. 19, Packing House will be showing the classic movie The Goonies on their rooftop while serving adult apple juice. The following Tuesday, Aug. 26, they will be showing Clerks and serving tallboys.
On Wednesday, Aug. 20, Packing House will begin their monthly pairing dinners, courtesy of executive chef Amanda Barnes. Barnes and Goose Island will be providing customers with a six-course beer dinner of Southern-styled dishes mixed with Mediterranean twists.
Packing House is located at 1113 W. Randolph in the West Loop. www.PackingHouseChicago.com
Your ads will be inserted here by
Easy Ads.
Please go to the plugin admin page to set up your ad code.
North Coast Music Festival releases 2014 schedule, announces three-day general admission passes sold out
The North Coast Music Festival will provide festival-goers with one last party before saying goodbye to summer. The festival will be held Aug. 29-31 in Chicago's Union Square, and single-day tickets are still for sale. The heavily electronic and hip hop festival will host acts such as Snoop Dog, Bassnectar, Kid Cudi, Washed Out and many more.
Tickets can be purchased via www.Clubtix.com.
Cirque Shangai: Warriors in its final weeks
Navy Pier's exciting, acrobatic Cirque Shangai: Warriors show will be closing on Labor Day, Sept. 1. The show features an array of extraordinary stunts, soaring acrobatics and show-stopping stunts performed by Chinese Kung Fu and Wu Shu masters. Tickets are $19.50-$39.50 for adults and $15.50 for children 3 to 12.
See The Real Chicago's review here.
Broadway in Chicago announces Men Are From Mars – Women are From Venus LIVE! is coming to town in October
Based on the New York Times No. 1 best-selling book by John Gray, Men Are From Mars – Women are From Venus will play Oct. 14-19 at the Broadway Playhouse at Water Tower Place. The one-man show starring Peter Story will explore the topics of love through vignettes that will surely entertain. Tickets can be found at www.BroadwayInChicago.com
Da Lobsta food truck rolls out tasty lobster dishes 
On July 31, Da Lobsta unleashed its new food truck on the streets of Chicago. The traveling restaurant provides customers with everything lobster ranging from classic rolls to a lobster BLT and pasta salad. You can track the food truck by following it on Twitter and Instagram.
Da Lobster's two locations are at 12 E. Cedar and 131 N. Clinton in the Chicago French Market.
Geja's Café hosts wine dinner Sept. 8
Geja's Café will be hosting a Dosio Vigneti Winemaker Dinner on Monday, Sept. 8 at 6:30 p.m. The romantic restaurant will be serving a four-course meal featuring wines from the Piedmont region of Italy. The dinner will cost $55.
Geja's Café is located at 340 W. Armitage.
W Lakeshore gets a magnificent remodel
The magical refashioning of the W Lakeshore has made this hotel sleeker than ever. This is classic W, an ambiance and mood you couldn't configure in the confines of your own imagination. You
must see it to believe it, starting with the lobby into the bar and through the restaurant.
Polished marble floors, when paired with shiny, mirrored walls and ceilings and round, outer space-like tables, make it feel as though you are walking into the future. Where a Monday feels like a Friday. Spiked stilettos, taut leather pants, trendy international playboys and prepsters decked out with the latest GQ recs are all habitual here.
In case that does not sound like yours truly, a visit to the W is still a necessity, even if just for the spectacle of people watching. But you would be remiss not to explore further. The patio of CURRENT, the fresh new expressive restaurant, offers a lakefront landscape.
Take it up a couple notches to the sixth floor for a panoramic Lake Michigan view. The W Lakeshore is a place where you will (and should) let yourself get lost in the atmosphere, have another cocktail and take in the sights.
The W Lakeshore is located at 644 N. Lake Shore Dr.
www.WChicago-Lakeshore.com
— Margot Visconti
Your ads will be inserted here by
Easy Ads.
Please go to the plugin admin page to set up your ad code.