Chicago Insider: Tim Anderson on Bistronomic's new menu, Fat Willy's and the Chicago Crime Tour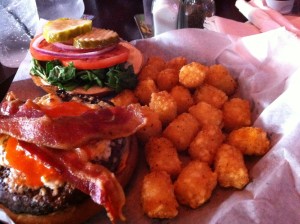 Name: Timothy Anderson
Occupation: Chef concierge at the Dana Hotel and Spa
How long you've lived here: I've lived in Chicago for 51 years.
What you like best about Chicago: The summer concerts in Millennium Park and the fireworks on Navy Pier, where you can enjoy the best view of the city.
Best meal you've had recently: Bistronomic is where I recently had a great meal. It's French-American, and I got to meet chef/owner Jerome Bacle as he debuted his new menu and talked about what inspired his culinary philosophy.
Favorite big-name restaurant: Shaw's Crab House. I recommend the oysters. You can walk right into the Blue Crab Lounge or get reservations in the main dining room. Shaw's has been bringing delicious seafood to Chicago for years.
Favorite "hidden gem" restaurant: Osteria Via Stato is one of the best Italian restaurants in Chicago. I highly recommend the prosciutto — some of the best in the city. I always have the roasted garlic olive oil, which is a must.
Best sports bar to catch the game: Rocks in Lakeview is a way to escape the normal sports bar atmosphere, visit one of Chicago's great neighborhoods and catch all the major pro and college games. Oh, and a great menu.
A great night out with friends usually includes… dinner at one of my favorite restaurants like Fat Willy's and a movie at the Showplace Icon Theater.
Favorite store or best shopping area: Chicago Premium Outlet is about 20 minutes from downtown, and all the popular stores like Polo and Nike are there, but with great prices.
The best way to spend a summer Saturday in the city: Hanging out at North Avenue Beach having a bite to eat and a drink at Castaways, or bike riding in the park.
One thing every visitor must do here: Take an architectural boat tour on the river and learn about some of our great architects like Ludwig Mies van der Rohe.
Secret Chicago spot: The Garfield Park Conservatory is one of Chicago's must-see spots with a great collection of flowers, plants and garden paths. It's open all year round.
Underrated activity in the city: The Chicago Crime Tour is a newly added tour that explores the city's historical crime spots. Very educational.
What's one place you hear great things about but have yet to try? The Segway tours are one thing I hear such fun things about. It is a fun way to explore the city, visit some historical spots and see some great views.