Inside Scoop: Winter WonderFest, Sketch Comedy Festival, Chicago Theatre Week and lots of bacon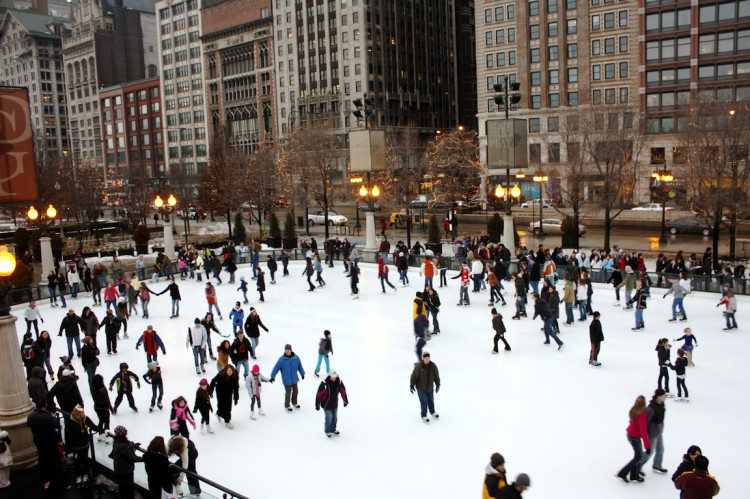 Your ads will be inserted here by
Easy Ads.
Please go to the plugin admin page to set up your ad code.
Find out what's hot and what's happening around Chicago this winter
PNC Bank Winter WonderFest, Dec. 5-Jan. 11 in the Festive Hall on Navy Pier
Find thrills without the chills inside the 14th annual PNC Bank Winter WonderFest at Navy Pier. Packed with family fun, it's Chicago's biggest indoor winter playground featuring 170,000 square feet of rides, giant slides and the Chicago Blackhawks' indoor ice skating rink.
14th Annual Chicago Sketch Comedy Festival Jan. 8-18
This event, which will run Jan. 8-18, 2015, celebrates the best in local, national, and international sketch comedy and has now grown to the largest sketch comedy festival in the nation, hosting 169 groups (about 1,000 artists) performing 188 shows in eight days to an average of 10,000 patrons.
All performances take place at Chicago's home for one the city's most innovative, creative and passionate off-Loop performing artists, Stage 773, located at 1225 W. Belmont.
Over the course of the two weeks, Stage 773 transforms into a sketch-comedy oasis, with the entire building featuring simultaneous performances in all four theater spaces. Tickets are $14 on Thursdays, Fridays and Sundays, and $15 on Saturdays. Visit www.Stage773.com, by phone at 773-327-5252, and in person at the Stage 773 box office.
OnEdge offers experimental theater and dance Jan. 16-Feb. 1
The bold performance series returns to Jay Pritzker Pavilion in Millennium Park,

Storefront Theater, DuSable Museum of African American History, Links Hall and Beauty Bar from Jan. 16-Feb. 1.
The Department of Cultural Affairs and Special Events (DCASE) presents the second year of OnEdge, an experimental theater, dance and performance series that features Chicago and world premieres from national and international artists and companies at various venues throughout the city.
OnEdge dives into themes of identity and spirituality while challenging audiences to reexamine life and culture through intense, contemporary performances by emerging and mid-career artists. OnEdge is free, and seating is available on a first-come, first-served basis 30 minutes before each performance. Visit www.CityOfChicago.org/dcase for more information.
Chicago Theatre Week Feb. 12-22
Due to overwhelming success, Chicago Theatre Week is expanding in 2015. The upcoming celebration of the rich tradition of theatre-going in Chicago is returning for its third year and will take place February 12-22, 2015, spanning a week and two full weekends for the first time. More than 100 productions are expected to participate. In the past two years, more than 200 shows have offered value-priced tickets to more than 600 performances. Visitors and residents will again have the opportunity to sample the extraordinary range of theatrical offerings.
A few of Chicago Theatre Week's 2015 participating productions include The Selfish Giant at Chicago Children's Theatre; Waiting for Godot at Court Theatre; Rapture, Blister, Burn at the Goodman Theatre; Tannhäuser at the Lyric Opera of Chicago; Tommy at Paramount Theatre; Marie Antoinette at Steppenwolf Theatre Company; Mr. Burns: A Post Electric Play at Theater Wit; and Samsara at Victory Gardens Theater.
Your ads will be inserted here by
Easy Ads.
Please go to the plugin admin page to set up your ad code.
Tickets will go on sale Jan. 6, 2015, at 10 a.m. at www.ChicagoTheatreWeek.com
Rainforest Adventure exhibit at the Peggy Notebaert Nature Museum
The Peggy Notebaert Nature Museum has opened the family-friendly temporary exhibit Rainforest Adventure.
The interactive experience introduces guests to the beauty and diversity of rainforests and highlights how these distant ecosystems are influenced by our choices.
The Nature Museum personalized this exhibit by including five different species of live animals, including a green tree python and powder blue poison dart frogs.
Other exhibit highlights include the chance to see the physical characteristics of tropical rainforests, climb a model kapok tree, explore a gorilla nest, become a research assistant, journey to visit children around the world to discover what their families do to protect rainforests and use scientific tools to conduct further research and analyze findings.
Rainforest Adventure will run through spring 2015 and is included with the price of regular museum admission.
The Nature Museum is located at 2430 North Cannon Drive in Chicago's Lincoln Park. For more information, visit www.NatureMuseum.org
Bacon Thursdays at Benny's Chop House

Already a two-time winner at Baconfest Chicago, Benny's Chop House decided to expand their reputation for pork-filled fun in the form of a Thursday happy hour. A happy hour for bacon. Yes, you read that correctly.
Benny's Bacon Thursday offers a special bacon-themed menu available in the bar every Thursday from 3-7 p.m. A plate of chophouse bacon, addictive BLT flatbreads, bacon tacos or bacon fondue? Check. Maybe even a bacon dessert (maple crème brulee) or specialty bacon cocktail? You can have that too. And no, you're not dreaming.
Benny's Chop House is located at 444 N. Wabash. www.BennysChopHouse.com
— Trent Modglin
Ice skating in Millennium Park
Bear with me for a second, as there are some perks to Chicago's long winters. For instance, through March 8, 2015, people have the opportunity to ice skate under the great Chicago skyline in Millennium Park.
For 13 years, the Chicago attraction has been giving the public a chance to get their blood pumping in the cold weather. If you don't have your own pair, skates can be rented out for $12. Other than that, ice skating at Millennium Park, including the new track at Maggie Daley Park, is completely free.
On Fridays, Saturdays and Sundays, ice skaters can go an hour before the rink opens for free lessons as well. During Chicago Public Schools' winter break, lessons will be held every day instead of just the weekends.
For more info visit www.CityOfChicago.org
— Scott Hartge
Your ads will be inserted here by
Easy Ads.
Please go to the plugin admin page to set up your ad code.