First Look review: Cirque Shanghai: Dragon's Thunder at Navy Pier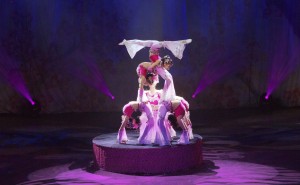 Your ads will be inserted here by
Easy Ads.
Please go to the plugin admin page to set up your ad code.
Acrobatic prowess and sheer athletic intensity will keep you on the edge of your seat
By Richard Ray
Playing at:  Navy Pier's Pepsi Skyline Stage, Wednesdays at 2, 6 and 8 p.m., Thursdays at 2 and 8 p.m., Fridays at 2, 7 and 9 p.m., Saturdays at 2, 6 and 8 p.m. and Sundays at 2 and 4
p.m. through Sept. 2
www.NavyPier.com/CirqueShanghai
600 E. Grand Avenue
Background: Cirque Shanghai: Dragon's Thunder, is directed by Miao Miao Chen, a critically acclaimed acrobat and contortionist from China who has been dazzling audiences since the age of five. With a total of 36 troupe members, this is the largest Cirque Shanghai cast to visit the U.S.
What to expect: The stunning ability and range of skill displayed on stage is sure to entertain. From rhythmic drum compositions and vibrant costumes to cocky acrobats demanding the crowd cheer them on before executing breathtaking — not to mention potentially deadly — stunts, there is something here for everyone.
Your ads will be inserted here by
Easy Ads.
Please go to the plugin admin page to set up your ad code.
What stood out: The Gravity Swings,consisting of two giant platforms flying back and forth while multiple acrobats flip and spin from one to the other at death-defying heights.
The Wheel of Destiny is another showstopper, as two giant hamster wheel-like contraptions connected to one another spin from suspension cables while two acrobats climb inside and out. At one point, one troupe member wears a blindfold and then jumps rope all while standing on top of one of the wheels. These two acrobats are definitely crowd favorites.
One of the less anxiety-inducing acts is the graceful Silks or Shoulder Ballet, where dancers show off a softer and more elegant side, though still captivating your attention with the mind-blowing pretzels they bend their bodies into.
Of course the finale, The Globe of Death, is a fitting one with five motorcyclists zooming around one another in a giant steel cage. There's a good chance you won't even blink.
Final thoughts: Cirque Shanghai is a theatrical exhibition of what amazing things can be done with the human body. The confidence of the troupe and their ability to engage the audience makes the show that much more enjoyable for any age — toddlers to adults.
The Pepsi Skyline State at Navy Pier is a great location too, outdoors but covered, with easy access to concessions and the surrounding Navy Pier attractions to explore before or after the show.  
Your ads will be inserted here by
Easy Ads.
Please go to the plugin admin page to set up your ad code.