Chicago Insider: Megan Tormey on farmer's markets, dinner at Sola and the beauty of Northerly Island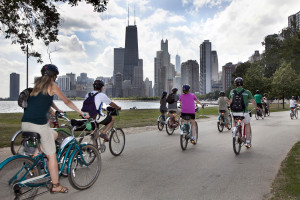 Ever wish you had an active local's opinion on how best to enjoy your own city? We have too, so here are some answers
Occupation: Instructor at Windy City Crossfit
How long you've lived here: Ten winters.
What you like best about Chicago: There's always an activity to fit whatever mood I might be in; from the symphony to local music in dive bars, from museums to laying out at the beach, this city literally has it all.  
Best meal you've had recently: Without a doubt the duck breast from Sola. I was blown away by that place!

Favorite big-name restaurant: Lula Café. It has a cozy yet trendy atmosphere, and their menu is deliciously adventurous without being too pretentious. They also aim to source their food locally if, you know, you're into that sort of thing.
Favorite "hidden gem" restaurant: Anong on California and Logan. That place has the most amazing crab rangoon. 
Best sports bar to catch the game: Glascott's is a fun bar regardless, but the party vibe increases on game day.
A great night out with friends usually includes… dancing at Matilda followed by late-night burritos.   
Favorite store or best shopping area: Embellish on Lincoln; it's full of unique and artistic accessories.  
The best way to spend a summer Saturday in the city: Hitting up a farmer's market, a street festival, and then biking or walking the lakefront trail. 
One thing every visitor must do here: Visit the Field Museum and eat deep-dish pizza.
Secret Chicago spot: Northerly Island. Over 100 years after Daniel Burnha
m dreamed up the idea, I love that this quiet park was finally realized. 
Underrated activity in the city: Watching Chicago's professional Ultimate Frisbee team — the Windy City Wildfire.
If you had to pick one place to eat or drink outside in July, where would it be? Victory's Banner. Roscoe Village in general is the perfect neighborhood for dining al fresco.