Shop around the corner: Sipping wine at Lush and exploring unique finds at Hazel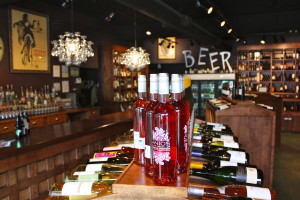 Browsing Chicago's unique, trendy neighborhood stores and boutiques
Lush Wine and Spirits

Roscoe Village (2232 W. Roscoe), West Town (1412 W. Chicago Ave.), University Village (1257 S. Halsted)
www.LushWineAndSpirits.com
Lush general manager Mindy Trafman offered me a glass of Luca pinot noir from Argentina as she talked about meeting the winemaker, Laura Catena. "It's named after one of her sons," she explains. "After the harvest is over, she goes to her second job as a surgeon in California." Lush approaches wine with the same degree of seriousness. 
They sell wine — by the glass and bottle from small-batch, family-run vineyards — that ca
n't be found in larger shops. While their focus is largely wine, they also stock many diverse, often local spirits. The sample bar enables customers to taste the more unique liquors before committing to an entire bottle.
Every Sunday, Lush offers complimentary tastings at all three locations (Roscoe Village, West Town, University Village) from 2-5 p.m. Each tasting has a theme, like wines from a certain region, women winemakers or spring cocktails. You can also schedule private tastings and parties.
Lush seeks to change the stigma of the high-priced boutique wine shop by offering an array of wines for $10. You won't find any bargain-bin nonsense here, as every Monday, Trafman and owner Mitch Einhorn taste wine for eight hours to provide their customers with something they'll appreciate. Not exactly the worst gig in the world.
— By Corey O'Day 
Hazel

1902 W. Montrose
www.HazelChicago.com
Hazel embodies a lost art of neighborhood commerce, the curio shop of yesteryear. Plenty of one-stop-shop experiences these days offer little more than a Harley Davidson chain wallet and a roadside attraction shot glass, whereas Hazel offers handcrafted leather clutches for the wife and an assortment of haberdashery for your eccentric brother-in-law.
"What we tend to do is try to have a selection at different price points and different styles," owner Dave Vail says. "We really run the gamut."
The storefront is as quaint as the assortment of goods it houses. Once you step in the door, you are immersed in the personality of the hardwood floors and display cases.
Next to retro children's toys and puppets are unique cuff links featuring skulls and cross bones, ice cube trays in the shape of pistols and books like 101 Whiskies to Try Before You Die. Hazel also features jewelry designers from across America, campy birthday cards, fresh stem
-cut flowers, wrapping paper, housewares and scarves. And they even host traveling vintage trunk shows.
"We're really fortunate, the neighborhood has been extremely supportive of us," Vail says. "It works both ways. It's important that we offer our customers what they want as well."
— Richard Ray