The Local Corner: Exploring the Clark & Diversey intersection in Lincoln Park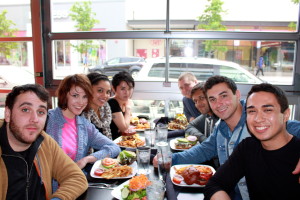 Your ads will be inserted here by
Easy Ads.
Please go to the plugin admin page to set up your ad code.
Exploring Chicago's neighborhoods, one street corner at a time
By Zak Waltner and Richard Ray
Featured corner: Clark & Diversey in Lincoln Park
Landmark Theatre
2828 N. Clark St.
www.LandmarkTheatres.com/market/Chicago
The sticky-floor sanctuary that is the movie theatre has been a treasured American pastime since we first laid eyes on the big screen at the end of the 19th century. Fast forward a few
years, and now you can enjoy a cappuccino or an organic soft pretzel in lieu of chemical laden nachos or over-salted popcorn at the Landmark Theatre. The Landmark, one of the nation's largest chains of theaters geared towards "independent" and "sophisticated" films and viewers, hosts a variety of movies ranging from ambiguous art films to praised box office hits.
The theater is located at the top of the Century Shopping Center, which offers a parking structure for those on four wheels. There are plenty of restaurants and bars in the neighborhood to grab a bite or a drink and discuss the movie afterward.
— R.R.
Gramaphone Records
2843 N. Clark St.
www.GramaphoneRecords.com
Gramaphone Records, across the street from the aforementioned Landmark Theatre, has been a neighborhood staple since 1969. Stepping into the store will incite a bout of
nostalgia when you see the scuffed linoleum floor and inhale the smell of used vinyl, but the modern beats of Chicago house and electronic music that play on the sound system keep you firmly grounded in the here and now.
"There are people who never stop buying vinyl," co-owner Jason Bradley says. "We're a little more electronic oriented, but we do carry a little bit of rock."
The store's developing rock section carries blues to indie, but the real specialty of Gramaphone is the overwhelming house and electronic selection. Bradley explained that it's not uncommon for Europeans to come and clear out the local house music section because so much of it isn't pressed outside of the U.S. anymore. The store has other unique aspects like the nine vinyl and three CD listening stations with headphones plugged in to sample the tunes before purchase. Gramaphone also boasts a host of former employees who are famous Chicago DJs like Derek Carter, Mark Farina and DJ Heather to name a few.
— R.R.
Pet Stuff
613 W. Diversey
www.PetStuffChicago.com
Since opening its first store in 2005, Pet Stuff has become Chicago's premier neighborhood pet supply store. With five locations around the city, chances are they have a store in your neck of the woods, and if not, they deliver. Striving to be an alternative to national chains, they offer a wide range of dog and cat supplies, including premium brands only available at Pet Stuff. They also have a customer loyalty program that rewards you $20 off for every $250 spent.
— Z.W.
Akira
643 W. Diversey
www.ShopAkira.com
Since the first location opened its doors in Bucktown 10 years ago, Akira has served as a
popular local boutique offering Chicago fashionistas cutting-edge clothing items exclusive to the city. From denim, dresses and blouses to belts, jewelry and shoes, each of their 15 locations features the hottest local and international trends.
The staff at Akira works to create a comfortable yet intimate shopping experience.
Your ads will be inserted here by
Easy Ads.
Please go to the plugin admin page to set up your ad code.
"We want to make connections, keep it personal," manager Flo Galeon says. "We know a lot of our guys and girls by name and build relationships with them." While Akira does have an online store, many popular items can only be found in local stores.
— Z.W.
Halo for Men
654 W. Diversey
www.HaloChicago.com
If you're looking for a refined, male-centric grooming experience in the city, Halo is the place for you. Each of their six locations allow the men of Chicago to enjoy salon services in a modestly sophisticated environment far different from the average spas that cater mostly to women. Halo for Men is also the only place you can find custom suits from Sebastien Grey clothiers.
— Z.W.
Next Door by State Farm
659 W. Diversey
www.NextDoorChi.com
It's possible you've never been anywhere quite like Next Door. Presented by State Farm Insurance, it's a café, art gallery and community workspace — complete with conference
rooms that can be reserved online. Locals are invited to come work, read or get hassle-free financial coaching from a State Farm representative. Even though employees at Next Door work for an insurance company, you don't have to worry about getting a cheesy sales pitch.
"We're not here to push any products," Jordan Ewbank says. "We're just here to give advice and answer any questions people might have."
The café is operated by local favorites Kickstand and Noble Tree and is open from 7 a.m.-10 p.m. daily. All workspaces are first come, first served, and State Farm also offers free financial management classes.
— Z.W.
Kuma's Too
666 W. Diversey
www.KumasCorner.com 
In stark contrast to the dance beats at Gramaphone Records is the pummeling din of Kuma's Too, the second
location of the famous Kuma's Corner, a metalhead burger joint whose attitude is quite a change to the upscale area. The noticeably larger interior reduces wait times so you can get your hands on a Pantera burger — with housemade ranchero, bacon, Monterey jack, roasted poblano and tortilla strips — faster than at the original.  Filling the vacancy left by The Counter, head-banging carnivores are noticing the differences in Kuma's Too since opening in February.
"We're just learning," general manager Seth DeBose says. "We've got a different neighborhood, with a different building, with a different staff."
DeBose went on to explain that the original Kuma's is more of a destination restaurant. "People came to us," he says of the Avondale location. "Everyone over there knows what we
do."
Whereas at the new Diversey location, there is plenty of foot traffic from which to draw hungry customers. However, the attitude that made the original Kuma's so renowned has yet to conform to the manicured brownstone façade of Lincoln Park, as DeBois articulated recently to two women who requested the music be turned down. "The music is as quiet as it gets," he told them, "this isn't The Gap."
Translation: If you're not all about celebrating famous burgers, good beer, loud music and whiskey on tap, you're in the wrong place.
— R.R.
Your ads will be inserted here by
Easy Ads.
Please go to the plugin admin page to set up your ad code.