Eat, shop, drink, repeat: A Saturday spent wandering Chicago's hip Wicker Park neighborhood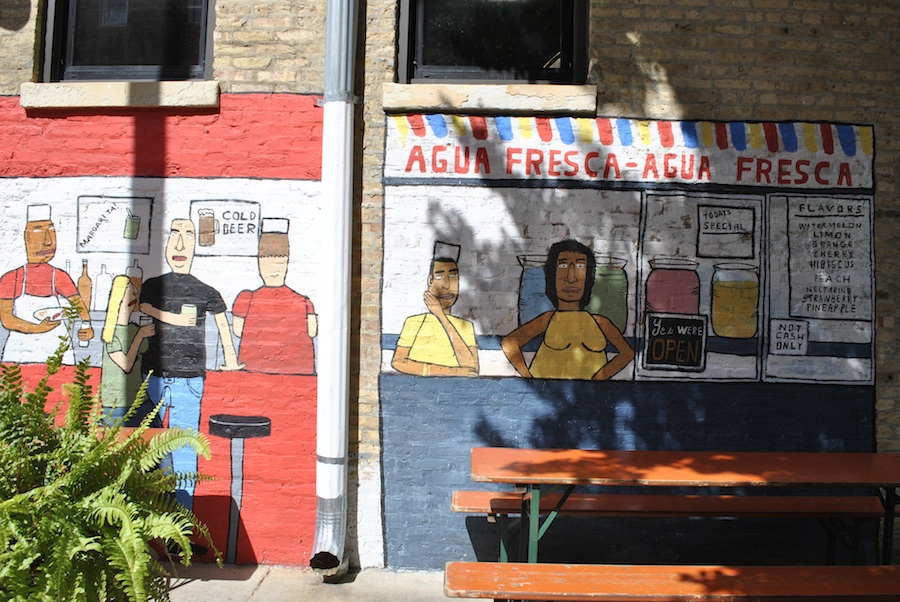 Your ads will be inserted here by
Easy Ads.
Please go to the plugin admin page to set up your ad code.
By Nicole Cash
I recently had a rare free Saturday and decided to take advantage of the beautiful fall weather trekking around Wicker Park eating, shopping and, ultimately, avoiding weekend chores.
I started my day at Stan's Donuts (1560 N. Damen Ave.) since I wasn't too hungry, although I'd be lying if I said the red-velvet pancakes or chicken avocado sandwich at The Bongo Room (1470 N. Milwaukee Ave.) weren't also calling my name. Since Stan's was busy and the sun was out, I took myself to the park located just down the street at the corner of Damen and Schiller and people-watched while stuffing my face with a sprinkles cake donut.
After my light breakfast, I decided to do some browsing and check out some shops. I started with Akira Footwear (1849 W. North Ave.) in search of some Lady Gaga-esque shoes (not really, although they do sell those), and then headed to the Akira women's clothing store (1814 W. North Ave.) to look at the huge variety of reasonably priced dresses, jeans, tops and jewelry.
Next I tackled Damen Avenue, entering basically every shop that caught my eye. I first ventured into Marine Layer (1646 N. Damen Ave.), thanks to a sign outside that reads: "Absurdly soft shirts made in California. By adults." It made me laugh and hey, who doesn't love a soft, comfy t-shirt? The apparel did not disappoint in its softness level, by the way.
Next up was BucketFeet (1647 N. Damen Ave.), a shoe store featuring the works of artists from around the world. The shoes come in every color, pattern and style imaginable and are made for everyone in the family, and at good prices, too. My last stop on Damen was Fjallraven (1708 N. Damen), a Swedish brand that makes ultra functional — and colorful — backpacks in addition to outdoor apparel (winter is coming, after all).
All this oohing and aahing had started to make me hungry, so I headed to Flash Taco (1570 N. Damen Ave.), a personal staple since I moved to Chicago a few years ago.
Your ads will be inserted here by
Easy Ads.
Please go to the plugin admin page to set up your ad code.
Their avocado taco loaded with black beans, sour cream, queso fresco, avocado and avocado salsa does not disappoint; nor does the tilapia taco topped with mango salsa and pico de gallo. I'm definitely partial to tacos, but I was also considering Piece Brewery and Pizzeria (1927 W. North Ave.), where they make something called the Hot Doug's atomic bomb pizza loaded with pepper jack cheese, caramelized onions and spicy sausage.
Now that my stomach was more than satisfied, it was time to head south on Milwaukee Avenue for some more shopping. I stopped into Saint Alfred (1531 N. Milwaukee Ave.), a super hip store for men's shoes and apparel, and next headed to Una Mae's (1528 N. Milwaukee Ave.) to take a peek at their soft flannels and other cozy, stylish apparel. Emma (1424 N. Milwaukee Ave.) and Eskell (1509 N. Milwaukee Ave.) were both good finds as well, offering accessories such as purses, home décor items, funky jewelry and casual yet trendy clothes.
After several hours exploring this popular neighborhood and weaving through the throngs out enjoying the weather, I could feel my energy waning a little bit. I thought about going to Filter (1373 N. Milwaukee) for a quick coffee and relaxing environment, but let's be real, it was late Saturday afternoon, and I felt that warranted a cocktail.
I considered Bom Bolla (1501 N. Milwaukee Ave.), but wasn't sure my Converse high tops and Nike windbreaker matched up with the Spanish champagnes or fancy drinks made with ingredients I've never heard of. So instead, I headed to Xoco Bistro (1471 N. Milwaukee Ave.), a Rick Bayless creation, for a blackberry mint margarita. I'll hit up Bom Bolla next time, when I'm feeling more adventurous.
There's nothing like the modern Mexican street food, giant cans of beer and outdoor seating under big yellow umbrellas that Big Star (1531 N. Damen Ave.) offers to accentuate a beautiful fall day in Chicago, but I wasn't too hungry yet.
The buzzing outdoor patio there sure is appealing though. I was craving something sweet before calling it a day, so I picked up a horchata shake at Antique Taco (1360 N. Milwaukee Ave.). Sure enough, my sweet tooth was quickly satisfied and I headed home, already planning an itinerary for my next trip to Wicker Park.
Your ads will be inserted here by
Easy Ads.
Please go to the plugin admin page to set up your ad code.