First Look review: "9 Circles" from the Sideshow Theatre Company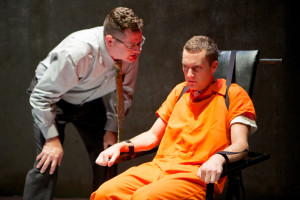 Your ads will be inserted here by
Easy Ads.
Please go to the plugin admin page to set up your ad code.
By Corey O'Day
Playing at: The DCASE Storefront Theater, 66 E. Randolph St. www.SideshowTheatre.org
When: Thursdays, Fridays and Saturdays at 7:30 p.m., Sundays at 2 p.m., through Oct. 6.
History: Written by Bill Cain, and directed by Marti Lyons, 9 Circles is named for its examination of Dante's Inferno, an epic journey into the depths of hell. Sideshow Theatre Company operates with a few important aims: "Familiar Stories. Unorthodox Methods. Perpetually Curious." And 9 Circles is a pure embodiment of those goals.
Basic storyline: Private Daniel Reeves was recruited into the Army as a troubled youth and thought he finally found a place to belong. Now he is being accused of a horrendous war crime and abandoned by brotherhood and country. An ever-changing cast of characters, who often feel like they are figments of Reeves' imagination, dance in and out of the circles telling him how to process what is happening. They each try to save him for their own gains. He manages to find small glimpses of redemption within his condemnation.
What to expect: An intense and often brutal engagement with the human psych
e. The compact and intimate black box theater means the actors are uncomfortably close to the audience in all of the best ways. You are cerebrally straight-jacketed for an hour and 40 minutes as Private Reeves self-destructs before your eyes — a human catastrophe that makes it impossible to look away. His personality disorder prevents him from feeling things that most other humans experience on a regular basis.
Your ads will be inserted here by
Easy Ads.
Please go to the plugin admin page to set up your ad code.
The audience is tossed back and forth from empathy to disdain for Reeves, watching him discover and grapple with loss, love, guilt, sympathy and acceptance. Unsurprisingly, this show is very politically-charged and makes several poignant comments about senseless violence and the futility of war.
What stood out: The appropriately austere staging and dramatic light and sound design, as well as the incredible talent of the four-person cast as they convincingly portray eight characters. Particularly spellbinding is Andrew Goetten in the lead role of Private Reeves. He traverses the minefield of emotions with devastating
authenticity. From the anger and confusion about his conviction to the moment he finally understands what it means to belong, Reeves has the collective heart of the audience in the palm of his volatile hand, and he is not delicate.
Final thoughts: A lighthearted date night this is not. 9 Circles is a grueling march toward judgment for a horrific crime. Goetten strips himself bare before the audience, emotionally and physically. A few moving conversations are able to make their way through to him, offering some relief in his most desperate moments: "You made them feel the pain of the enemy. That's not just the end of this war, that's the end of war."
I left this show feeling exhausted and fragile, like my nerves were exposed — but I think theater that is doing good work should cause some discomfort.
Your ads will be inserted here by
Easy Ads.
Please go to the plugin admin page to set up your ad code.