First look review: Former big-screen hit and Broadway favorite The Color Purple lands at The Mercury Theater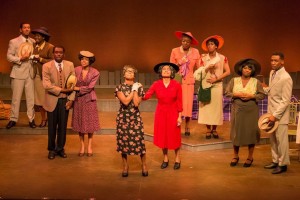 By Hilary Ward
Playing at: The Mercury Theater, 3745 N. Southport Ave.
https://mercurytheaterchicago.com/the-color-purple/
When: Wednesdays at 7:30 p.m., Thursdays 2 p.m. and 7:30 p.m., Fridays at 8 p.m., Saturdays at 2 p.m. and 8 p.m., and Sundays at 2 p.m. through October 27.
History: Based on the 1982 Pulitzer Prize-winning novel, this controversial tale was adapted into a film directed by Steven Spielberg starring Whoopi Goldberg and Oprah Winfrey. It was later made into a Broadway hit, receiving 11 Tony award nominations, including Best Musical, plus a Grammy nominated musical score. Oprah Winfrey returned to produce its Chicago run at the Cadillac Palace theater in 2007.
Basic storyline: Beginning in Georgia in the 1930s, we meet Celie, a 14-year-old African American girl trapped in a life where being beaten and raped by her father isn't front-page news. Already a mother of two children she assumes were taken for dead, Celie is then forced into marrying Mister, a vicious man who co
ntinues this treatment of his own and separates her from her sister, Celie's only bit of hope in the world. From here we meet a colorful mix of characters who help guide her to a life of tenacity and confidence.
What to expect: Two and a half hours stirring plenty of emotion, chock full of chilling harmonies and impressive acting, albeit all over downtrodden subject matter.
What stood out: Trisha Jeffrey's captivating performance from beginning to end, with an impressive ability to believably portray Celie from 14 to 50 years old. Jeffrey is able to grab a hold of your empathy from the start, rattle it as she grapples with the unfortunate cards she's been dealt, and doesn't let go until after you're walking out of the theater.
Other standout performances include the loveable Sofie (Jasondra Johnson), who introduces a fresh, empowering, "Hell no!" approach to the otherwise frustratingly submissive demeanor of Celie. More spunk and humor
brightened the mood each time the three gossiping gals (Brittany Bradshaw, Carrie Abernathy, Sydney Charles) glided on stage.
Set to a fantastic live score of blues, jazz, pop and even African beats, the group dance numbers were performed with impressive precision and seemingly genuine joy.
Final thoughts: Who would have thought that a story about racism, sexism and oppression could end up being so uplifting? As noted in the opening number, this is an epic tale jam packed with "joyful noise" despite being based on a bundle of controversial matters.