The Local Corner: Exploring the Sheffield and Webster intersection in Chicago's Lincoln Park neighborhood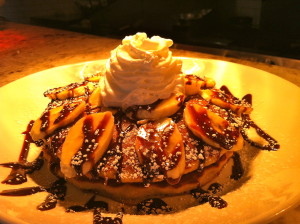 Exploring Chicago's neighborhoods, one street corner at a time
By Jim Luchetta
Photos by Trent Modglin

Erin Gallagher
1013 W. Webster
www.EGJewelry.com
Back in 2005, Erin Gallagher released her very first jewelry collection. Eight years later, her shop is stronger than ever, and with pieces quickly finding their way to the shelves at renowned retailers like Nordstrom and Fred Segal, she has even caught Oprah's eye. With a storefront nestled into the collection of shops on Webster, it can be pretty easy to miss this hidden gem (pun, unfortunately, intended). But with customizable options on all of the jewelry (due to the fact that it's all made in the store), EG seems to be just that. Most jewelry is made with precious gemstones that are placed on sterling silver or filled gold and can be customized at the "gem bar."
Sal's Deli
1013 W. Webster
www.SalsDeli-Chicago.com
The only word that comes to mind is phenomenal. Sal's is reminiscent of so many other great food stops, boasting an open counter and meat and cheese hanging from the ceiling like any real deli should. Just walking by the place would be enough to pull anyone in. The sauce is exquisite, tasting like it's been freshly made by an Italian grandmother, and it goes great on everything, especially the pizza bagel. If meat sauce isn't you're thing, Sal's has a fantastic grilled cheese, and a vegetarian panini that will knock your socks off. Seriously, if you haven't tried Sal's Deli by now, what are you still doing reading this?
Salon V
1007 W. Webster
www.SalonVChicago.com
Salon V is another business on Webster that has had a successful eight-year run. Sponsored by Aveda, Salon V is great for a haircut or coloring and caters to both women and men. Its open space and comfortable seating give the place a relaxing feel. DePaul discount days are also offered to students looking to get trimmed before the start of school or an important interview.

Jam n' Honey
958 W. Webster
www.JamNHoney.com
Another DePaul staple, Jam n' Honey has quickly become a Lincoln Park favorite for breakfast, lunch or dinner. If you're in the mood for a sandwich, their BBQ pulled pork, topped off with some coleslaw and fried onions, is a delicious lunch or dinner treat. For the vegetarians out there, Jam n' Honey offers a black bean burger that will require the use of both of your hands to eat.
McGee's Tavern & Grille
950 W. Webster
www.Bar1Events.com/McGees/
If there's a place that can compete with Kelly's in the neighborhood, it's the one right across the street. McGee's, part of the Bar1 Events bar group (which includes Duffy's, Durkins, etc.), offers a variety of specials, including $5 large pizzas every Tuesday, $1 burgers on Wednesdays and $1 Bud Light bottles and slices of pizza on Thursdays. McGee's also hosts events like bags tournaments and viewing parties for Ohio State football games. Check out the plentiful outdoor seating while the weather is still cooperating.
Kelly's Pub
949 W. Webster
www.KellysPub.com
One of the oldest family-owned pubs in Chicago, Kelly's actually started off as a candy shop before prohibition ended. All of the original wood from when the bar opened in 1933 is still in use today, with a beautiful bar that's accentuated by an old-time wooden liquor cabinet, giving Kelly's a classic feel. Kelly's caters to a number of age groups, most notably a large DePaul demographic, making this a pub a solid destination for any night out. The service is excellent, friendly and quick. Even for what appears to be a dive bar, their food is top notch, with great specials like 25-cent wings on Wednesday or $5 tater tots that are actually worth the money in both quantity and quality.
Homeslice

938 W. Webster
www.GetSomeHomie.com
Opening only earlier this year, Homeslice has already started to make a name for itself in Lincoln Park. While it's not traditional Chicago-style, the flat pizza combined with a puffy crust is a welcome addition to the area. Homeslice also offers a full bar, complete with craft beers, and a wood cabin feel to add to the charm.
State
935 W. Webster
www.State-Chicago.com
With 124 flat-screen TVs, a sleek, sophisticated interior and recognition as an official Blackhawks bar, State is a quality spot to catch a game. With burgers cooked to perfection and awesome appetizers like the spinach and artichoke dip, you won't be leaving hungry either. Seating is relatively easy to come by except for Tuesday trivia nights, which offer cash prizes. To top it off, State has a beautiful bar armed to the teeth with a variety of liquors, beers and wines, making it a little more fun to watch the Hawks defend their title.
The Athenian Room
807 W. Webster
What can I say about a place that's already been endorsed by Tina Fey? I could start by telling you it boasts
a great atmosphere, with architecture seemingly designed to make you feel like you are in a Greek villa. But atmosphere isn't everything, and a restaurant needs good food. Sporting some of the best gyros and Greek fries around, it would be difficult not to make a good choice for dinner here. To top it all off, their baklava is wonderfully crafted with honey and nuts mixed into a flaky crust that puts a perfect ending on a night out here.
For more Local Corner articles, click HERE