Inside Scoop for Summer 2013: Grant Park Music Festival, S3 leagues, Pinot on the Patio, A Blend of People and more,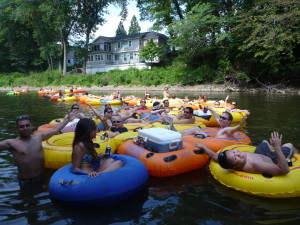 Your ads will be inserted here by
Easy Ads.
Please go to the plugin admin page to set up your ad code.
Learn what's hot and what's happening in Chicago this summer
S3 — Singles Social Sports Leagues
You see them everywhere in joyous groups — on the beach, in the bowling alleys, overtaking your neighborhood bar. They're happy, beautiful and, quite often, wearing the same colored t-shirt. They're singles, and they're mingling with team spirit around Chicago via the lesser-known of sports leagues, Singles Social Sports League, better known as S3. Started in 2009 by Chicagoan Ben Shimon, S3 offers sports
leagues like volleyball and social events like bags tournaments year round, with an emphasis on "un-singling singles."
My roommate and I enjoyed a recent night out at the Social 9-Pin Tap Tournament. Every lane had pre-determined teams of four guys and four women, matched up by age and neighborhood. For a mere $10, we got free shoes, two games, a raffle ticket (with which I won three free games!) and a great night interacting with locals ready and willing to mingle. After the games, all participants were invited to a bar across the street offering cheap drink specials just for S3.
From this night alone, we could tell that S3 is more than just a league. There was an immediate sense of camaraderie upon our arrival. Everyone was there to meet new friends and have a fun time, and not just solely focus on the game.
Check out www.S3Leagues.com for the next event or league. They sell out fast.
— Hilary Ward
Shochu & Sushi Wednesdays at Roka Akor
Every Wednesday night from 5-7 p.m. this summer, enjoy a mixer at Roka Akor (456 N. Clark). Roka's "Shochu & Sushi" event gives patrons a chance to sample signature infused cocktails (two per guest) and passed trays of sushi for $25 per person.
The mango Thai Chile shochu was my favorite, finishing with the chile bite to cut the sweetness. The passed trays included crisp and light tuna on toast, spicy hamachi serrano rolls and a roe-topped roll wrapped in thinly sliced cucumber that was an explosion of freshness. Seriously, it's the freshest thing I have ever tasted.
Roka's bar has a classy but relaxed vibe that makes it a great place to unwind after work. The décor is elegant, the staff is great and the music is a perfect combination of ambient elevator and trendy clothing store.
Roka Akor is located at 456 N. Clark. www.RokaAkor.com
— Corey O'Day
17th annual Chicago SummerDance in Grant Park
The largest annual outdoor live music and dance series in the United States, Chicago SummerDance, returns for its 17th year in Grant Park's Spirit of Music Garden (601 S. Michigan Ave.) Thursday, Friday and
Saturday evenings from 6-9:30 p.m. and Sunday afternoons from 4-7 p.m. between June 27-Sept. 15.
Presented by the Chicago Department of Cultural Affairs and Special Events, SummerDance brings people of all ages and skill levels together on a 4,900-square-foot, open-air dance floor. The series offers free, introductory one-hour dance lessons by professional instructors followed by live music and dancing. The diverse lineup showcases various traditional and modern dance styles from all corners of the globe.
Your ads will be inserted here by
Easy Ads.
Please go to the plugin admin page to set up your ad code.
Updates and announcements (including weather) will be available on Facebook and on Twitter @SummerDanceChi. For more information, visit www.ChicagoSummerDance.org.
Grant Park Music Festival
Grant Park Music Festival opens its 79th season, running June 12-August 17 at the Jay Pritzker Pavilion in Millennium Park with 10 weeks of beloved classics, masterworks of today and tomorrow, and anniversary
celebrations.
All concerts are free, and most will take place on Wednesday and Friday evenings at 6:30 p.m. and Saturday evenings at 7:30 p.m.
Open lunchtime rehearsals of the Grant Park Orchestra and Chorus return June 11-Aug. 16 and typically take place Tuesdays through Fridays from 11 a.m.-1 p.m.
Visit the Grant Park Music Festival Facebook page or follow the festival on Twitter @gpmf
"Pinot on the patio" at The Chicago Firehouse
The Chicago Firehouse restaurant has launched "Pinot on the Patio," a new weekly event that highlights pinot noir, pinot gris and pinot grigio. From 11:30 a.m.-11 p.m. on Tuesdays, glasses of pinot will be $5 each (wines will vary from week to week).
Chef John Caputo's full lunch and dinner menu will be available on the beautiful, enclosed backyard patio with seating for 100 guests.
The Chicago Firehouse is located 1401 S. Michigan Ave. www.ChicagoFirehouse.com
A Blend of People
Ever want to have a good meal and conversation about topics like travel, local music or hidden gems in Chicago? Check out A Blend of People, which hosts thought-provoking social gatherings in an environment that combines a blend of people with good food, good drinks and great conversation.
Just go to the website, look through the upcoming events page and choose a topic that interests you. Then show up and be ready for a fun, friendly and interactive evening with other like-minded people. Share stories, advice, jokes, plans, goals and more. Make new friends, get inspired and laugh a little too.
www.aBLENDofpeople.com
— Trent Modglin
The Two Dollar Bill at ComedySportz
The ComedySportz Theatre's wildly popular Wednesday night of comedy offering three improv shows for just $2 is back.
Genesis League at 8 p.m. Battle-Prov at 9 p.m. The After Party.at 10 p.m.
The After Party is an improvised party with a new "party" theme every week where both audience and players, led by members of the ComedySportz main ensemble, are encouraged to try out improv in a fun and supportive environment.
ComedySportz is located at 929 W. Belmont. www.ComedySportzChicago.com
The new VIP experience at Blue Man Group
You may have seen a show before, but you haven't seen it like this — the new VIP experience to Blue Man Group.
VIPs are treated to a three-course pre-fixe meal at Jack's on Halsted, premium seats, complimentary pre-show beverage, souvenir VIP pass with free audio download as well as access to an exclusive post-show Q&A with a staff member and photo opportunity with a Blue Man.
Only eight VIP tickets are available for select shows, so call the Briar Street Theater box office at 773-348-4000 for more information.
Your ads will be inserted here by
Easy Ads.
Please go to the plugin admin page to set up your ad code.