First Look review: Bailiwick Chicago Theater's "Mahal" at Stage 773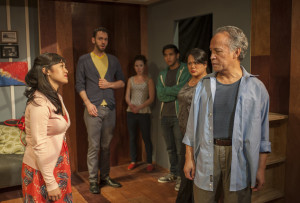 A Filipino family struggles to stay together as the youngest son searches for his place in the world
By Taylor Tolbert
Playing at: Stage 773, 1225 W. Belmont Ave. www.Stage773.com
When: Thursdays, Fridays and Saturdays at 8 p.m. and Sundays at 2 p.m. through August 2, 2013.
History: A resident playwright at Bailiwick, Danny Bernardo has countless credentials here in Chicago, working with reputable companies like Victory Gardens, the Goodman, Oak Park Festival Theater and the Chicago Academy for the Arts. Honing his playwright talents at Columbia College and Second City, his dedication to the art really shines on stage in Mahal.
Director Erica Weiss is the associate artistic director of Route 66 Theater Company in Chicago and also a Joseph Jefferson Award nominee for her direction and co-creation of A Twist of Water. She is a graduate of DePaul University's world-renowned theater school and has worked with Steppenwolf Garage and Theater Wit, among many other theater companies.
Basic storyline: The Reyes' family matriarch has recently passed, leaving the rest of family to heal their wounds. They're not what you'd call "close-knit," and they've certainly all got their issues. Mikey (Kevin Matthew Reyes) is the youngest son, still learning to navigate his new relationship with another man (Tim, played by Patrick Byrnes) while harboring some intense trust issues. His sister, M
ari (Kate Grassino), has assumed the role of Mom, trying to coddle and defend Mikey at every corner, and his older brother Jun (Karmann Bajuyo) is just trying to be an adult, whatever that means. Their father, Roberto (Joseph Anthony Foronda), is grieving his wife's death by having a mid-life crisis — and not doing a great job at either.
Their mother's last wish, however, was for the whole family to get together for Sunday dinner. It's quite a chore, as you will see. The end of the first act sets up for a dramatic second, with the Reyes' family secret finally out of the bag for all members to cope with.
What to expect: A great story about a highly complex, nuclear family. It deals a lot with the assimilation into American culture after migrating from the Philippines, but their troubles are so human that a person from any background can relate. The arguments sometimes escalate into Tagalog, and you may find yourself looking at the bottom of the stage for subtitles. But you don't need to be fluent or even conversational to
infer what is transpiring. It is all explained in good time.
What stood out: The actors, all Filipino themselves (except the white girl, but you can guess), do an incredible job at being complex, troubled, hilarious and everything else the amazing script calls for them to be at different times throughout. The very small set tries to do a lot, transforming from a restaurant to a living room, back to a restaurant, then to a bedroom, which gets a little exhausting. It has to be done, though, and it is done very creatively.
Final thoughts: At its core, the story is about a family trying to reconnect after the loss of their mother. Each person struggles in different ways, but you'll laugh along with them and find resolution in the heartwarming end.