A Round of Drinks at Grandview Tavern: This West Town pub and beer garden offers a lot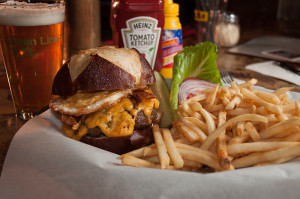 This West Town pub boasts a tasty brunch, plenty of sports and a secret beer garden out back
By Nicole Weddington
Where you'll find it: 1202 W Grand Ave. in West Town. (312) 733-6378. www.GrandviewTavernChicago.com
Peak time: Weekend brunches are the busiest time for this Midwest neighborhood bar with a twist. The Bloody Mary or the chili margarita will quickly cure that hangover. The brunch menu includes delicious items like the Racine Street, Grandview's own spin on traditional chilaquiles — tortilla chips soaked in their house-made salsa, smothered in pepper jack and cheddar cheeses and then topped with two eggs your way.
First impressions: Exposed brick, wood décor, vintage beer memorabilia and dim lighting give this bar a cozy, north woods feel. The bar has large flat-screen TVs throughout the main dining r
oom and beer garden. The adorable outdoor patio is like stepping into a secret garden. Ivy covers wooden fencing that shelters the space from the rest of the world.
What stands out: The bar boasts a variety of craft beer and also has a to-go menu for beer, wine and sake at an affordable price. You can get a $5 Jameson shot and a late-night pizza after the kitchen is closed any day of the week.
Menu variety: This is not your ordinary bar food. The menu balances traditional American cuisine with some Italian favorites. Try the grilled calamari with sautéed spinach, roasted red peppers, kalamata olives and feta cheese with their house-made vinaigrette. Grandview's French Philly is made with a rich peppercorn cream sauce that is so tasty you'll be told to skip the cheese.
It's a great spot to… watch a game. The bar's large flat-screen TVs and incredible sound system make this
bar a great place to gather to get your sport on. Chicago teams trump others, but this tavern also hosts a full MLB and NFL package.
What people are saying:
"Grandview is the perfect combination of neighborhood bar and sports bar. I love to watch games there because of the huge TVs, customers chanting, Jell-O shots in team colors and, let's not forget, the outdoor game watching." — Chicago resident and Grandview regular Michael Tolva