First Look review: The Red Square Spa in Wicker Park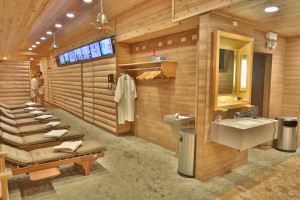 Part European bathhouse, part luxury spa and restaurant, this Wicker Park gem knows how to pamper
By Leah Karabenick and Sara Tunstall
For Wicker Park residents, the activities occurring behind the small façade of the Russian bathhouse have always remained quite a mystery.
Nestled between the trendy boutiques and restaurants on Division Street, its exclusive European vibe may have deterred patronage from the surrounding community. Rumored to have been frequented by politicians indulging in steam baths and eucalyptus wraps, the bathhouse seemed a bit taboo, even unapproachable. But with new 
management taking over in 2011 and a full revamp in the last year, the business effectively broadened its appeal and re-opened its doors to the neighborhood.
From the welcoming staff to the countless offering of services, the Red Square Spa, as it's now known, has truly modernized the Russian/Turkish bathhouse experience while retaining a sense of authenticity. Patrons can indulge in everything from manicures and massages to dinner and cocktails — and even rent out the upscale apartments above the spa. It wouldn't be a surprise if future services included having your dog walked, suit altered or your favorite bedtime story read to you.
In the restaurant, men and women l
ounge in fluffy white robes and slippers while sipping cocktails and champagne, awaiting their next soak. The menu proudly serves traditional Eastern European fare, including cold borscht and Russian herring. Also, abiding by tradition, the spa services truly impress.
At the bare minimum, $30 allows all-day access to the saunas and spas on the lower level. For an additional fee, healing therapies and seaweed wraps can be added to the experience.
With the welcoming communal environment and the robust service offerings, the Red Square Spa proves the perfect place for a bachelorette party, day of meditation or even a place to host out-of-town relatives. After touring the space and enjoying an excellent massage, we would thoroughly recommended it to those looking for experiential pampering.
The Red Square Spa is located at 1914 W. Division in Wicker Park. Call (773) 227-2284 or log on to www.RedSquareChicago.com for more information.