Personalized pampering at STIL Salon and Spa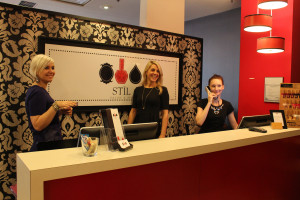 Your ads will be inserted here by
Easy Ads.
Please go to the plugin admin page to set up your ad code.
The Gold Coast's STIL Salon and Spa focuses on fostering relationships — and spoiling you rotten
By Trent Modglin
Photos by Arooba J Photography
Everyone likes an American success story, and this is one of those tales.
Ilva Sotiraj, a native Albanian who was fashion-forward practically from the womb, began her career at the front desk of a spa, intrigued by a "totally different world" of the fashion industry in which, once immersed, she quickly understood why people enjoy getting spoiled.
When one of the spa's regular clients missed her appointment and wasn't handling it well, Ilva's then boss told her she was needed. Ilva's skills had been noticed from afar. Before long, word spread, and other clients began requesting her. Her days behind the front desk were over. Her desire to become a lawyer subsided. Ilva had found her calling, and a Chicago entrepreneur was born.
It didn't happen overnight, but while working at various spas throughout her 20s, Ilva realized she could do it better. Her regulars constantly told her as much, reinforcing her desire and instilling
the confidence needed to launch her own business. But Ilva showed patience because she wanted to see where she belonged, as Chicago has a tendency to change from one block to the next. She needed to find a place she felt at home, especially if 12-hour days beckoned.
Finally, when her business partner explained it was time to make her dream to open a friendly, high-end spa a reality, most of the clients she'd come to know during more than a decade in the business made the jump without hesitation.
"I realized family doesn't need to be blood after all," Ilva says of her loyal customer base. "After 12 years, I've grown up with a lot of them. Some of them are married and have kids now, or grandkids, and I've been with them the whole way.
"They don't come just to get their nails done or get a facial. It's therapeutic to them. I'm their therapist. I guess in a way they can also be my therapist because you start sharing things. Most of the women don't say they're going to get their nails done. They say, 'I'm going to see Ilva.'"
Your ads will be inserted here by
Easy Ads.
Please go to the plugin admin page to set up your ad code.
I witness this unique bond firsthand while speaking with her at STIL. One of he
r clients politely interrupts our interview to hug Ilva goodbye and thank her, not only for her haircut and manicure, but for "listening to all of that too." I notice other clients hanging out, just to visit, long after their massages, waxing or pedicures are done.
"I love when I see their smiles," adds Ilva, who admits to getting calls at all hours from her clients. "If they've had a stressful day, they can come here and unwind, and I can say, 'OK, here's a glass of wine, let's go.' I love when I've made a change in how they look and feel."
With an experienced team, an affinity for cutting-edge products and a spacious yet stylishly intimate setting above the posh Oak Street shopping district, STIL plays host to groups of women as many as five or six times a week. Whether it's for a wedding or birthday, before a night on the town or just an excuse to catch up, the champagne flows and the lavish pampering is appreciated.
"I want every time they come here to feel like the first time," Ilva says.
At this point, our chat is winding down. But before I go, I compliment her on the music that is piped through this colorful, inviting space. It's not Asian flutes or ocean breezes or the elevator music you hear so often in other spas. Turns out it's a personal Pandora station she's continually tweaking. There are some newer fun selections, but also plenty of classics like Frank Sinatra and Bobby Darin.
"I like the classics that stand the test of time," she says. "They keep you coming back happy."
Here's guessing her customers can say the same.
STIL Salon and Spa is located at 34 E. Oak on the fourth floor. Call (312) 337-7845 or visit wwwStilSalonAndSpa.com for a full list of services.
Your ads will be inserted here by
Easy Ads.
Please go to the plugin admin page to set up your ad code.