Little venues, big sounds: Check out Chicago's most underrated spots for live music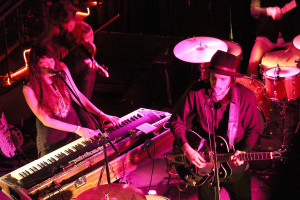 Your ads will be inserted here by
Easy Ads.
Please go to the plugin admin page to set up your ad code.
Kick the slush off your boots, stand in the coat check line and enjoy the city's most underrated homes for live music
By Dan Ochwat
With the cold months in Chicago spaced out far enough from summer festivals, gigs in the winter are often for real. And while, for this writer, nothing tops a concert at either Empty Bottle (1035 N. Western Ave.) — I just love the art, the brick, the chalkboard beer list and that corner stage — or Metro (3730 N. Clark St.), particularly coupled with pre-show shellfish at the neighboring Raw Bar (3720 N. Clark St.) and an after-show Bell's Two-Hearted Ale at Gingerman Tavern (3740 N. Clark St.), there are some under-the-radar venues in the city to seek out.
Logan Square has become the hippest neighborhood in Chicago, and Township fits right in. The narrow bar/coffee shop/restaurant — with a narrower side room for live shows — serves great bottled craft beer and cheap aluminum tallboys. There's a raw vibe to the place, much like the local acts and rising national acts it books. It feels like a VFW hall meets a rock club in New York, specifically Cake Shop, but that could be because both serve great breakfast. Stellar restaurants, bars and the Revolution Brewery surround the venue. Makes for a great night out.
Reggie's Rock Club
2105 S. State

www.ReggiesLive.com
This venue probably has the most unique point of view in the city, playing metal, punk, hip hop and reggae acts. The place is down and dirty; down, because it's basically in Chinatown; and dirty, for its unfiltered appeal. It's also a one-stop night out with its roof deck, neighboring restaurant and Record Breakers music store, chock full of vinyl and gear.
Your ads will be inserted here by
Easy Ads.
Please go to the plugin admin page to set up your ad code.
Subterranean
2011 W. North Ave.
www.Subt.net 
This Wicker Park space has been around awhile, sitting right in the thick of "the crotch" (the intersection of North, Milwaukee and Damen), and it seemingly focuses on fun bands or hip hop and DJ sets. There always seems to be a lot of energy at the place, and it has a great upstairs viewing section that surrounds the stage. Careful going up the stairs though.
Schubas
3159 N. Southport Ave.
www.Schubas.com
Hard to call this club underrated, because at one point it was a premiere stop in Chicago with a lot of history. But since the management company opened up the larger Lincoln Hall (2424 N. L
incoln Ave.) — a venue with a lot less character but capable of delivering a great concert experience in the way Metro provides (it also makes pleasant use of the once-great 3 Penny Cinema space) — the hip, rising acts that once played Schubas now fill up Lincoln Hall. Another perk of Lincoln Hall is before and after drinks at Barrelhouse Flat (2624 N. Lincoln Ave.).
I saw The National, Sufjan Stevens and Vampire Weekend at Schubas before they went on to sell out places that dwarf this backroom, wooden hall that fits maybe 100 people. But it remains a top spot in the city. The bar up front has a stellar jukebox, and the venue itself is one of the coziest in the city. The acts carry more of an Americana, singer-songwriter tradition, too. It's wonderful.
Your ads will be inserted here by
Easy Ads.
Please go to the plugin admin page to set up your ad code.