The rise of Logan Square: Why this diverse area has quickly become one of Chicago's hottest neighborhoods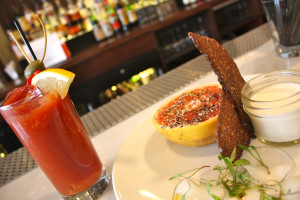 Your ads will be inserted here by
Easy Ads.
Please go to the plugin admin page to set up your ad code.
Quickly becoming one of Chicago's hottest new neighborhoods, we examine what makes this diverse area so special
By Maddy Bourque
Logan Square, Chicago's suddenly talked-about neighborhood on the northwest side, is home to an eclectic variety of people and businesses. From families who have lived here for generations, to college students seeking an affordable rent space, to the alternative youth who redefine the neighborhood's culture, one thing is certain: Logan Square is on the radar of Chicagoans.
A truly unique quality of Logan Square is the sense of community maintained by its residents. That, combined with the sudden influx of newcomers, has created an environment that is brimming with art, a cutting-edge food scene and lively nightlife. Here are a few recommended restaurants and bars:
Longman & Eagle
2657 N. Kedzie
www.LongmnAndEagle.com
Founded in 2010, Longman & Eagle is a gastropub that is as equally fitting for brunch as it is a late-night round of cocktails. The servers are extremely knowledgeable about the menu — from the bar snacks to the entrees to the impressive selection of whiskeys offered. Adding to the appeal, Longman & Eagle offers a trendy, vintage atmosphere familiar to the Logan Square neighborhood. It has become one of Chicago's hottest restaurants, but they don't take reservations, so if you're headed there for dinner during peak hours, expect a wait.
Parson's Chicken & Fish

2952 W. Armitage
www.ParsonsChickenAndFish.com
Boasting a modern, diner-like ambiance, Parson's Chicken & Fish is relatively new to the Logan Square restaurant scene. The communal dining setup, friendly staff and menu of fried goodness all lend to its popularity for All-American comfort food.
The staff is eager to share suggestions, agreeing that the chicken sandwich is the restaurant's most popular item, but hardly failing to mention other favorites such as the pimento toast, Parson's hot or the hush puppies. The must-try item, in my book, is their Negroni slushy — a cocktail-inspired blend of gin, sweet vermouth and citrus, disguised with the childhood nostalgia of a summer dessert. Don't forget the fun beer garden out back if the weather is right.
Bang Bang Pie & Biscuits
2051 N. California

www.BangBangPie.com
Bang Bang Pie & Biscuits is as much of a local hangout as it is a sought-out cafe for visitors with a sweet tooth. They offer a rich selection of seasonal fruit-filled pies, as well as year-round classics such as honey, chocolate pecan and key lime. The cozy setting, accentuated by the rustic decor, open kitchen and courtyard dubbed "The Pie Garden," makes it a place to go for more than just dessert (i.e. their chicken pot pies). And if the homey environment doesn't get you to stick around, you'll surely be tempted by coffee served on tap for only $1 per refill.
Revolution Brewpub
2323 N. Milwaukee
www.RevBrew.com

You've likely seen their beers around at many restaurants, grocery stores and bars, as Revolution Brewing is home to local craft favorites like the the Anti-Hero IPA, Eugene Porter and Bottom Up Wit. Craftsmanship is essential at Revolution; the servers are eager to offer knowledge and opinions regarding the beer. They also offer $2 samples, as proper tasting opportunities are fundamental to the Revolution experience. Not a beer person? The upbeat atmosphere and stellar dinner menu (try the burger or pulled pork) provide more than enough for a satisfying night out.
Lula Cafe
2537 N. Kedzie

www.LulaCafe.com
Lula Cafe may be Logan Square's most visited brunch spot, and for good reason. Both the atmosphere and constantly changing menu offer a minimalistic impression, with dishes as refined as the cafe's quirky aesthetic. The menu, though relatively small by today's restaurant standards, is constructed with fresh, seasonal ingredients in mind. Lula's variety of cocktails, especially the flavored sangrias, is a big hit with regulars too. The hip cafe is no longer a Chicago secret, as demonstrated by the consistent crowds at brunch and dinnertime.
Your ads will be inserted here by
Easy Ads.
Please go to the plugin admin page to set up your ad code.
The Boiler Room
2210 N. California
www.BoilerRoomLoganSquare.com
The Boiler Room's industrial ambiance in company with its simple menu invites a wide-ranging crowd for food, drinks or just a spot to be social. A popular way to start a night at the Boiler Room is by ordering a PB&J; and no, that's not the sandwich, but rather an $8 combination of pizza, PBR and a shot of Jameson. Jameson seems to be the drink of choice for many Boiler Room attendees, as it's included in many of their specialty items, such as their booze-infused ice cream. It is also offered as a spending incentive at the cash-only bar; each ATM receipt earns a free shot of Jameson in exchange.
Q&A with writer Ernest Wilkins
Q: How would you describe Logan Square to someone who has never been there before?
A: A vibrant, beautiful neighborhood on the precipice of change. Families are next to world-class restaurants, and bars are next to bakeries that have been here for 50 years.
Q: What gives Logan Square its reputation for being an up-and-coming neighborhood?
A: It's not as expensive as Bucktown or Wicker Park, and still has some bargains to be found in terms of living. The investment into the Square itself and the uptick of spots on Milwaukee has brought new life to the 'hood.
Q: What are some must-see destinations in Logan Square?
A: Food: Lula, Bang Bang Pie, Longman & Eagle, Gaslight Coffee Roasters, Analogue, Boiler Room, Masada
Drink: Billy Sunday, Cole's, East Room, my backyard
Shops: Meyvn, Fat Tiger Workshop
Go to the Logan Theater and catch a flick
Q: How would you compare Logan Square today with the neighborhood several years ago?
A: One of the worst things that happens in cities is the lack of knowledge. Several years ago, there was definitely crime in Logan Square. There still is. Just like every other neighborhood in the city. The key to truly enjoying urban living is to be aware of the factors that go into "bad neighborhoods" and work to change them, instead of trying to seal yourself off from them by never leaving Lincoln Park or something.
Q&A with Adam Wavrunek, Domain Realty 
Q: How would you describe Logan Square to someone who has never been there before?
A: Logan Square is a vibrant neighborhood with great people that love their neighborhood and its businesses. You will see a combination of long-time residents and newcomers that coexist in harmony in a way that I have not seen in other areas. There's plenty to do, with many independent, one-of-a-kind shops, restaurants and bars. The inner streets of the neighborhood are quiet and uncongested. Traffic is light, and parking is relatively easy in most areas. There is ample access to transportation with two el train stops and several buss routes. There is a great housing stock of rental units and properties for sale and several examples of historical and modern architecture. Several great parks and green spaces, too, including a few of Chicago's historic boulevards and the new Bloomingdale Trail elevated park and walking/biking path.
Q: What gives Logan Square its reputation for being an up-and-coming neighborhood?
A: The perception of many people was that Logan Square was unsafe. This perception, combined with many strips of vacant commercial property, kept many people from exploring the positive things the neighborhood has to offer. In the last six-plus years, the neighborhood has been seeing a revitalization. Many small, independent businesses have come to the neighborhood, making it more of a destination for people living in other areas. There has also been a drastic increase in residential development, which has brought new residents. I find that most people that live in the area love living here and are eager to spread the word. Now that more people are living and visiting Logan Square, they are seeing the reality firsthand that this is a great place to live with a lot to offer.
Q: How has the real estate market in Logan Square responded to the neighborhood's influx in popularity?
A: Rents and property values have been on the rise in the area for some time now. Despite the uptick in prices, many find prices to be affordable and a good value when compared to other neighborhoods to the east. The addition of the Bloomingdale Trail along the southern border of the neighborhood has also been a positive driver of values.
Q: How would you compare Logan Square today with the neighborhood several years ago?
A: I would say that a lot of what is great about the neighborhood has not changed — its great people, interesting architecture and ample green space. The recent changes have only enhanced Logan Square, providing new housing options and more to do.
Your ads will be inserted here by
Easy Ads.
Please go to the plugin admin page to set up your ad code.