We Ask, They Answer: Q&A with The Slaps on music beyond social media, going on tour and 20-something life in Chicago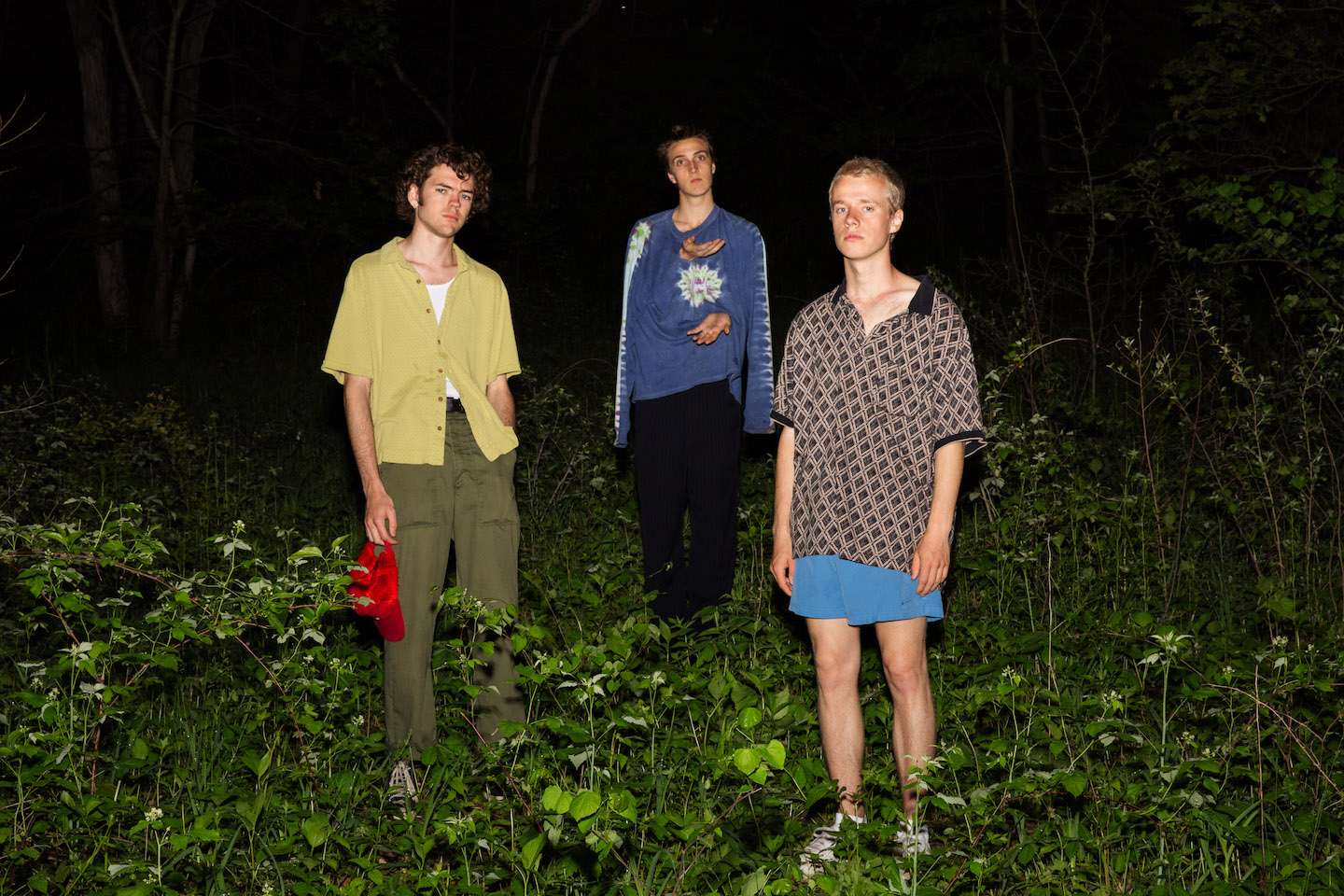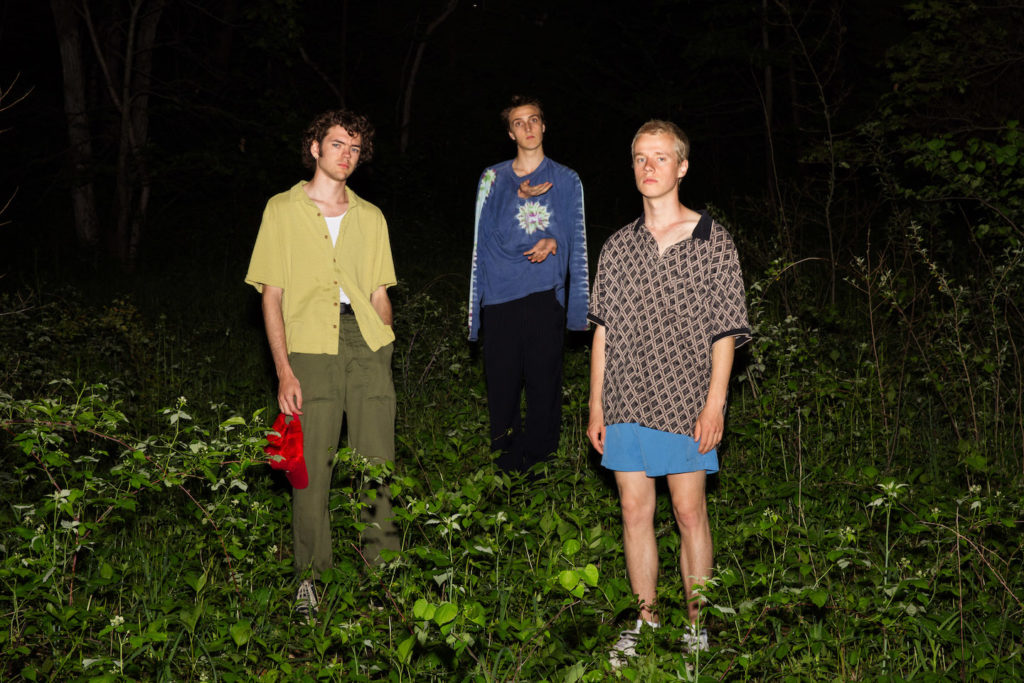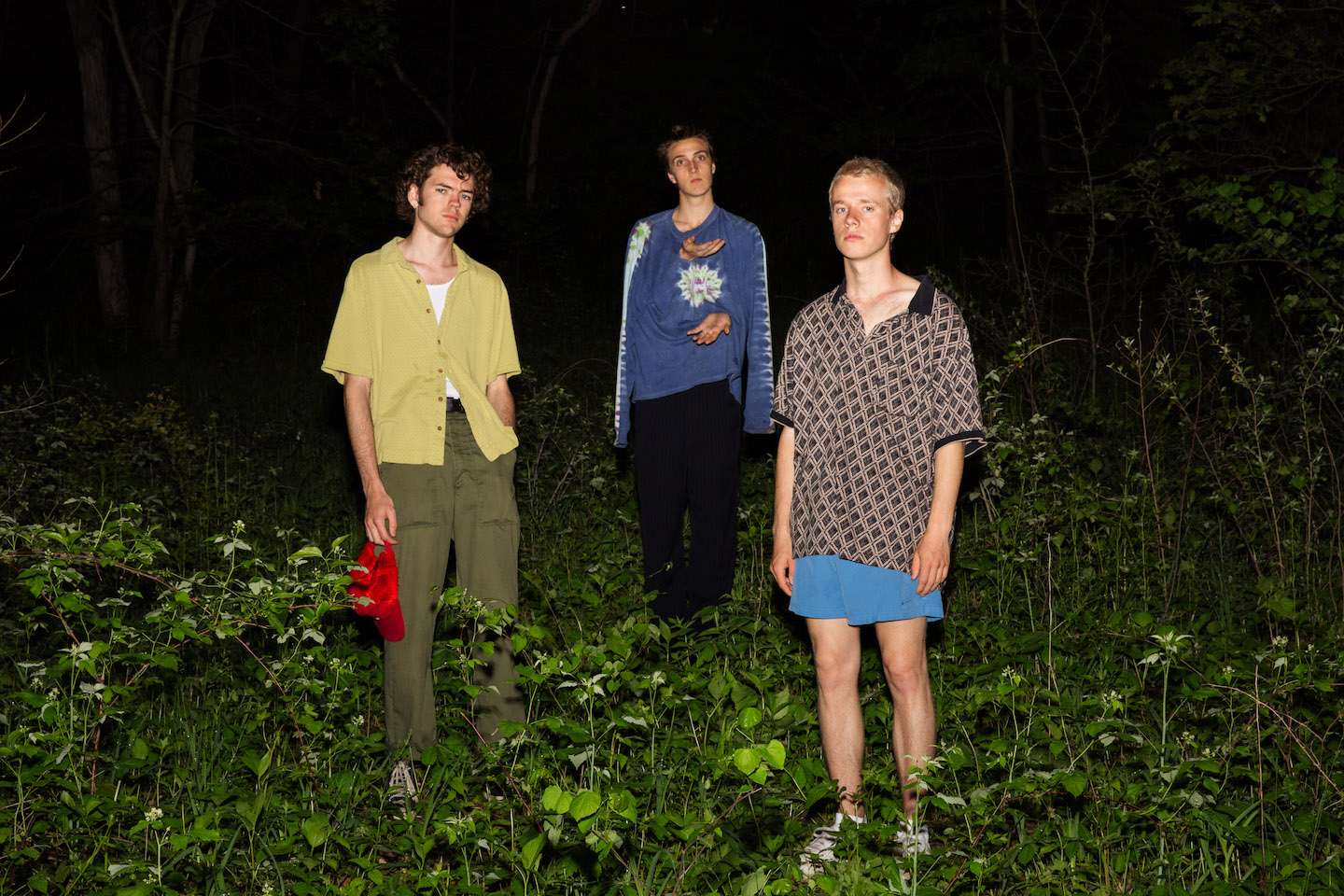 By Jonathan Mandel
Maybe you've heard of The Slaps. Maybe you haven't. These three artists, who happen to be rising seniors at DePaul, seem to care more about releasing good music and putting on fun shows for their friends than seeking out labels like Chicago's Hottest Indie Band, Up-and-Coming Artists to Watch, or Best Wearers of Baggy Clothing.
An ethos of sincerity and unpretentiousness permeates their musical oeuvre, shining through every guitar twang, crooning lyric and funky bass riff. Maybe that's why The Slaps' music is resonating with an ever-growing local and national audience. But the hell with it: We'll put them in the running for all of those titles listed above any day of the week. This year, The Slaps have already dropped two EPs in quick succession, suitably titled A and B — the latter of which was unveiled at a vague "record release party" a month after A was released, without any other hints or hype about it in advance.
Now, The Slaps are gearing up to hit the road with Atlanta indie darlings Lunar Vacation for what will be their longest tour yet. The Real Chicago caught up with two of the three Slaps — guitarist Rand Kelly and bassist Ramsey Bell — to discuss their new music, their tour and the city they currently call home.
The Real Chicago: Are you guys from Chicago, or are you both transplants?
Rand Kelly: You're speaking to the two Kentucky boys in the band.
Ramsey Bell: We're both from Lexington, Kentucky. We grew up together. We've known each other for a looong time.
Rand Kelly: And then Josh Resing, who's the drummer — he's not from Chicago, but 30 minutes outside, from Elmhurst.
TRC: Having grown up in Kentucky, do you guys feel like that influenced your musical style at all? I definitely feel like you guys have some bluegrass or something in there.
RK: Yeah, absolutely. I listened to a bunch of bluegrass in high school.
RB: Yeah, definitely some country, some blues. We played with some blues bands — we were kind of a blues band in high school. Southern influence, for sure.
We want people to stop relying on media to learn things, you know? I think it's an important move, an important aspect of our image that we should be considering. Like, who's listening and how they're finding out about things?
TRC: It seems like the city has certainly accepted you guys, and it seems like you have good relationships with a lot of other young artists who are coming up in Chicago. How did you guys find your way into the music scene here, and how has the reception been?
RK: Funny, I don't know, yeah…. We started playing a bunch of house shows, so that's kind of where people saw us first, and then just slowly, people started asking us to do shows. … It's been pretty consistent, I guess, and fairly natural; it seems [like] just going with the flow of things. Learning what to expect, what not to expect. We've been given a good amount of choices and opportunities, for sure. People have been helping us out and putting us on for really big shows. So we've done that in the past, and now, it's a mix of a bunch of different variables. There's no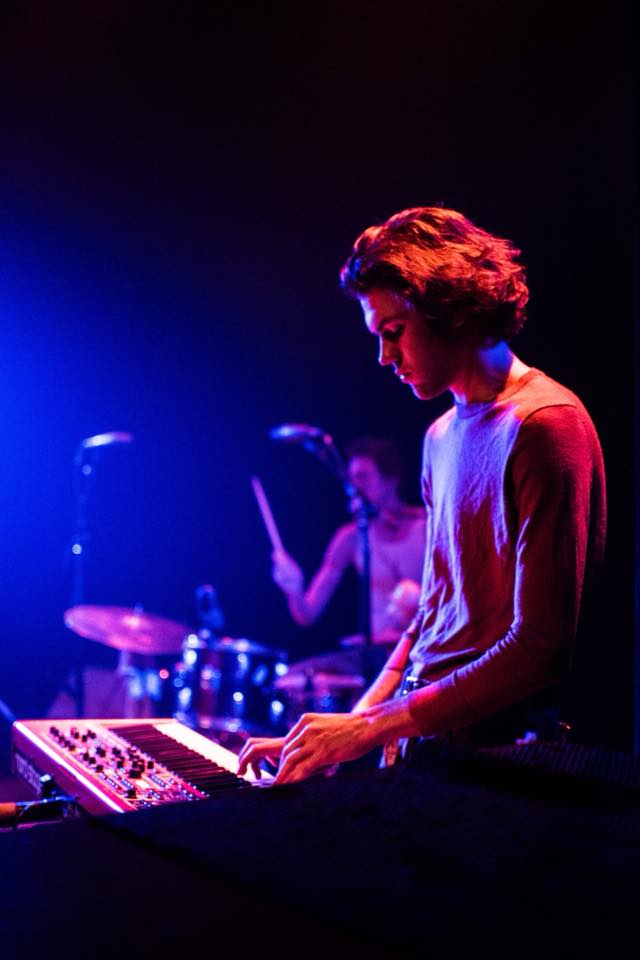 one single process, really. We just know a lot of people through this whole thing.
RB: Yeah, I think Chicago has sort of a reputation of being pretty open-arms about welcoming people in the music scene. People are always down to listen to a variety of music, and most everybody who makes music here is also just generally pretty good people. Nice to hang out with. A lot of really good friends.
TRC: Do you guys think that being part of the Chicago music scene has influenced the kind of music that you guys are putting out and the kind of music that you guys are listening to?
RK: I don't really know. I guess anything that we hear that is local, we process, consciously. That definitely influences [us] – everything that is listened to goes into each song, I guess. But for music that's coming out of Chicago? A little bit, yeah.
RB: I feel like the music scene here has kind of undergone a little bit — I mean, not even a little bit — a massive change in recent years. When we first moved here, I feel like most of the talk around the music scene was about garage rock and rock bands, and now it's like every band sounds very, very different — a lot of different textures, a lot of different influences coming in. I think a lot of that has been through people making the space and the scene more inclusive; a wider variety of voices are being heard.
RK: When we got here, it was Twin Peaks, the Orwells and the Symposium. Really just rock. Like a different genre and approach, I guess. So it seems. I wasn't here to see what it was like, so I don't know.
TRC: Having grown up in Southern California, I'm always intrigued by the number of bands in Chicago that seem to be into — to use the word loosely — sort of a "surfy" sound. I've never understood that, but it seems like Chicago's really into that at the moment.
RK: Beach Bunny and Girl K definitely have those…
RB: We got a beach here, man. We've got sand.
RK: I liked using reverb. I just liked the sound of reverb for a minute. I don't really like reverb anymore.
RB: I kinda do.
RK: Depends.
TRC: Are there any particular venues in Chicago that you guys really like to play, that you hope you get a chance to play in the future, or that you like to go see shows at?
RB: We just played Beat Kitchen. We've played that twice now, both to sold-out crowds, so that's been very fun. I'd really like to play Thalia Hall in the round, that'd be really fun.
RK: I'm honestly trying to play a garage house show in the summer.
RB: Nothing quite like those sweaty garages.
RK: Yeah, like not being able to breathe.
RB: We're kind of out of the scene, sort of. I don't really know that many DIY houses. Palmer House is a good one. There's the huge, massive venues in Chicago, and there's kind of the smaller venues, which we've played most of at this point. Like Sub-T and Beat Kitchen and Schubas. I don't know, I guess keep moving up. To play the Metro would be cool.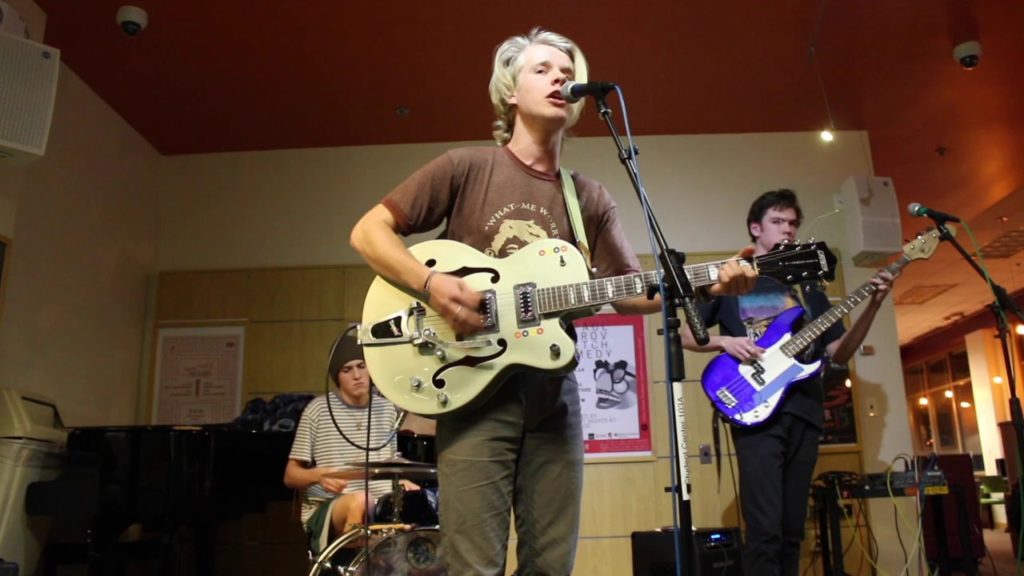 TRC: Are there any spots or neighborhoods where you guys spend a lot of time? Where would we find you guys on a Saturday night?
RB: Saturday night? Scooter's.
RK: Scooter's.
TRC: Scooter's?
RB: Scooter's is a frozen custard spot.
RK: It's on the west side of Ashland on Belmont. That place is so good.
RB: If you're in Chicago, don't go to Jenny's — go to Scooter's.
RK: We hang out – where do we hang out? At our house a lot? I haven't been hanging out at home a lot.
RB: Rand just picked up a job. He's been in the corporate sphere the past couple weeks, doing faxes and wearing a tie.
RK: No, I'm getting dirty and sunburned.
RB: [Rand is doing] landscaping. But I don't know man, I guess we hang out in Logan Square. That's not it hardly at all, actually; we're not even in Logan Square. Sorry, that was like the worst answer to give you: a bunch of random, vague locations.
TRC: Do you guys plan on staying in Chicago for a while after you graduate?
RB: We have no idea. We have to figure that all out. Hopefully no, because we'll travel a bunch. But we have no idea. Depends on if music keeps being good to us, and…
RK: And how we feel about it.
RB: To be determined. Put that as TBD.
RK: I think music is – I don't know, it's very important to me, but it's not life or death.
I'm nervous about how we're getting around (on the upcoming tour). Not sure how we're doing that yet. Might be in a little Toyota Corolla, little beater car, so always kind of nervous about breaking down, but it's all part of it.
TRC: Switching gears to the two new EPs you just put out, how do you conceptualize the project or projects? Do you think that each A and B have a unique vision? Are they two parts of the same project?
RB: We recorded it all as one project initially, but the more we talked about how we were gonna release it, and how we wanted it to look, it kind of made more sense. They're pretty much split up chronologically: A was written first and then B was written more recently. It just made more sense to release them that way. It felt a little more natural. We've been sitting on these songs for a long time — like a year, year and a half — and we've recorded them a few times and never been that happy with how they came out, and finally came out with a good recording of them all. Yeah, it just felt right to release it as two EPs rather than one big project. I think it kind of gave the songs a little more breath, a little more space to exist.
TRC: Was B meant to be a surprise when you guys dropped it?
RB: It was supposed to be like a surprise. We did it fairly well, I guess. I'm not sure how it was received from the public end.
TRC: Dropping a surprise EP is obviously a lot of fun, but we tend to see artists do the exact opposite, and promote their projects vigorously on social media for months in advance. I'm curious what your thought process was behind doing what you did.
RK: We want people to stop relying on media to learn things, you know? I think it's an important move, an important aspect of our image that we should be considering. Like, who's listening and how they're finding out about things?
RB: Who really cares.
RK: Yeah, who really cares enough to remember things on their own, hold themselves accountable.
RB: It's also just fun to have secrets.
TRC: You guys played a show with the Atlanta band Lunar Vacation back in January, and speaking of social media, you guys show each other quite a bit of love on social media. Now, you're about to go on tour together. I'm curious how that relationship started.
RB: That started when we were planning our first ever tour last summer with the Manwolves, who we're about to go have dinner with right now. We're gonna make pizza after we get off the phone with you, so that should be cute. But it was fully self-booked, mostly just DM-ing people on Instagram and being like, "You're from Houston. What's good down there? What's going on? Are there house shows?" So I think I messaged some guy on Instagram who lived in Nashville, asking about shows in Nashville, and we got on the subject of Atlanta, and he pointed me in the direction of a bunch of Atlanta bands, and one of them was Lunar Vacation. And I think they were pretty busy at the time and couldn't help us out with an Atlanta show then, but the day after we got back to Chicago after the tour was over, we got thrown on a house show bill with them. It was our first show back after tour. It was a very fun show, and we just kind of hit it off with them. Did a little wholesome merch swap and hit the follows on the IGs, and just kept in touch.
And then in January, they were coming back to Chicago and asked us if we wanted to play with them at Schubas, and we said, "Yeah, of course," because they are incredible musicians and just good people. And then after the show, we were like, "What are y'all doing this summer, what's going on?" Because we had been just starting to talk about touring, and we really wanted to do the West Coast, and they were like, "We're trying to tour the West Coast," and we were like, "Oh, so are we," and it just happened.
TRC: This tour is your guys' longest and most geographically spread out yet. Is there anything you're particularly excited or nervous about? Any cities that you're looking forward to stopping in?
RK: We're gonna get to drive along the Texas-Mexico border. Going from Dallas to Phoenix, I think it takes us right near the border. And I've never been into the Southwest in general. I'm interested to see what it's about. And also we're gonna be in San Diego, so I think we're gonna go to the border, the Tijuana-San Diego border. I'm just interested in geography and fences and limits and borders and stuff like that. It's gonna be cool to see in person, I think.
RB: I'm pretty excited to see all of California. Excited to see Salt Lake City — never been there, never even thought about going there, so that's kind of nice. We were about to play Reno, but that fell through, and I was really excited to see Reno. But yeah, all of California. L.A. has been a place that people have consistently asked us to come out to, so hopefully that will be a good show. Nervous about how we're getting around. Not sure how we're doing that yet. Might be in a little Toyota Corolla, little beater car, so always kind of nervous about breaking down, but it's all part of it.
For more on The Slaps, check out Theslaps.bandcamp.com