Good Eats at Strings Ramen: Mild, spicy, sleek and delicious — this popular noodle shop offers a plethora of options for every taste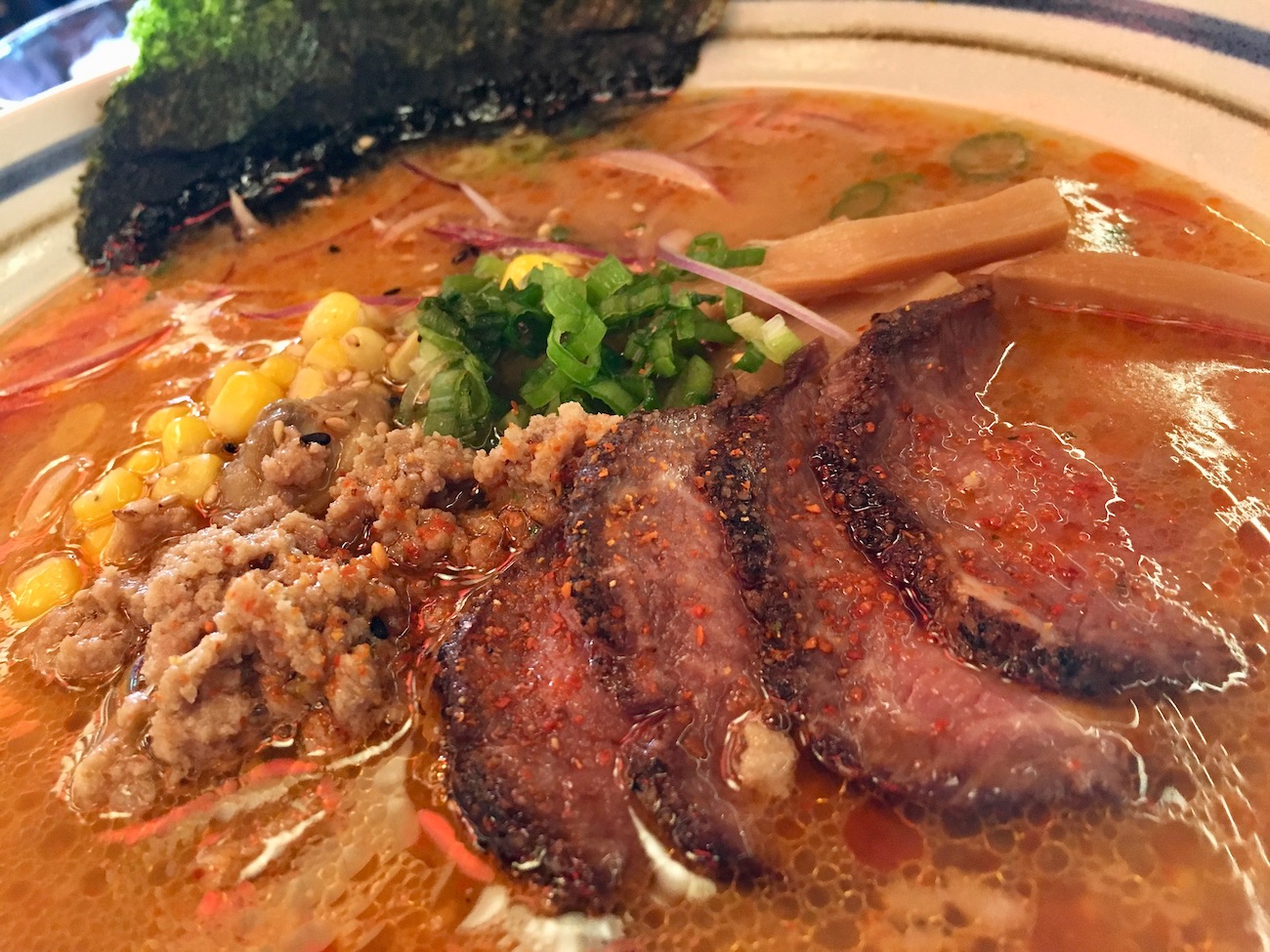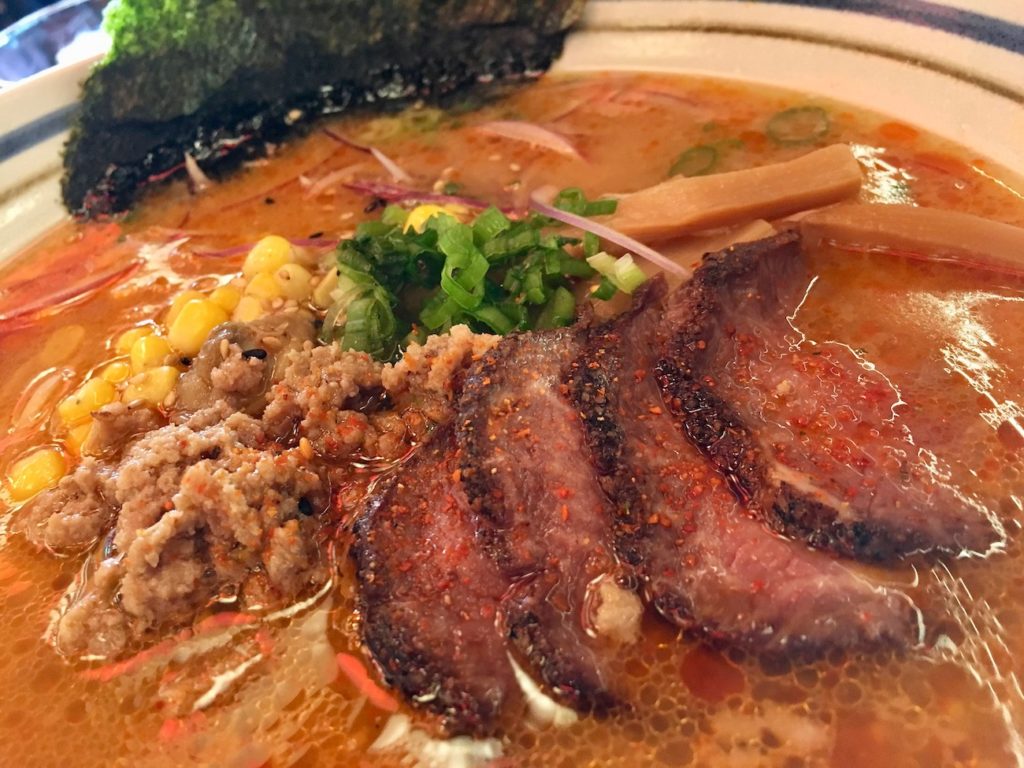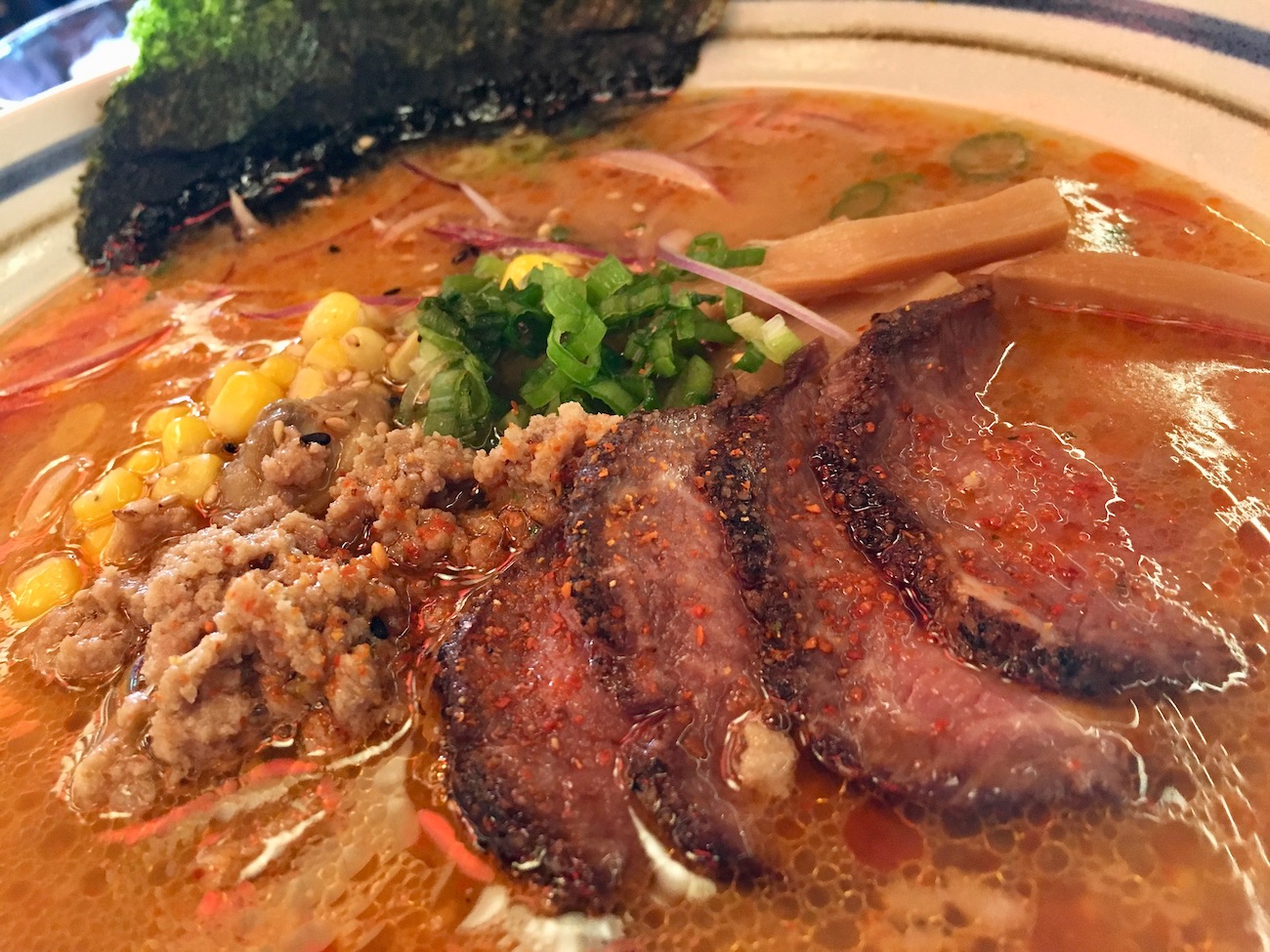 By Jeremy Lindenfeld
Where it's at: 919 W. Belmont Ave. in Lakeview and 2141 S. Archer in Chinatown. RamenChicago.com
The scene: Strings Ramen, almost hidden away among a row of delightfully decorated storefronts on Belmont, offers a sleek and streamlined design that rather enjoyably juxtaposes the city outside its walls. The polished wood benches and tables that seemingly extend out from the walls give the impression of the establishment being carved out of a single structure. Only the taller tables and seats located near the large front window seem to be unconnected to the restaurant, but what they lack in unity with the establishment, they make up for with their views of the street outside.
With paper-lantern lights arranged on the ceiling in an aesthetically pleasing yellow-red pattern, hanging plants that add a hint of green and the red-brown wood that seems to surround you in every direction, Strings constructs a warmly familiar yet unique environment that lends itself to a pleasant dining experience.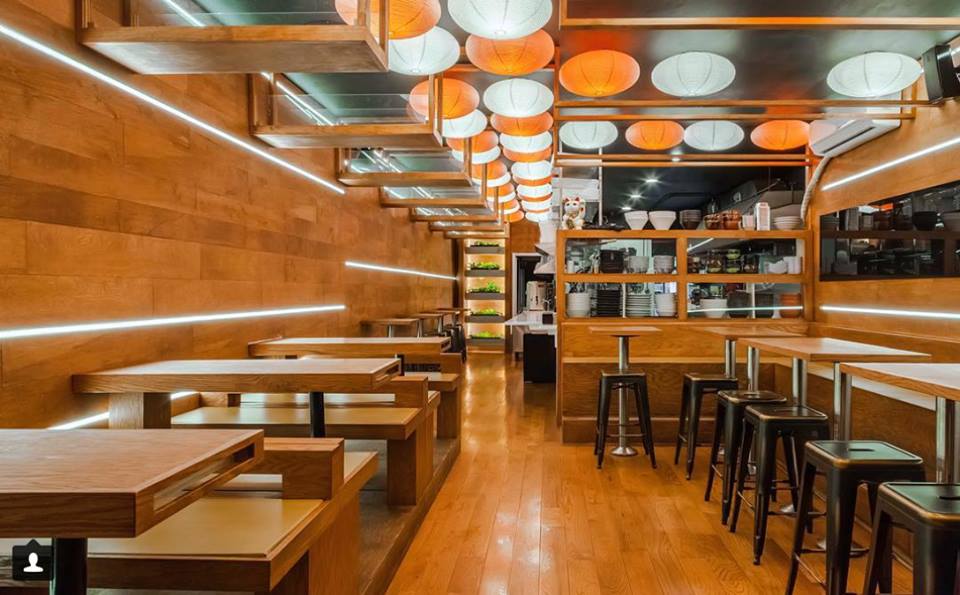 Food and drink: The food at Strings Ramen, undoubtedly, is what most grabbed my attention during my time there. I was lucky enough to be able to try a wide variety of options, all of which I found rather delicious.
I started my meal with two of their most popular starter options: edamame and pork gyoza. Though not filling by any means, the well-seasoned edamame acted as a particularly appetizing start to what would become a memorable lunch. The pork gyoza (boiled dumplings with a slightly spicy ponzu sauce) that followed was so savory and flavorful that I was afraid I would eat too many and spoil my appetite for the main course.
Luckily, I was still more than ready to devour my entrée by the time it rolled around, and what an entrée that turned out to be. While my boss decided to go for the tamer miso premium ramen option that included filet mignon, spicy clams, pork, red onions, corn, scallions, bean sprouts, crushed garlic and shichimi (a blend of seven flavors designed to enhance Japane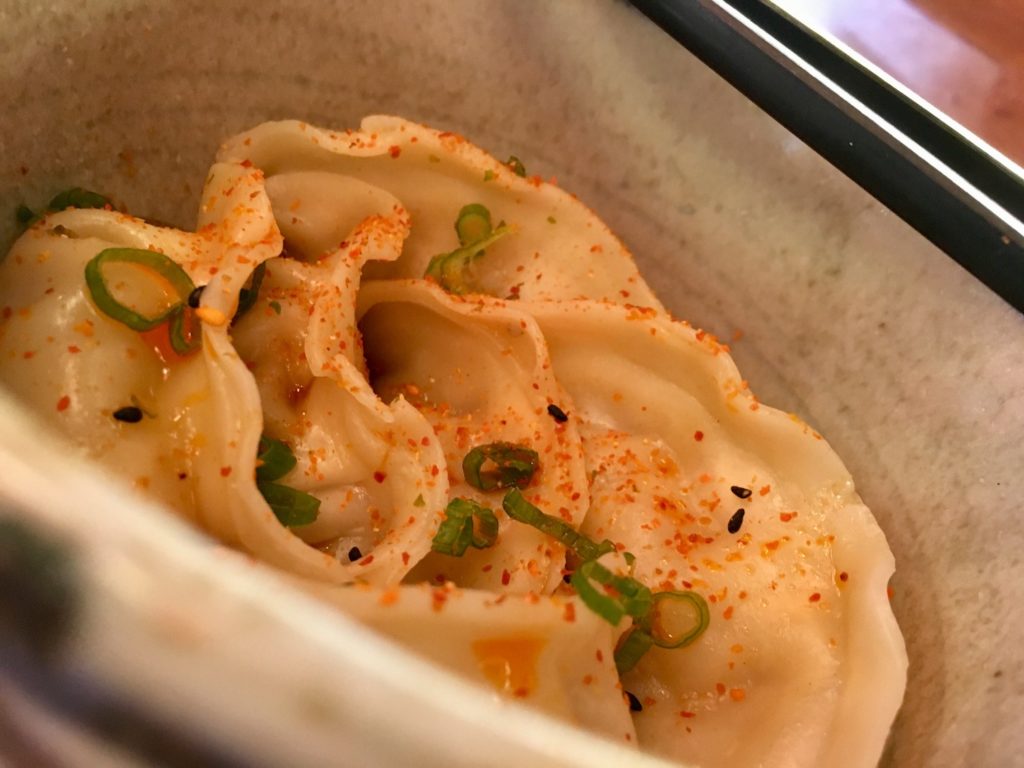 se dishes), I ventured into the slightly more adventurous side of the menu and ordered the turkey miso ramen with Strings' very own "level 3 hell sauce."
According to my boss, his miso premium ramen was scrumptious, creating a wonderful merger of ingredients to go with the homemade egg noodles and prime rib, and satisfied his milder taste rather well.
My meal resulted in a rather different experience. Lost in my own bravado and folly, I decided to pour all of the hell sauce that was provided into the ramen dish. Needless to say, it became very spicy very quickly. While I was devouring the delicious, mouth-burning broth and noodles, I was overwhelmed with such heat that I had to take my jacket off and continually drink water so I could get through the meal. This is not to say it was a bad experience; rather, it was oddly enjoyable, and for anyone who gets a kick out of tasty, spicy food, I highly recommend ordering some version of the hell sauce to accompany your dish. Just perhaps avoid pouring it all in like I did.
I couldn't help but order one more dish, their lunch special: curry maze gohan. All of the ingredients — from the Japanese yellow curry to the egg to the ginger — contributed to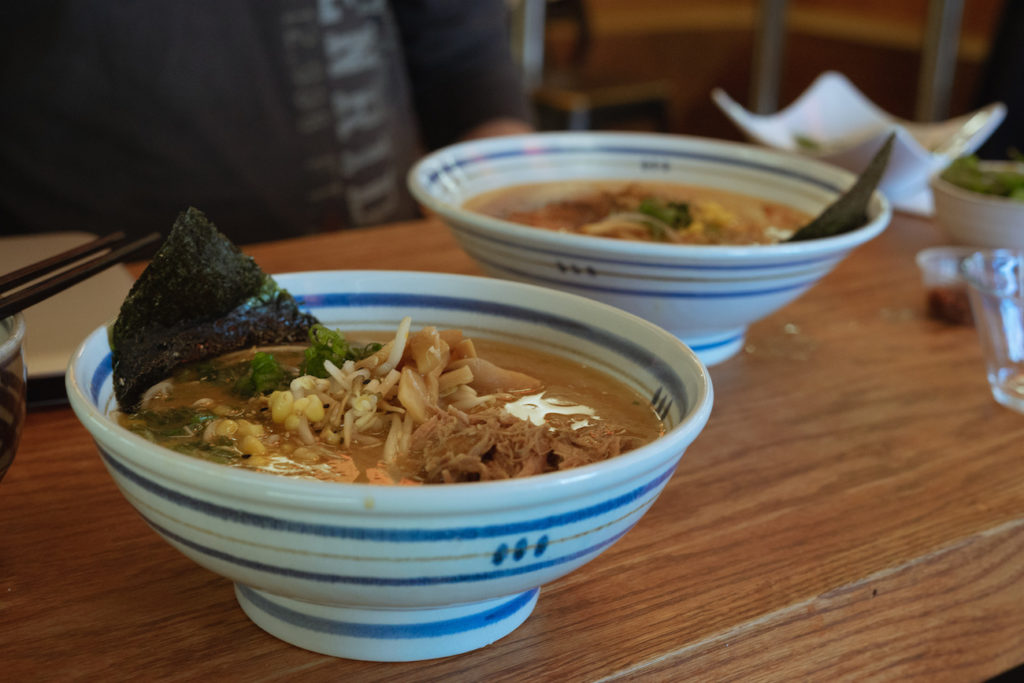 making the dish an enjoyably unique combination of flavors.
What caught our eye: The small, cozy space. And the Asian-inspired décor, from the paper lantern lights to the Maneki Neko lucky cat figurine. The attentive, friendly and helpful staff. The huge amount of natural light let in from the window wall. The plants near the ceilings. The utensils stored near the end of the table in a large cup so that anyone can choose what they want to use — from forks to broth spoons to chopsticks. The massive portion sizes and the aesthetically appealing presentation of the food (especially the sashimi over rice).
We'll be back because: The entire experience was so enjoyable that it's hard to narrow down the reasons why I would go back. For one, the staff was so eager to make sure I had an enjoyable experience, they actually warned me against the upper levels of hot sauce. Their willingness to lend a helping hand when ordering was much appreciated. The savory, delicious ramen was some of the best I have had, and their wide array of options provides something for everyone.