The Local Corner: Exploring the Broadway and Wellington intersection in Chicago's East Lakeview neighborhood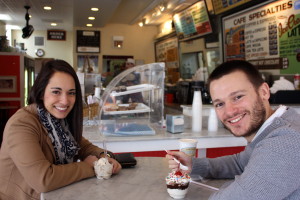 Your ads will be inserted here by
Easy Ads.
Please go to the plugin admin page to set up your ad code.
Checking out Chicago's neighborhoods, one street corner at a time
By Clare Edlund
Photos by Trent Modglin
Flub a Dub Chub's Hot Dog Emporium
3021 N. Broadway
www.FlubADubChub.com

The second you enter this warm restaurant, tucked away between two bars, you know it's a family-oriented place that welcomes people of all ages.
The restaurant is embedded with children's drawings and photos of patrons on the wall, and the menu selection tells it all — the "Bryan burger" and "Emmadog" are named after the grandchildren of the owner, Sam Giarranto. The playful name Flub a Dub Chub derives its title from the children's book Flub a Dub Chub and the Sleepwalking Martian, written and illustrated by a family friend, Tracy Rosensteel.
The specialties are foot-long Chicago-style hot dogs, made with Vienna beef, and an array of burger selections on pretzel bread. A customer favorite is "The Roe," a cheeseburger with bacon and avocado. If you're feeling wild, get the aforementioned Bryan burger, packed with chili, onion rings and cheddar cheese.
Elliott Consignment
3015 N. Broadway
www.ElliottConsign.com

If you're seeking a classier means of thrift shopping, then take a gander through the collection at Elliott Consignment. The three-story shop has a walk-in closet feel when you enter. Greeted by color-coordinated scarves wrapped around the staircase and a variety of designer brands, Elliot Consignment offers lasting clothes at reasonable prices.
The men's apparel includes stylish tailored suits — perfect for Sunday-best attire — and sophisticated brand names such as Burberry, Brooks Brothers and Gucci for a jaw-dropping discount. The women's department, carrying an even vaster assortment, ranges from Calvin Klein premium down coats to Coach purses. The jean rack has designer options marked down to an average in the $40 price range.
Johnny Sprockets
3001 N. Broadway
www.JohnnySprockets.com

For all you triathletes, mountain bikers, or just those finally deciding to invest in a decent bicycle, Johnny Sprockets welcomes you to "Bicycle Heaven." Stacked from floor to ceiling with as many as 500 cruisers, hybrids, mountain bikes and "fat" bikes (monster bikes with enlarged juicy wheels designed to last through harsh, snowy winters), this shop is also loaded with cycling apparel like helmets, clothes, pumps, seats and more.
"Our focus is very different," says owner Manuel Tenorio. "What we choose to carry tends to be a little different from other companies — we carry mountain bikes more than any other shop (in Chicago)."
Johnny Sprockets received its name from the former owner's son, John, in 1996. Tenorio took over the business in 2008 and decided to hang on to the catchy play-on-words name.
Aside from a huge assortment of bicycles, the shop also offers bike repairs and free transportation maps, conveniently enough, if you happen to leave the store needing directions.
Bobtail Ice Cream
2951 N. Broadway
www.BobtailIceCream.com

"I can't decide between the seasonal Guinness or the thin mint," says a local customer distressed about the branded ice cream flavors tendered at Bobtail.
Your ads will be inserted here by
Easy Ads.
Please go to the plugin admin page to set up your ad code.
The independent company seems to have a high customer count no matter what time of year due no doubt to the seasonal shifts in flavors and the rich, creamy, textured homemade ice cream produced daily.
Sunset (a velvety merlot with dark chocolate chips) and Cubby Crunch (vanilla ice cream with sprinkles, toffee and chocolate cookie pieces) are among the biggest sellers at this quaint establishment.
"The shop caters to rich, fulfilling ice cream that can be enjoyed year-round," a manager tells me. "The ice cream conveys a uniquely subtle flavor in each cone."
You can also grab a cup of Intelligentsia coffee, iced tea, milkshake, sundae or malt. Take the time to soak up the nostalgic ice cream shop atmosphere or sit outside on the benches and enjoy a warm evening with a peanut butter chip cone.
Bar Pastoral
2947 N. Broadway
www.PastoralArtisan.com/bar-pastoral
Looking for a romantic dinner? This intimate neighborhood bistro carries a French ambiance and a seemingly endless selection of small-batch wines and high-quality cheeses. Opened in late 2012, Bar Pastoral is an extension of Pastoral, a Chicago retail shop selling artisanal breads, wines and cheeses.
Pick out a nice candlelit table or venture to the wine or cheese bar. The concept, similar to a sushi bar, allows you to observe the hand crafting of fromage cheeses, and the atmosphere is centered on staff approachability — don't be afraid to ask for recommendations because the menu can appear overwhelming.
The restaurant has the feel of a French wine cellar and serves around 20 different wines by the glass, 20 different cheeses and a selection of small (mac n' cheese, pork meatballs, endive salad) and large (gnocchi, short rib pot roast, seared salmon) plates. There are additional store locations downtown on Lake Street and in the West Loop at the Chicago French Market.
Crisp
2940 N. Broadway
www.CrispOnline.com

Constantly flooded with hungry people, Crisp sets itself apart from other Korean restaurants in that it is "Asian fusion cuisine with an American twist."
Don't be intimidated by the lunch or dinner rush — the service is rather quick and convenient, and you can have someone from your group hold down the fort at one of the long tables in this cozy restaurant.
"After I started working here, I couldn't eat wings anywhere else," says Alden Fitzpatrick.
He's not exaggerating on the delectable wings you hopefully have heard of by now. I would recommend the house "sassy sauce" wings, carrying a blend of soy, ginger and garlic. The crispy consistency garnished with fresh scallions on top promises a pleasing experience.
"They're flavorful, but not overwhelming," says Cassandra Kendell, now a loyal customer. "Perfectly crispy and a good balance of seasoning."
The Buddha bowl, consisting of sweet beef and vegetables on a bed of rice and topped with a fried egg, is the most popular dish, and the menu also includes specialty sandwiches, Korean burritos, fried chicken and sides like organic rice, kimchee and magic mushrooms.
Foursided
2939 N. Broadway
www.Foursided.com
Mother's Day is around the corner, and what more can a mother love than a family photo with a lovely frame to hang above the fireplace?
Foursided is just the place to go for custom frames, but it's also filled with cute little cards, gifts and unique trinkets. The frames are handmade by the artists working in the store. Bring in any photo or piece of artwork and pick a vintage frame ranging in a variety of designs and colors, or allow two weeks for a custom frame to be made. In the meantime, enjoy perusing the quirky Chicago-related gifts for upcoming birthdays.
Your ads will be inserted here by
Easy Ads.
Please go to the plugin admin page to set up your ad code.