First Look review: Eclipse Theatre's big-hearted 'Ruined' takes aim at the toll war takes on women of the Congo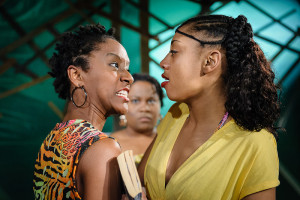 Pulitzer Prize winner seamlessly blends raw emotion from war-time injustices with surprising humor and wonderful music
By Brian Thalhammer
Playing at: The Athenaeum Theatre, 2936 N. Southport
www.EclipseTheatre.com
When: Thursdays, Fridays and Saturdays at 7:30 p.m. and Sundays at 2 p.m., through May 25.
Basic storyline: Ruined is a story based in the war-torn Congo about a peacekeeper called Mama Nadi, who welcomes customers from both sides of the war, offering anything from warm beds to cold beers — as well as an unlimited supply of women, both loving and "ruined" for sexual service because of a violent rape in their past.
Lynn Nottage's Pulitzer Prize winner originally made its world premiere in 2008 at the Goodman Theater. It returns as the first performance in the Eclipse Theatre Company's season, which features three Nottage plays.
What to expect: As the lights are dimmed at the start of the show, the audience is captivated by a completely surreal, war-torn world. From the spot-on accents to the colorful wardrobes, everything places you directly in the Congo.
Surprisingly, you can expect the cast to get some good laughs in, as the otherwise serious script is sprinkled with humor. The quality of singing throughout is the cherry atop a mesmerizing performance.
What stood out: Deeply heartwarming songs are sung by Sophie (Krystal Mosley), a "ruined" girl, along with the rest of the talented cast. Ruined plucks at the heartstrings with a focus on real-world problems in a ravaged country thousands of miles away and is a poignant eye-opener for these kinds of injustices against women.
Final thoughts: A wonderfully assembled show that hones in on and appreciates the strength it takes to deal with these kinds of horrible conditions. Although it deals with serious matters, Ruined still manages to fill the spotlight with fun-filled, humorous entertainment that will leave you hungry for more from the incredibly talented Nottage, and more inherent to the war-time horrors that happen a half a world away.