First Look review: The award-winning, passionate, monologue-driven Terminus lands at the Athenaeum Theatre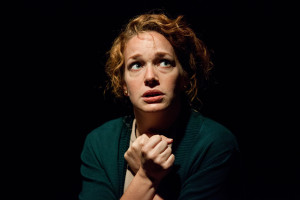 Your ads will be inserted here by
Easy Ads.
Please go to the plugin admin page to set up your ad code.
By Corey O'Day
Playing at: Athenaeum Theatre Studio Two, 2936 N. Southport Ave., second floor. www.AthenaeumTheatre.org
When: Thursdays and Fridays at 8 p.m.; Saturdays at 3 p.m. and 7:30 p.m.; Sundays at 3 p.m. through Oct. 6.
History: Interrobang Theatre Project, founded in 2010, kicks off its 2013-14 season with Terminus, in keeping with its mission to produce visceral and timely plays that ask tough questions and offer fresh perspectives.
Terminus was written by Mark O'Rowe in 2007 and received rave reviews when it premiered at the Abbey Theatre in Dublin. The show went on to win a Fringe First at the Edinburgh Festival in 2008 and now makes its debut stateside at Chicago's own Athenaeum Theatre on Southport.
Basic storyline: A series of interlocking monologues, Terminus is the story of three people in various states of loss and loneliness. They are never given names, only letters: "A" scours the city in an attempt to save her former student; "B" falls in love halfway to hell with a demon who fights to save her; and "C" sells his soul to the devil in exchange for a beautiful singing voice that might ultimately reconcile him with his betrayed soul.
What to expect: Approximately two hours of fantastical monologues written in free-rhyming verse performed in expertly-honed Irish dialect. It took the entire first monologue for me to realize that it was written in verse because of the perfectly measured pace and well-placed emphasis of Christina Hall as "A."
Your ads will be inserted here by
Easy Ads.
Please go to the plugin admin page to set up your ad code.
The other characters landed a bit heavier on the rhyme, which at first was distracting. However, once I settled into it, the poetry and extravagant imagery of the script became my favorite part of the performance. I could see the scene clearly as B described the river she approached: "A silver sliver slithering through this dark delirium."
What stood out: In this three-person cast, the text itself is actually the most prominent character. It is dense and full of angst, but with a lilt that saves the audience from crashing into despair. While "C" exuberantly describes an act of murder, he also tosses out lines like, "Aye, there among the hub-up of the pub was the rub."
The barely-lit metal stage creaks and moans as the actors move about, adding a heartless, industrial ambiance that complements the themes of detachment, disappointment, sorrow and violence. The script is so finely tuned that each bizarre scene bursts bright before your eyes. As "B" describes her experience of being led into the river by the angels of death and stripped of her memories, the panic is palpable.
Final thoughts: While entering the world of Terminus requires the audience to suspend their disbelief, the themes of this show are all too real. The characters wade through guilt, regret and forgiveness with an authenticity and passion that necessitates introspection.
Your ads will be inserted here by
Easy Ads.
Please go to the plugin admin page to set up your ad code.