Shop around the corner: St. Alfred's and The Yellow Book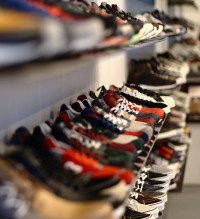 Browsing Chicago's unique, trendy neighborhood stores and boutiques
St. Alfred's
1531 N. Milwaukee in Wicker Park
www.StAlfred.com
Today, sneakers and clothing style are as much a part of the hip-hop culture as the music itself. Following in the lofty footsteps of Chicago's music and fashion icons, St. Alfred's in Wicker Park is consistently on the cutting edge of urban streetwear trends.
The cozy store, which opened in 2005, features a little bit of everything. A rare and limited-run shoe selection, clothes from top brands like The Hundreds and Crooks and Castles, belts, backpacks, hats and other accessories. On top of that, the staff knows their stuff and are as welcoming as they are helpful.
Perhaps the biggest thing that sets the shop apart from the competition is its partnershi
p projects with some of the biggest brands on earth. Names like Nike, Reebok, Vans and Def Jam have joined forces with the folks at St. Alfred's to make designer footwear and apparel you won't find anywhere else.
In a city synonymous with hip-hop excellence and innovation, St. Alfred's is a great place to find unique items that reflect your own personal style. You might also score a pair of popular kicks at a reasonable price.
— Zak Waltner
The Yellow Book                                                                                        
1007 N. California Ave. in Humboldt Park
www.TheYellowBookStore.tumblr.com
From comic books to quirky, vintage postcards to Jacques Cousteau's The Open Sea, every square inch of The Yellow Book is browse-able and affordable. But don't be fooled by its small stature or limited hours (noon to 5 p.m. daily) — this store is much larger than just its cozy retail space in Humboldt Park. The Yellow Book is a bastion of local creativity.
Choose from an extensive collection of locally produced comic books and literary magazines, including The Yellow Book's own publication, 1007 — so popular that the first issue sold out, production on the second is in motion and submissions for a third will be accepted in the near future.
This summer, The Yellow Book will be looking for a new location. "We will be shifting our focus from used books to printing and publishing," says owner Celia Rose Marks, who is passionate about bringing the community together for the sake of art. The Yellow Book even has an artist in residence, Adam Tramposh. He is an illustrator and a pianist who performs under the moniker "American Landscape Painting." Keep an eye on the store's website for updates and events like drawing nights, readings and musical evenings with Tramposh.
— Corey O'Day