Inside Scoop: Chicago Magic Lounge's new digs, ROOF at TheWit's movie series, exhibits at the MCA and MSI, Kanela expansion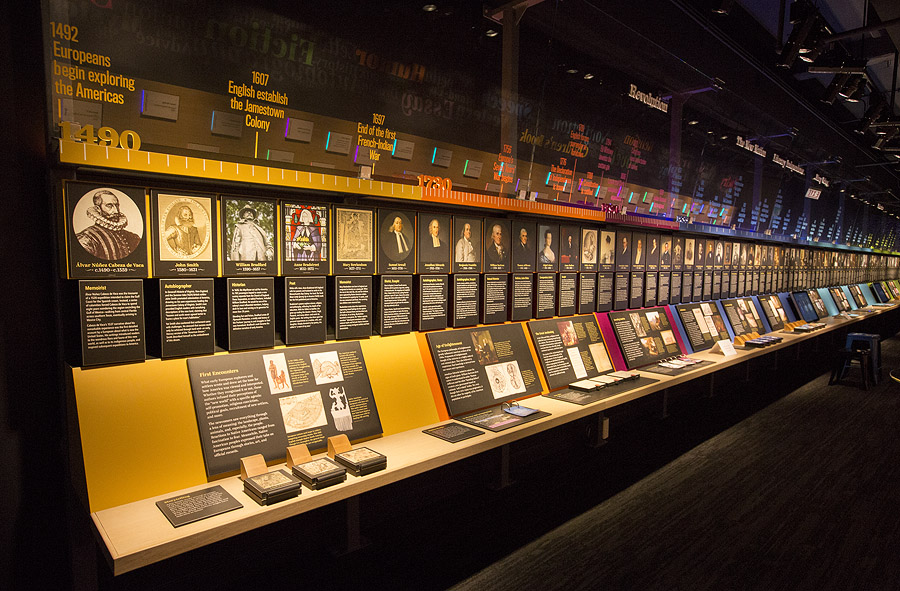 Your ads will be inserted here by
Easy Ads.
Please go to the plugin admin page to set up your ad code.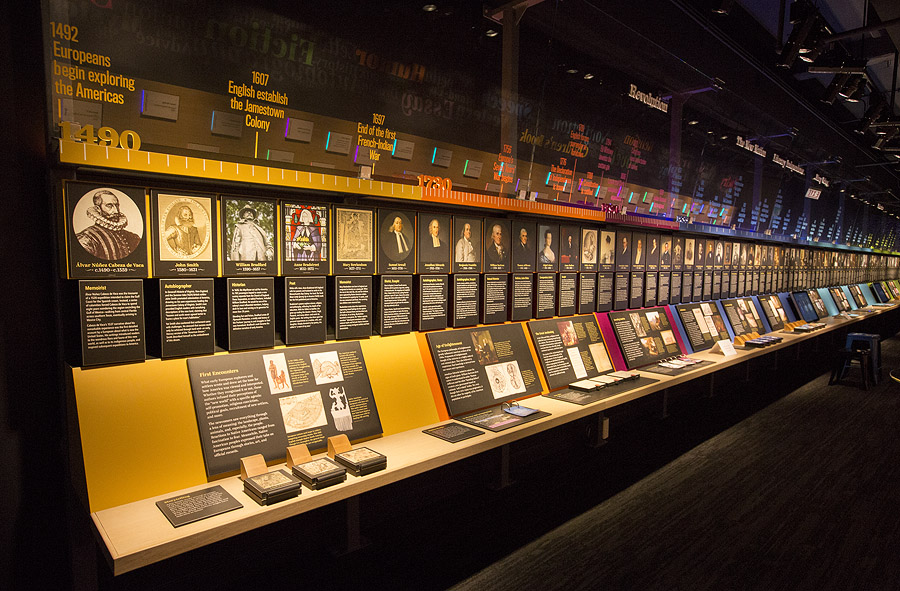 The American Writers Museum opens in downtown Chicago
In May, Chicago officially became home to the American Writers Museum — the first of its kind in the United States — at 180 N. Michigan Ave. This very interactive museum features multiple galleries, allowing fans of literature to learn about the history of their favorite American classics and authors.
One of the first exhibits upon entering is the Children's Literature Gallery. With plenty of seating for parents and children to read together, the exhibit features classic children's books written by famous American authors such as Dr. Seuss and Shel Silverstein. Personally, the children's book that caught my eye was The Very Hungry Caterpillar, one of my favorite picture books from childhood.
Another exhibit that provides relaxation is the "greenhouse" called All Awake in the Darkness. With its tropical atmosphere, visitors can enjoy the peace and quiet while reading a favorite book.
One can learn about the history and evolution of American writing with a visual highlighting 100 influential authors and writings from as early as 1490. There are plenty of other features, such as the Surprise Bookshelf, storing pieces of writing of all types of genres, as well as a word waterfall with quotes and excerpts from classic pieces of literature.
The American Writers Museum also encourages participation through voting for favorite books, designing your own bookmark and multiple word-play activities. You can even take a stab at using an old-fashioned typewriter. Not every guest needs to be an avid reader or writer to enjoy this new Chicago gem. An appreciation for the history of the written word is all that's required.
— Jina Bute
Chicago Magic Lounge breaks ground at new location
The Chicago Magic Lounge opened their new home with a groundbreaking ceremony June 7 at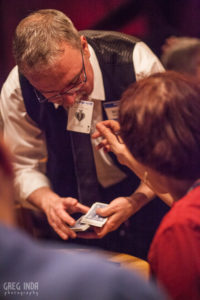 5050 N. Clark St in the Andersonville neighborhood.
Their current location at 4707 N. Broadway provides a home for the tradition of Chicago magic. Specializing in up-close and interactive performances, the Chicago Magic Lounge aims to immerse their audience in luxury as they enjoy a theatrical experience.
The new location will feature three separate performance spaces: a smaller parlor-style stage, a larger stage with cabaret-style seating for up to 120 guests, and a unique bar near the back for more intimate, "bar-style" magic. In addition, the new venue will also include a small museum showcasing the history of magic in Chicago, a full kitchen and an entryway full of surprises.
Shows are scheduled to run seven days a week at the various stages. Though the atmosphere aims to emulate adult-only 1920s magic bars, the new location plans to have matinee shows on Sundays for kid-friendly performances. At the Broadway location, shows are currently running on Thursday and Saturday nights. Construction at the future location has begun, and the completely renovated space aims to open in early 2018.
Currently located at 4707 N. Broadway. Future location at 5050 N. Clark St. www.ChicagoMagicLounge.com
— Kelly Cuningham
"Eternal Youth" at the Museum of Contemporary Art

Where and when: The Museum of Contemporary Art, 220 E. Chicago Ave. through July 23. www.MCAChicago.org
Overview: The last time I was at the Museum of Contemporary Art it was to see the David Bowie special exhibit. I had never seen the life and works of an individual displayed with such detail. The museum's current exhibit, Eternal Youth did the exact opposite — it presented the story of a generation.
The exhibit spans over two large rooms on the second floor of the building. Through the doorway, you are confronted by multiple forms of media. One wall is lined with photographs, a sculpture of the Pink Panther hugging a mermaid stands in the center of the room, and on the other end, paintings and VHS tapes finished off the menagerie of styles.
The exhibit is divided into five sections, each titled by the type of "youth" — ranging from desirous to political — displayed. Each division is headed by a summary of the role that youth has played in various aspects of culture and the ways in which maintaining youth has become an obsession in today's society. The collection spans from works as far back as the 1950s up to modern pieces of today.
One of the largest collections is a shot of stills from Larry Clark's infamous Kids series and movie. The stills capture the awkward, moving and, at times, shocking moments in the lives of teens trying to find their way in a world of drugs, violence and sex. The other exhibits take off in either direction.
One of my favorites was a photograph titled "Self-Portrait as a Fountain" by Bruce Nauman, which features a young man, posed as a marble figure might be, spitting water from his mouth. Aside from the play on "Fountain of Youth," the shadows, isolated background and lighthearted expression of the subject encompass the playful nature associated with being young.
On the other end of the spectrum, there are films that hyperbolize the fast-paced, look-obsessed and peer-influenced world of teenagers into an almost maddening expression of boundless energy. In addition, there are several exhibits that combine static or moving visuals with an auditory sensation, providing a perspective on what it means to be a teen in recent decades.
Your ads will be inserted here by
Easy Ads.
Please go to the plugin admin page to set up your ad code.
Final thoughts: Overall, Eternal Youth, leaves its audience with more questions than answers, but that is the point. The "appropriate" behavior of both teens and the society representing them are brought into question by a fascinating collection of ads, paintings, photographs and multimedia projects. The Museum of Contemporary Art truly creates a space where both the highs and lows of youth can be examined, discussed and appreciated by adults, youthful or otherwise.
— Kelly Cunningham
Extreme Ice exhibit at the Museum of Science and Industry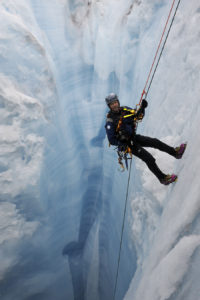 Starting in 2007, photographer James Balog set out to launch a photography experiment by taking 43 Nikon cameras and setting them up to watch over 24 glaciers in Antarctica, Greenland, Iceland, Alaska, Canada, Australia and the Rocky Mountains. The cameras were set to record changes in the glaciers every hour, during daylight, and the new exhibit documents the work and the revelations made on how climate change is affecting the Earth's glaciers by Balog and his team.
Extreme Ice presents an immersive experience of the work Balog and his team have done. Elements of the exhibit include a short documentary on the how and why of the project, introductions to Balog and his team, the educational breakdown of the glaciers and movements that the team is studying, and the before and after photographic results of the research.
It is seriously jarring to be able to look at two different pictures of the same place without recognizing that they are, indeed, the same place. Looking through the gallery of before and after pictures is like playing a game of Where's Waldo trying to find the similarities in the landmarks to discern that it is the same place.
The exhibit is contrived of a handful of interactive towers, each with a different focal point pertaining to glaciers, climate change or Balog's team, making it an easy and approachable way to begin teaching children about the realities and science behind this time-lapse project and how it pertains to the knowledge we need to have to reverse these effects on our planet.
I would say the most interactive part of the exhibit is what stands out the most to me. Toward the back of the exhibit, in the middle of the room, stands a large "hands-on" ice wall that people are encouraged to touch so they can pull their hands away and physically see the hand print they are leaving behind. I think this creates a strong metaphor, but it's also a very cool part of the exhibit.
Extreme Ice presents an important and current topic of discussion in an easy, engaging manner based not only in science, but also in art. It's both fun and educational for children and adults. And a must see for any climate-change denier.
The Museum of Science and Industry is located at 5700 S. Lake Shore Dr. www.MSIChicago.org
— Michael Dritto
City Mini Golf in Maggie Daley Park
The newly enhanced 18-hole mini golf course is open again through mid-October. The course features replicas of iconic Chicago landmarks that kids and adults alike can enjoy, in addition to the many other features of Maggie Daley Park.
General admission is $11 per person, and children four and under play free with a paid admission. Season passes can also be purchased for $65.
City Mini Golf is open seven days a week, 10 a.m.-9 p.m. (weather permitting) and located at 337 E. Randolph. www.CityMiniGolf.com
— Kelly Cunningham
TheWit Hotel's Movie Monday series
In 2016 Lala Land swept audiences off their feet, and on Monday, June 26, the hit movie will be presented at ROOF as part of TheWit Hotel's annual Movie Monday series. All movies begin on the rooftop lounge at dusk, and free popcorn will also be given to attendees to munch on as they enjoy the film.
The remaining dates for this summer series include:
July 3 — Fantastic Beasts
July 17— Office Christmas Party
July 31— The Lego Batman Movie
August 21 — Kong: Skull Island
August 28 — Fifty Shades Darker
TheWit Hotel is located at 201 N. State Street in the Loop.
— Olivia Polony
Kanela Breakfast Club adds new location in Ukranian Village
The sixth Kanela Breakfast Club in Chicago is now open in Ukrainian Village. Known for a sweet and savory menu with homemade recipes, this location boasts a warm and inviting atmosphere and freshly baked pastries that include fresh muffins and traditional Greek diples (a cross between a doughnut and funnel cake). The new location will also offer health-conscious lunch options including wraps, sandwiches and a twist on the classic avocado toast. Open Monday through Sunday, 7 a.m.-3 p.m.
The new Kanela is located at 2127 W. Division. Open daily 7 a.m.-3 p.m. www.KanelaBreakfastClub.com
— Olivia Polony
Save with "Speakeasy Sundays" at The Franklin Room
The Franklin Room in River North is introducing "Speakeasy Sundays." Check out their website for the secret password, which can be used to save 25 percent off your total bill for up to four people. While you're there, be sure to check out the extensive whiskey collection.
The Franklin Room is located at 675 N. Franklin in River North. www.TheFranklinRoom.com
— Kelly Cunningham
Your ads will be inserted here by
Easy Ads.
Please go to the plugin admin page to set up your ad code.