Inside Scoop: Millennium Park music and movies, Wicker Park farmers market and the Field Museum's new titanosaur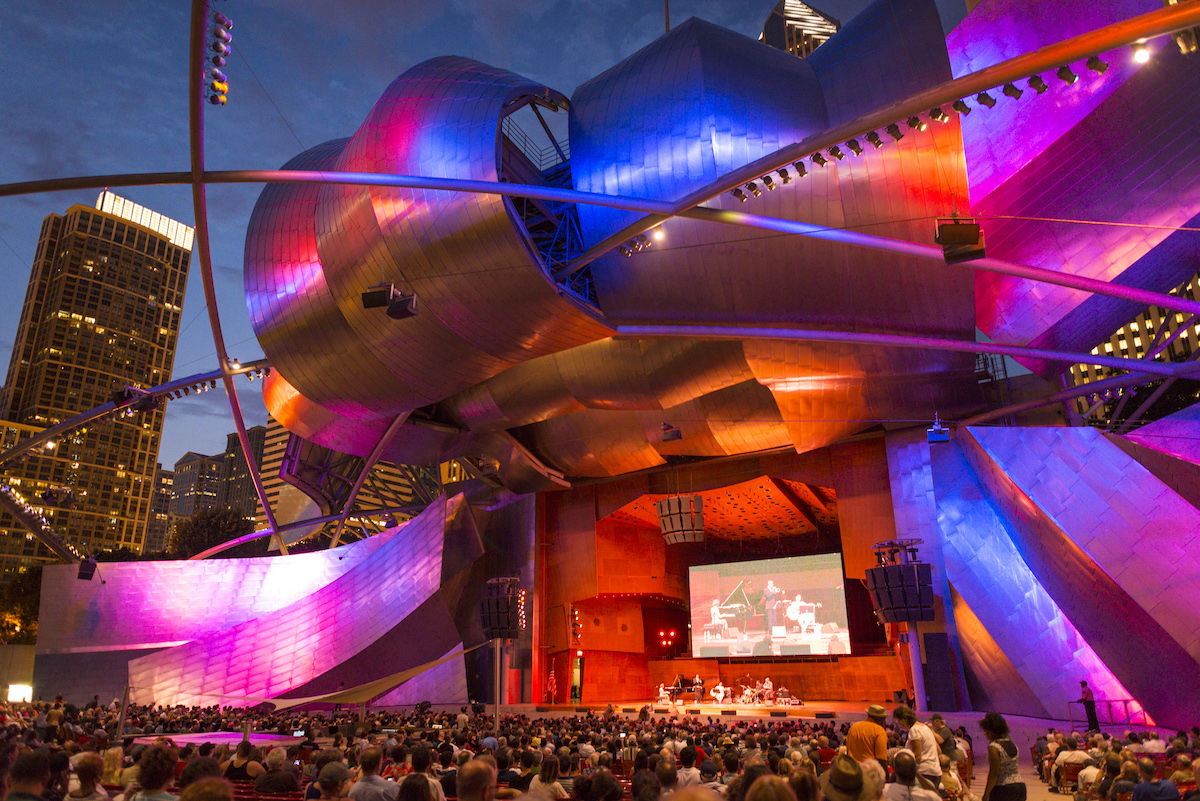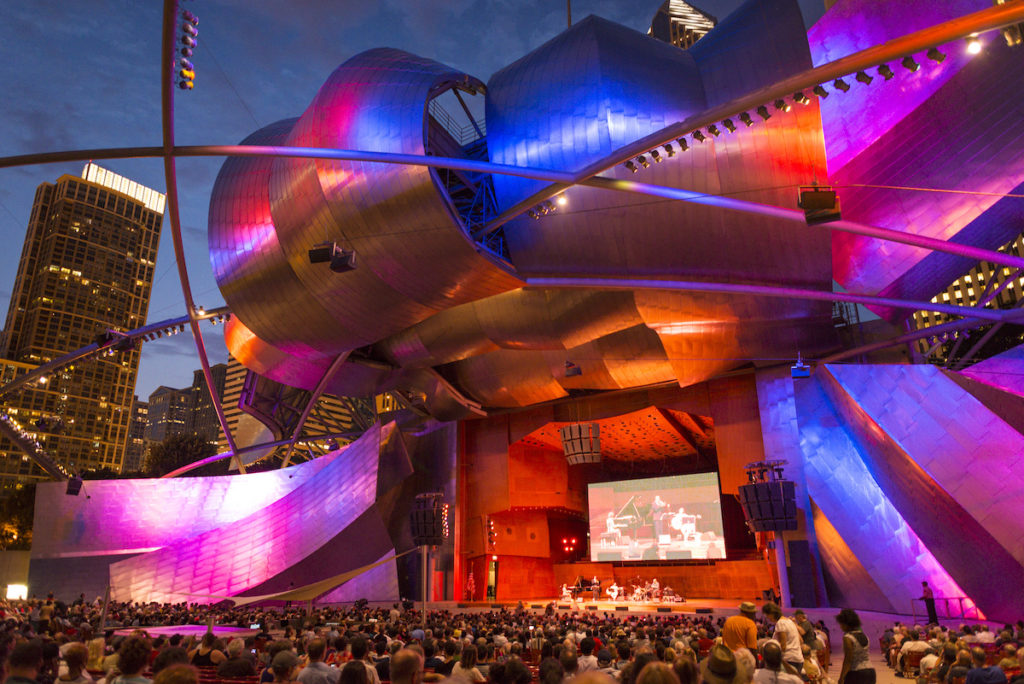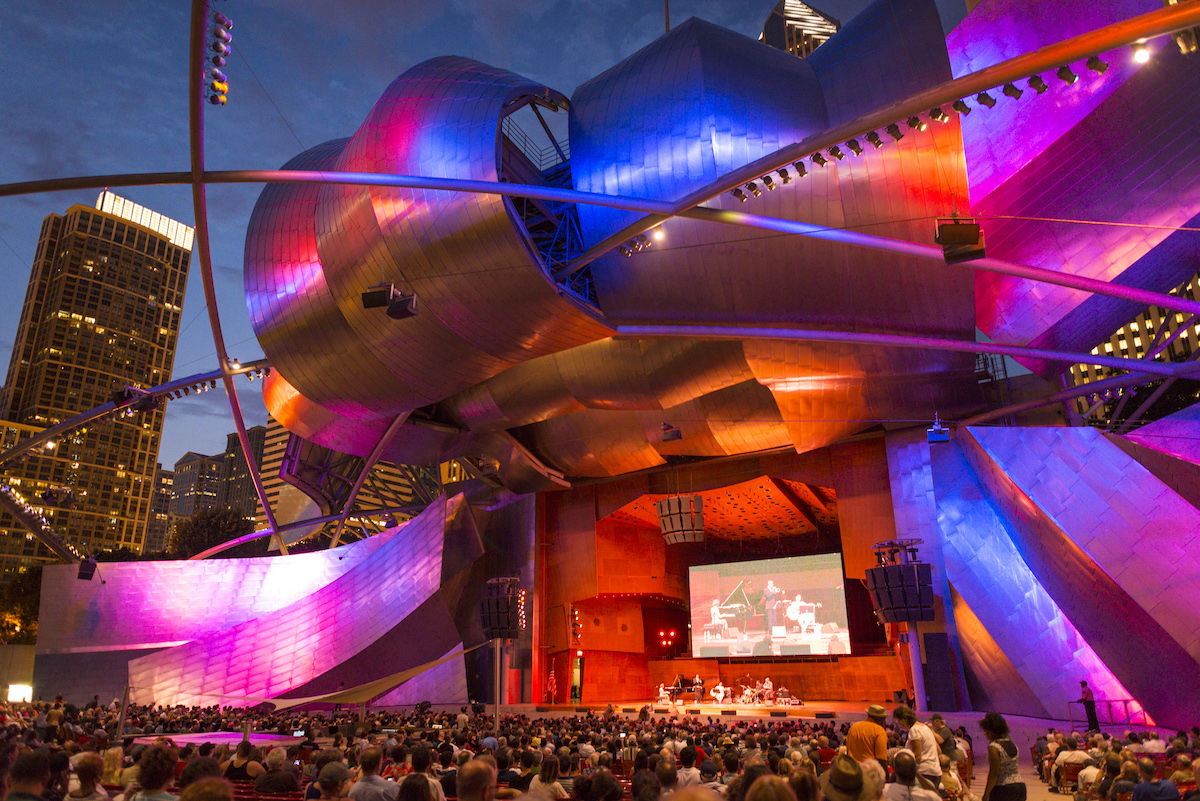 Millennium Park Summer Music Series
The 2018 Millennium Park Summer Music Series offers up an exciting lineup of free outdoor concerts on 10 dates through Aug. 16 at the Jay Pritzker Pavilion in Millennium Park. The music series features a wide variety of genre-defying music from top local, national and international artists — both established and emerging. All concerts are free and open to the public and performances begin at 6:30 p.m. and take place rain or shine. For complete details, visit Millenniumpark.org
Grant Park Music Festival
For more than 80 years, the Grant Park Music Festival has been Chicago's summer musical sensation, demonstrating that classical music, performed by a world-class orchestra and chorus, can have a transformative impact on the city. The Pritzker Pavilion in Millennium Park is the official home of the festival, with free seats available for every concert. The 2018 season runs through August 18. Patrons can order one-night member passes for reserved seats, starting at $26, by calling 312-742-7647 or going online at GPMF.org and selecting their own seat down front. There are also seats that are free and open to the public in the seating bowl and on the Great Lawn, available on a first-come, first-served basis.
Millennium Park Summer Film Series
New this year to celebrate this community's diverse cinema tradition, the Millennium Park Summer Film Series will co-present each film of the series with a select festival, providing a season-long sampling of themes, ethnicities and genres to reflect the city's rich passion for cinema in all its variety. On Tuesdays through Aug. 21 at 6:30 p.m., film lovers can take a seat at the Pritzker Pavilion or spread out a blanket on the Great lawn to watch your favorite films on a state-of-the-art, 40-foot LED screen.
Movies in the Parks and more via the Night Out in the Parks program
Night Out in the Parks brings more than 2,000 events to Chicago's 77 neighborhood parks throughout the year, with more than 1,200 taking place over the summer. See a full list of movies and more events at ChicagoParkDistrict.com/events
Free summer workouts on the Great Lawn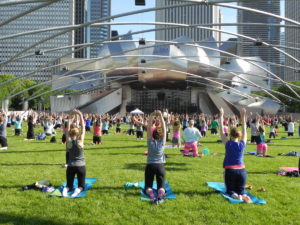 For you fitness-minded folks, Millennium Park will once again offer free summer workouts on the Great Lawn on Saturdays through Sept. 1. Each workout is 45 minutes, with classes beginning on the hour, every hour from 7–11 a.m. Workouts and start times are: Pilates at 7 a.m., yoga at 8 a.m., strength training at 9 a.m. and Zumba at 10 a.m. Weekday yoga is also offered on Tuesday and Thursday mornings through Aug. 31, 7:30-8:15 a.m. MillenniumPark.org
Picnic in the Park menu from the Fairmont Hotel
For any event in Millennium Park this summer, the Fairmont Chicago (200 N. Columbus Dr.) via their in-house restaurant, Columbus Tap, makes it easy to pick up a snack or meal for a concert, date or get-together in the park. Located just steps from Millennium Park, Columbus Tap offers a chef-made Picnic in the Park menu, ranging from wine and cheese, a full dinner of charcuterie, chicken salad, wine and dessert, to an elegant champagne and chocolate dessert picnic. Picnic blankets and folding chairs can also be rented for $10 each. Click HERE to make reservations.
Music, yoga, kids' cooking classes and more at the Wicker Park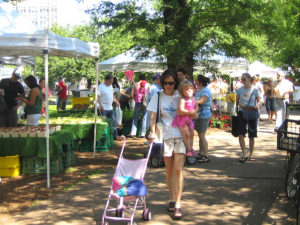 farmers market
The Wicker Park farmers market runs every Sunday through Oct. 28, 2018, from 8 a.m.-2p.m. at 1425 N. Damen. Complete with live music and local, environmentally responsible food for sale, the market also features a free yoga class from Nature Yoga each week, monthly children's cooking classes hosted by The Kids' Table, book swaps, chef demonstrations and a community table showcasing area businesses. All programs are free and open to the public. For the latest information, visit WickerParkFarmersMarket.com
ROOF on theWit's Monday Movie Series
For those whose summertime favorite activities include Movies in the Park, a must this year is experiencing ROOF on theWit's Movie Monday series. Movies start at 8:30 p.m. on the rooftop that had a part in kicking off Chicago's rooftop craze, ROOF on theWit hotel, at 201 N. State Street. These events are 21-plus and include complimentary popcorn for attendees.
June 4 BLACK PANTHER
June 25 PULP FICTION
July 2 MOLLY'S GAME
July 23 DIRTY DANCING
July 30 READY PLAYER ONE
AUG. 13 PRETTY WOMAN
Aug. 20 SPIDER-MAN: HOMECOMING
Aug. 27 I, TONYA
Sept. 10 BLUES BROTHERS
Amazing Amphibians at the Notebaert Nature Museum
Featuring eye-popping colors, lusty songs and long-legged leaps, Amazing Amphibians submerges visitors in the diverse and extraordinary world of amphibians testing their knowledge through interactive play. A colorful maze at the front of the exhibit greets families, inviting them to discover the lifecycles of these remarkable species through trivia and hands-on activities. The exhibit runs through Sept. 3. 2430 N. Cannon. NatureMuseum.org
Amplified: Chicago Blues at the Chicago History Museum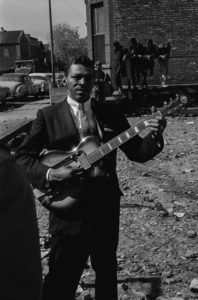 Take in the Chicago History Museum's newest exhibition, Amplified: Chicago Blues. Chicago has been a "sweet home" for the blues since African American migrants brought it here, where it was electrified, amplified, recorded and eventually shared around the world.
At the foundation of the exhibit is the photography of local record distributor Raeburn Flerlage, as well as a number of interactive opportunities that allow visitors to belt out one of the classics in a realistic club setting, write and sing their own songs, design an album cover and even strum a few notes. General admission is free for Illinois residents on Tuesday evenings. 1601 N. Clark. ChicagoHistory.org
See the new titanosaur at the Field Museum
The cast of the largest dinosaur ever discovered is now on display at the Field Museum. Named Maximo, this titanosaur (made from the fossil bones of Patagotitan mayorum) hails from Argentina and is 122 feet from head to tail. So tall, in fact, that his head peeks over the museum's second-floor balcony above the Stanley Field Hall. Visitors are able to touch and walk underneath Maximo, which is only the second Patagotitan ever displayed. Also, check out the new Antarctic Dinosaurs exhibit this summer. 1400 S. Lake Shore Dr. FieldMuseum.org