Chicago Insider: Natalie Converse on Wicker Park shopping, a sushi favorite, Roots Pizza and being a tourist for a day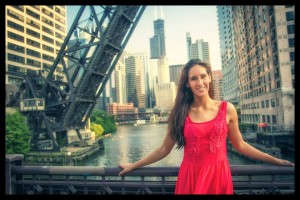 Your ads will be inserted here by
Easy Ads.
Please go to the plugin admin page to set up your ad code.
Name: Natalie Converse
Occupation: Bar manager at Benny's Chop House
How long you've lived here: I moved here in 2005, the year that the White Sox won the World Series. I like to think I brought good luck to Chicago!
What you like best about Chicago: I'm from a tiny town in rural Washington State. I was in awe the first time I took the train downtown. The architecture, the history, the romance … and so many people! I'm still starstruck!
Best meal you've had recently: Chef Carlo (Benny's Chop House) recently made me a pan-seared Skuna Bay salmon with locally grown vegetables. For a steakhouse, Benny's really knows how to accommodate
non-carnivores like me!
Favorite big-name restaurant: GT Fish and Oyster on Grand Avenue. They have beautiful cocktail and wine lists, and of course, fresh, delicious seafood.
Favorite "hidden gem" restaurant: Tanoshii Sushi in Andersonville. You don't even need a menu, just order "Sushi Mike's Specials." And bring him a Miller Lite. You will thank me later.
A great night out with friends usually includes… gravitating to places with a good craft beer list. After a busy night working the bar at Benny's Chop House, you can find me with friends and co-workers sipping a Lion stout at Five Star Bar on Chicago Avenue.
Favorite store or best shopping area: I love to walk down Milwaukee Ave. in Wicker Park. There are fantastic thrift and consignment stores and unique and trendy little boutiques. M
y favorite shop for dresses and accessories is called Pitaya. I never knew $100 could go so far!
Your ads will be inserted here by
Easy Ads.
Please go to the plugin admin page to set up your ad code.
Best sports bar to catch the game: Roots Pizza on Chicago and Damen. Fantastic pizza and build-your-own salad options, so everyone wins. Comfortable booths and an all-Midwestern beer list make it a must to cure what ails you.
The best way to spend a fall Saturday in the city: I always start my Saturdays off with a tough team workout at Windy City Crossfit. Then one of my favorite afternoon adventures entails jumping on the Metra and heading up to North Shore Distillery in Lake Bluff for a tour and a tasting! Exploration, education and delicious BOOZE! (Be sure to call ahead first!)
One thing every visitor must do here: Chicago offers an incredible urban backdrop for photographs. Take a camera and go exploring down the Kinzie corridor in the West Loop for some dramatic skyline views and industrial shots. Also bring
pepper spray.
Secret Chicago spot: Northwestern's campus is beautiful. Walk the lakefront, tour the library and explore all of the historic buildings and landmarks.
Underrated activity in the city: Touristy stuff. Do the architecture tour, go to the top of the Hancock building, check out the Field Museum, Shedd Aquarium and Museum of Science and Industry. Pretend you're only in town for a day, and your whole perspective changes.
What's one place you hear great things about but have yet to try? The Berkshire Room! My friend Benjamin Schiller runs it, and it's an absolute atrocity that I have not yet been to visit him!
Your ads will be inserted here by
Easy Ads.
Please go to the plugin admin page to set up your ad code.