New Chicago discoveries: A few spots we've fallen in love with lately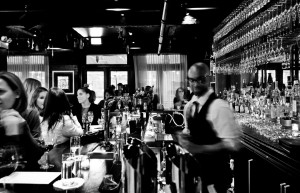 Your ads will be inserted here by
Easy Ads.
Please go to the plugin admin page to set up your ad code.
We asked some of our writers and readers to tell us what they've discovered  — and fallen in love with — in Chicago recently
Kid-friendly events
As parents of two young children, we aren't able to enjoy the restaurant and bar scene as much as we would like. Since it's harder to make it out in the evenings, we've been delighted to discover all of the neighborhood daytime festivals in the city. In our neighborhood (Lincoln Square/Ravenswood) alone, in the past month, we've watched a parade, visited an Octoberfest and joined in an apple festival, and we are looking forward to an art walk! Our alderman's weekly emails, the neighborhood chamber of commerce emails, ChicagoParents.com and TimeOut Chicago are all great resources. We enjoy getting out of the house, and the kids get to experience fun events and different cultures.
— Karin Kane
DryHop Brewers — 3155 N. Broadway
Those of us who live in the Lakeview area have been watching DryHop Brewers develop for months, and when the doors opened in June, it wasn't the beer that got me, it was the padron peppers wrapped in prosciutto. The spicy peppers (some carry more heat, which adds a Russian Roulette appeal) are shockingly delicious with a fiery vinegar glaze that you dip into a beer cheese fondue. But it's that juicy slab of prosciutto hugging the peppers that makes for a real treat. They will keep me warm as the weather drops, along with the DryHop home brews and the local crafts they bring in on special.
— Dan Ochwat
RM Champagne Salon Bar — 116 N. Green St.
There is a new little gem in Chicago just off the Randolph Street mecca of restaurants called RM Champagne Salon Bar. It is so tucked away down a discreet cobblestone alley that you might walk right by it on the street and no
t even know it. But once you are directed to walk in, I imagine it is the equivalent of an adult feeling like Charlie when he walked into Willy Wonka's chocolate factory. Vintage strung bulbs and table lights, painted murals, soft blues and other hues, wooden and mismatched vintage furniture all come together in harmony as you cozy up in here. This is a wine bar, a lounge, a restaurant, an intimate date, a girls night. Good for any occasion, this French-style indoor and outdoor space is the place to relax and enjoy the ambiance, menu and your company.
— Margot Thomas
Exchequer — 226 S. Wabash
One of my new favorite places has to be Exchequer. The building itself dates back to the 1920s, when it was called the 226 Club and Al Capone would eat there. To this day, all of the old wood trims and chandeliers from that era are still up in the mezzanine. In the 1940s and 50s, the place was called The Wonder Bar before becoming Exchequer in 1969.  For me, Exchequer has always sort of stood out in terms of its atmosphere because of this history and the aesthetics surrounding the place. Aside from the mezzanine, just having a seat along that old wooden bar and being greeted by a small legion of tap beers is mesmerizing for the beer lover in me.  If the Blackhawks are on, you can bet you'll be able to catch on the TV. As for food, anything you get here will be fine. The burgers are so thick that even on an empty stomach you'll have trouble getting it all down, and their deep dish pizza is something that they rightfully pride themselves on. It's been masterfully crafted with a gooey cheese and soft crust that makes the whole thing practically melt in your mouth. All of this is wrapped up by their incredible service.
Your ads will be inserted here by
Easy Ads.
Please go to the plugin admin page to set up your ad code.
— Jim Luchetta
American Junkie — 15 W. Illinois
Piccolo Sogno Due — 340 N. Clark
Firecakes — 68 W. Hubbard
American Junkie has a cool upstairs bar and good appetizers too. I found it through a recommendation from a co-worker, as we went there for a going away party. … I also had a great lunch at Piccolo Sogno Due. It's the second location of this restaurant downtown. Really good homemade pasta. … And lastly, Firecakes doughnuts. People have been bringing these into the office, and they are quite tasty!
— Christy Stokke
Mrs. Murphy's Irish Bistro — 3905 N. Lincoln
After a trip to Ireland in August, my travel gals and I were feeling nostalgic and wanted to meet up at an Irish restaurant in Chicago. We chose Mrs. Murphy's Irish Bistro. It is now my new favorite spot for mac and cheese! And the Irish dishes were the best we have had: Guinness and onion soup, shepherd's pie, ribs and Guinness beef stew with roasted root vegetables were all bistro-quality. They also had a great variety of beers and ciders, reminding us of our pub stops in Dublin. Service was good with the waiter telling us fun stories about the owner's nine-bedroom rental house, just north of Dublin in the area where Bono resides. I will be going back soon and leaving room to try the chocolate Guinness ice cream or the chocolate lava cake with peanut bacon brittle, chocolate-covered bacon and peanut butter sauce. Slainte!
— Kristen Daly
Nosebleeds at the Cell
One of the best things about fall in Chicago is the sports. Bears, Hawks, Cubs and Sox all playing at the same time—what more could you ask for? But while baseball was winding down at the end of the season, I discovered the pure joy of cheap seats at Sox park. The price of the 200-level balcony seats gets lowered to around $10 a seat once it's clear our boys aren't going to the World Series. The higher-level seats give you the sensation that you're floating above the field, and you can see better than most lower-level seats. Because of the sparse amount of people in attendance, you're able to spread out and dangle your feet over the row in front of you. So next year, grab a cold beer and enjoy the end of summer among the true fans who are there to support all the way until the bitter end.
— Nicole Weddington
Your ads will be inserted here by
Easy Ads.
Please go to the plugin admin page to set up your ad code.