Good Eats at Elly's Pancake House: Pancakes, burgers, milkshakes and more in Chicago's Old Town neighborhood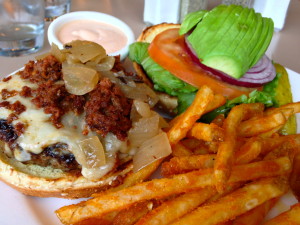 Your ads will be inserted here by
Easy Ads.
Please go to the plugin admin page to set up your ad code.
This friendly 24-hour diner can be as busy after the bars close as it is on a Saturday morning

By Jim Luchetta
The scene: This is a cute little diner on the corner of North and Clark you've no doubt noticed from the outside while walking through Old Town. Inside, you'll find booth seating that wraps around the walls, hardwood floors, and a wall littered with decorated plates that gets painted several different colors throughout the year. Open 24 hours, you'll find everything from families noshing on breakfast on a Saturday morning to bar-goers finishing the night here before the sun comes up.
Food and drink: Everything at Elly's is worth a try. They have typical lunch and breakfast food, and it's all made and served with fresh ingredients. With a list that includes farm-fresh omelets, waffles, pancakes, blintzes, sandwiches, burgers and much more (all of which is served throughout the day), even the pickiest of eaters will find something appealing.
If you're in the mood for some breakfast food, why not try what they're famous for: the pancakes. Elly's regularly finds itself on lists for the city's best pancakes and is considered one of
the most affordable options. These things are like fluffy clouds of warm goodness, slathered in whatever fruit you want — not that canned pie filling you'll find at other diners. The blueberry pancakes are just out of this world, but you really can't go wrong with the cinnamon apple, blackberry or whatever else is on the list that day.
Your ads will be inserted here by
Easy Ads.
Please go to the plugin admin page to set up your ad code.
If lunch is more your speed, the char-broiled burgers are a must. A personal favorite is the Dijon burger, served on two slices of toasted sourdough bread with roasted onions, bacon, Swiss cheese and, of course, Dijon mustard. The burger is so massive, it can be difficult to finish in one sitting, especially when coupled with the fries and soup it comes with.
For the vegetarians out there, there are quite a few items worth tempting your taste buds over. The vegetarian omelet, made with all kinds of vegetables and whatever cheese you're feeling that day, is big enough to fill you up on its own. Then add on the crispy hash browns and a side of their f
amous pancakes to go along with it, and you may want to cancel your plans for an afternoon workout.
What caught our eye: The plate wall. It's beautiful as it is, but the fact that they seem to randomly change the color of the wall throughout the season adds a bit of character. The modern lighting hanging from strings is cool as well. And it's easy to second-guess your order when you see the loaded plates the waitresses walk by carrying.
We'll be back because: Where the hell else am I going to get amazing pancakes at 1 a.m.? It draws you in and spoils you into forgetting the city's other "regular" diners.
Elly's Pancake House is located at 101 W North Ave. in the Old Town neighborhood. They also have four suburban locations. www.EllysPancakeHouse.com
Your ads will be inserted here by
Easy Ads.
Please go to the plugin admin page to set up your ad code.