Good Eats at Pasteur: Tasty Vietnamese dishes and a stellar patio for summer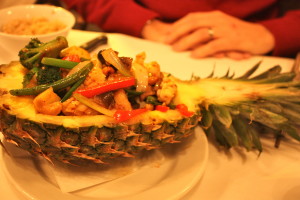 Pasteur is back and better than ever with flavorful Vietnamese recipes and a gorgeous dining room
By Trent Modglin
Where it's at: 5525 N. Broadway in Edgewater
www.PasteurRestaurantChicago.com
The scene: Simply stated, this is a beautiful dining room. Elegant, clean, comfortable and very white, it has low lighting without feeling dark, slow-moving ceiling fans and large plants down the middle.
True to the French-Vietnamese cultures, it is very relaxing and almost soothing, as if you're on vacation. There were a wide variety of people dining while we were there, from an intimate date on one side to a large group of businessmen and a family of six on the other.
Food and drink: Although this is technically a fusion of French and Vietnamese rec
ipes and ideas, you should head to Pasteur expecting Vietnamese. For appetizers, the shrimp papaya salad was refreshing, the dumplings were solid and the shrimp spring rolls with peanut sauce were tasty and fresh.
We bounced around with entrees, trying an array of options to give us a proper feel for the vast menu. The crispy tofu, sautéed with a caramelized glaze of baked red peppers, garlic and onions, had a surprisingly nice kick, as did the spicy beef soup with its zesty onion and garlic broth. The most interesting presentation of the night was an offering of calamari nestled in a half-pineapple and loaded with vegetables. The bacon-wrapped pork tenderloin, seared with mushrooms, and the sweet rice noodles with chicken were worthy choices as well.
For dessert, the dense, decadent flourless chocolate cake was paired well with our w
ine, the mango mousse cake was deliciously light and the bread pudding topped with vanilla ice cream proved to be nice alternative if you're looking for a not-too-sweet way to end the meal.
Though we settled in on wine and never strayed, Pasteur boasts a respectable list of signature martinis and rum cocktails perfect for a summer night out.
What caught our eye: The restaurant is deceptively large and sticks out from the rest of the neighborhood. The presentation of the food is like artwork, and the outdoor patio looks enticing to say the least.
We'll be back because… quite frankly, there are so many appealing items left to try (claypot salmon, ginger chicken, mojitos, etc.). Between the multitude of choices, authentic flavors and quality service, it was an enjoyable meal all the way through.
We were there nearly three hours, and the time flew by. Also, we have yet to soak up the beautiful back patio on a summer evening.