First Look review: Kiss Kiss Cabaret at the Greenhouse Theater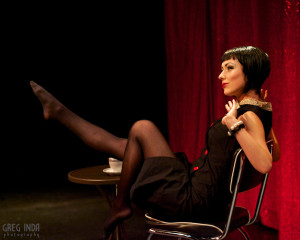 Prominent burlesque groups join forces for a different (and hilarious) adventure every week
By Corey O'Day
Playing at: The Greenhouse Theater Center, 2257 N Lincoln Ave. in Lincoln Park. Advance tickets are available for $15 at 773-404-7336 or www.GreenhouseTheater.org
When: On an open run Fridays at 11 p.m.
History: The cast includes members from the Belmont Burlesque Review, Vaudezilla Productions, Plan 9 Burlesque and other prominent burlesque groups across Chicago. They come together each Friday to showcase their collective talent at the Kiss Kiss Cabaret.
Basic Storyline: Every week is a different adventure with performances by the lovely Kiss Kiss Coquettes and cast. During June and July, the Kiss Kiss Cabaret is performing a special collection of work they call, "Filmstrips: An Evening of Cinematic Striptease," complete with movie trivia to get the audience involved.
What to expect: The Claptrap Family Orchestra, starring Velma and her accordion promise, "You'll laugh your asses off tonight at Kiss Kiss Cabaret!" And to make sure of that, she returns to the stage later in the
evening with a euphemism-laden ode to the female anatomy that would make a gynecologist blush. Each show also features a charismatic host, various guest comedians, a juggler and a magician.
What stood out: Hilarious variety and talent. The dancers move effortlessly between allurement and comedy. There is never a dull moment with movie-themed performances like a Singin' in the Rain remix ensemble, and an Incredible Hulk dubstep/ballet solo. Green has never been so sexy.
Final thoughts: The evening's host declared Filmstrips ideal for "lovers of movies and boobies," and there was plenty to appreciate in both categories. Kiss Kiss Cabaret is great for any occasion: birthdays, bachelor/bachelorette parties, or in my case, a first date. He was impressed.
For more information, visit www.KissKissCabaret.com