Throwing strikes: Cure your craving to bowl at these fun locations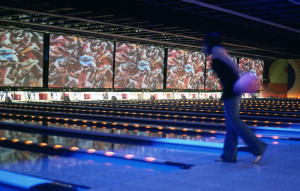 Your ads will be inserted here by
Easy Ads.
Please go to the plugin admin page to set up your ad code.
Looking to enjoy some quality time bowling with the kids or a group of friends? We've got a few ideas
By Nicole Weddington
One of my favorite activities when I'm in the mood to play a game is to go bowling. The great thing about bowling is that children and adults of every ability level can enjoy knocking pins down. It can be enjoyed leisurely, socially or competitively, and it's perfect for a date, a Saturday afternoon with the kids or a night out with friends. Read on for a few of our favorite bowling alleys in Chicago.
10Pin Bowling Lounge
330 N. State
www.10pinchicago.com
10Pin Bowling Lounge combines America's favorite participation sport with a hip, upscale environment. The 20,000-square-foot space, across from the House of Blues in Marina City, is furnished with plush
sofas and lane-side tables. A total of 24 lanes are topped by eight high-definition video screens with nightclub-quality sound. All food, like specialty pizzas and Southern fried chicken, is served in small plate portions to encourage sharing. Wash it down with a signature martini like the Peachy Keen. Bring your ID because you must be 21 years old to enter after 8 p.m.
Diversey River Bowl
2211 W. Diversey
www.DRBowl.com
Your ads will be inserted here by
Easy Ads.
Please go to the plugin admin page to set up your ad code.
Diversey Rock and Bowl, also referred to as Diversey River Bowl, prides itself on having a state-of-the-art light and sound show every Thursday-Sunday that includes 3D imagery, lasers and black lights. DRB has a full bar menu as well as a pizzeria with karaoke on Thursday nights. Join a league or rent a private room for a large party. DRB is also the location for the epic Lebowski Fest Bowling Party every September.
Southport Lanes
3325 N. Southport
www.SouthportLanes.com
Southport Lanes & Billiards boasts one of only 10 hand-set bowling alleys in the country. This means that a pinboy sets your pins up and clears them for you instead of an automatic machine. With eight different gourmet burgers and original Schlitz décor, this bar is truly original. In addition, there are daily rotating specials including free ping pong and $2 bowling. Southport Lanes also has an extensive collection of craft beer and a private room for rent with a pool table and four bowling lanes. Talk about a gamer's paradise.
Waveland Bowl
3700 N. Western Ave.

www.WavelandBowl.com
Waveland Bowl in Lakeview has been providing Chicagoans with a family-friendly bowling spot since 1959. This league-oriented environment is the home of the Chicago Sport and Social Club and other mixed leagues, so be sure to call ahead to check availability. Plenty of specials are available, including $1 bowling on weekday mornings. Enjoy free karaoke in the bar on Thirsty Thursdays and rock out to hits from the 1980s and today during cosmic bowling hours five times a week.
Your ads will be inserted here by
Easy Ads.
Please go to the plugin admin page to set up your ad code.