Chicago's hidden gems: Sandmeyer's Bookstore, Margie's Candies and the Town Hall Pub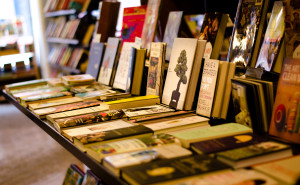 Your ads will be inserted here by
Easy Ads.
Please go to the plugin admin page to set up your ad code.
If you're searching for that special, out-of-the way experience that represents our great city, we've got you covered
Sandmeyer's Bookstore
Hidden down on Printer's Row, Sandmeyer's Bookstore is a place that is tucked into an old apartment complex in such a way that if you weren't looking for it, you'd be sure to miss it. Which is really unfortunate because this shop is one of the best I've found in the Loop. It's so quiet and laid-back that it basically drags you in from the street with its warm lighting and soft music, feeling like you're walking into someone's home. The floorboards are comfortably creaky, and the place has the scent of history and literature in the form of that great, old-book smell.
Sandmeyer's has everything from children's books to biographies, study guides and notebooks. Every time I've been in this welcoming and friendly store, I've simply been unable to leave without buying something. And the best part is, the people working the register always tell me how great the book I bought is going to be.
Sandmeyer's Bookstore is located at 714 S. Dearborn in the Loop. www.SandmeyersBookstore.com
— Katie Hughes
Margie's Candies                                                                            
This shop is packed with boxes of hand-crafted chocolates in all shapes and sizes, as w
ell as memorabilia the family has collected through the decades. Their brag book of patrons includes The Beatles and The Rolling Stones.
Your ads will be inserted here by
Easy Ads.
Please go to the plugin admin page to set up your ad code.
Margie's has been making ice cream and candy since 1921. They use natural and kosher ingredients and recipes that have proven successful for generations. You'll find more than the average banana split or sundae here, including some dishes that are served with your own personal gravy boat full of homemade hot fudge or butterscotch. There is also a food menu for customers who require pre-dessert nourishment.
Margie's original store stands at 1960 N. Western Ave. (open daily 9 a.m. to midnight), and there is a second location at 1813 W. Montrose. www.MargiesFineCandies.com
— Corey O'Day
Town Hall Pub                                                                                
Nestled in the heart of Boystown is this unassuming neighborhood haunt. It is a cozy dive with a diverse and welcoming clientele, friendly staff and an eclectic calendar of events.
One of the most popular is a sketch show called "I Saw You," performed by Bruised Orange Theater Company every Wednesday night. The show has been running for six years, and each week is a brand-new performance. The actors draw their inspiration from ever-changing personals ads and Craigslist posts — particularly the "Missed Connections" section.
Town Hall Pub also hosts a two-woman show called "Entertaining Julia" every Sunday, an open-mic session every Monday and a comedy open-mic event on the last Tuesday of every month. They often host musicians, DJs, burlesque shows and story-telling events as well. In keeping with the old-time charm, many of their promotions take place the old-fashioned way — via word of mouth.
The Town Hall Pub is located at 3340 N. Halsted. Visit www.TownHallPub.com for more information.
— Corey O'Day
Your ads will be inserted here by
Easy Ads.
Please go to the plugin admin page to set up your ad code.