First Look review: Second City's new "Let Them Eat Chaos" is a winding, fun and wild ride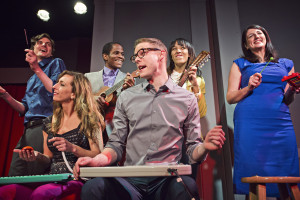 Your ads will be inserted here by
Easy Ads.
Please go to the plugin admin page to set up your ad code.
By Trent Modglin
Playing at: The Second City mainstage, at 1616 N. Wells. Visit www.SecondCity.com or call (312) 337-3992 for information. Tickets range from $23-28.
When: On an open run Tuesday-Thursday at 8 p.m., Friday-Saturday at 8 p.m. and 11 p.m. and Sunday at 7 p.m.
History: This is the 101st revue to hit the Second City's legendary mainstage. Jeff Award-winning director Matt Hovde returns to The Second City to lead a cast of comedic veterans including Edgar Blackmon, Holly Laurent, Katie Rich and Steve Waltien and mainstage newcomers Tawny Newsome and Ross Bryant. Blackmon, Laurent and Rich performed in the recent Jeff-nominated mainstage revues Southside of Heaven and Who Do We Think We Are?
Storyline: "You're always someone to someone" sings Katie Rich in an opening scene, a notion that serves as the common theme throughout this time-traveling, whimsical show about relationships, personal connections that develop when you least expect it, finding our way through the world and how this is "a very strange time in which to live."
What to expect: Let Them Eat Chaos offers much less of the topical, politically- and culturally-based humor we've come to expect from this company, thus allowing a wider focus and more improvised scenes. Most Second City revues include bits of sporadic improvisation, but this show relies heavily on creating unscripted laughs, especially right out of the gate, which keeps the audience — and cast — on its toes.
With unconventional relationships and human interaction as focal points, and sketch topics ranging from the difficulty of naming your newborn at the hospital to people from the future analyzing our current-day issues ("Shopping is what people did in the upper to middle class") to a solo cruise ship traveler looking for camaraderie, Let Them Eat Chaos is a winding, fun and wild ride.
Your ads will be inserted here by
Easy Ads.
Please go to the plugin admin page to set up your ad code.
What stood out: Ross Bryant, he of the skinny frame, angled bowl haircut and thick black glasses, has all the makings of a future star. A newcomer to the Second City mainstage, his razor-sharp wit and voice-altering abilities make him one to keep an eye on.
Bryant and Edgar Blackmon engage in an epically entertaining, racially-charged back-and-forth rap that will forever be etched onto a short list of my favorite skits from more than a decade of revues I've seen. The enraged, socially conscious Blackmon focuses on school closings, Southside violence, civil rights and politics, while the privileged Bryant's complaints — Pinkberry discontinuing his favorite yogurt flavor, slow internet service, condo association rules, etc. — are delightfully far more petty. This animated rap session is so well done, it really deserves its own spotlight article.
Another skit that will leave you still smiling days afterward involves the cast playing first-graders who are asked by their teacher to draw pictures involving something suggested from the crowd (in this case, the welfare Link Card). This largely improvised scene, which is chock full of shenanigans as each "child" describes the reason they drew what they did, perfectly showcases the quick, creative minds of this diverse cast.
I'm always amazed with each cast's ability to sing, and the vocal talents of Tawny Newsome and Holly Laurent really stand out in the show's musical-oriented sketches, especially the folksy ditty (instruments included) that challenges the NRA and its argument that more guns will make us safer by suggesting that more kissing will also stop mono (among other
ridiculous proposals).
Second City's move to include occasional video projections as locale or thematic backdrops is another highlight. Most importantly, it's not overdone, which would run the risk of cheapening the experience. Quite the contrary, actually, as the projections create a layered element of abstract theater not offered before.
Final thoughts: We here in Chicago are routinely spoiled by the talent cultivated, and shows produced, by The Second City. And Let Them Eat Chaos is no different. It is a sharp, creative, intricately meandering performance that focuses on the curious nature of human interaction and the innate personal connections we seek, sometimes in people very different than ourselves. And as usual, talent abounds in the cast, which is always a good place to start.
Your ads will be inserted here by
Easy Ads.
Please go to the plugin admin page to set up your ad code.