Girls night out: Drinks, laughs and online dating talk with the ladies from Second City's hit "#DateMe: An OkCupid Experiment"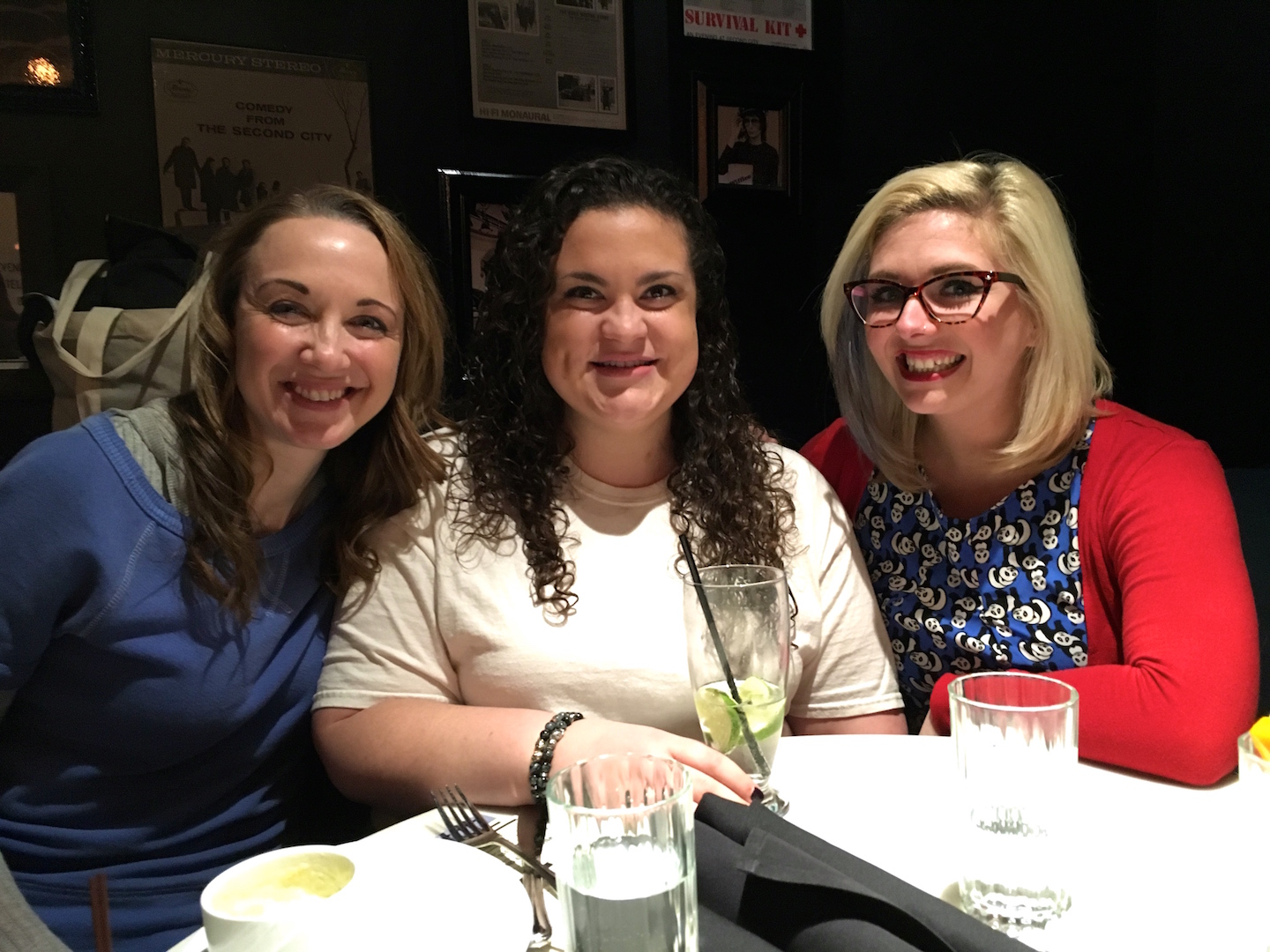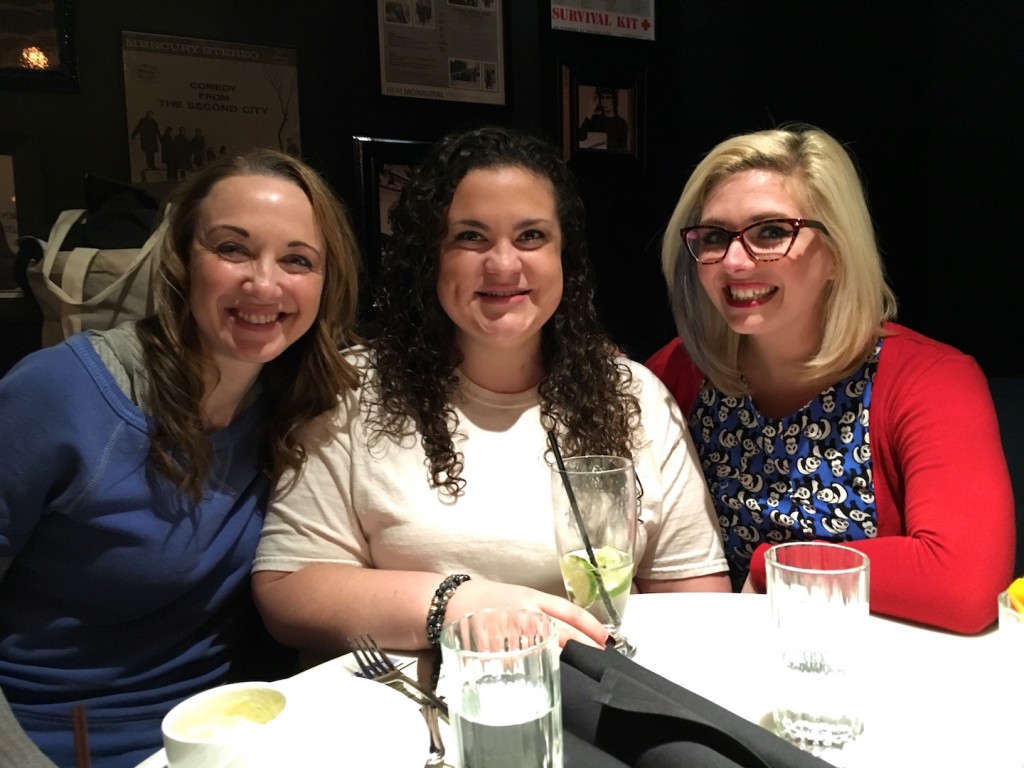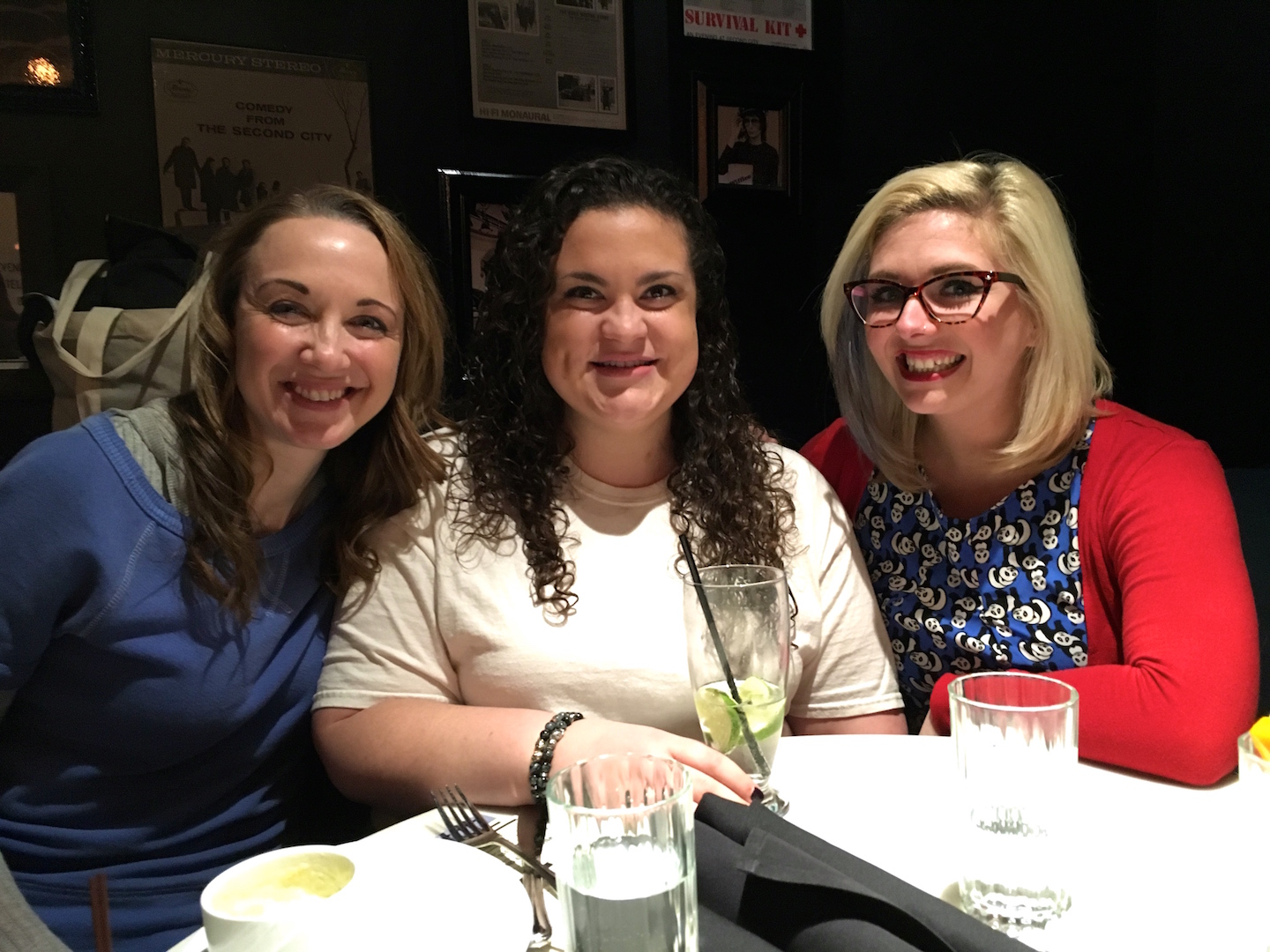 By Trent Modglin
It's a Sunday night in late April, and I'm sitting at a booth at Second City's new bar, called 1959 to honor the year of the famous sketch comedy club's inception, chatting about relationships with the three female stars (Robyn Lynne Norris, Dana Robie and Stacey Smith) of #DateMe: An OkCupid Experiment.
#DateMe is Second City's smash hit, back at Up Comedy Club in Old Town for a fifth run, complete with new material that is relatable, personal, hilarious and relevant. It all started a couple years back when Robyn, along with her friend Bob Ladewig, created 38 "undateable" characters on the popular dating website OkCupid and posted them in the top 10 U.S. cities for online dating. They tracked the results for months and wrote the show using actual dialogue from real people they met online mixed with the personalities of the original (and humorously flawed) characters they created.
It's a wildly obsessive, funny and heartfelt ride through the unstable but addictive world of online dating.
As the drinks arrive at our table, I bring up the topic of weird first dates. Or bad ones. Or bad ones that were weird. It's a popular topic, apparently. They all light up.
"Oh, I've got hundreds," brags Stacey, following it up with a Demi Moore kind of laugh. "I had a guy pick me up from the airport and drive me to my house. And that was our first date."
"Wait, but that's nice," offers Robyn. "I've got friends that won't even do that."
"Well, that was our date," Stacey continues. "Basically like an Uber guy. He said five words to me on the way home, then texted me later telling me I'm beautiful and wondering when we can see each other again."
"OkCupid will tell you when somebody looks at your profile. We haven't talked since Valentine's Day, but he just looked at (mine) two days ago."
On another date, she went to see a heavy metal concert, where one of the bands was named I Wrestled a Bear Once. Turns out she hates heavy metal music and strangers moshing into her all night.
The focus turns to Robyn, the creator and co-author of this hit show. "Mine are too sad, guys," she offers with a sad face to match. "I don't have a lot of funny ones."
The rest of us provide some encouragement, but here's the thing: Robyn considers herself too sensitive, so even if things are weird on a date, she's actually more worried about them, and comes up with reasons for why they're doing what they're doing.
"I can see that," says Stacey.
Finally, we coax her into a story about when a guy took her out to dinner in a snowstorm, and he wanted to go to this one restaurant because he knew somebody who worked there. In other words, that guy who "knows a guy."
Problem is, the restaurant was totally packed. Not a favor to be had. And it didn't stop there. All told, they would visit four different eateries that night, each where he supposedly had a connection, and none of the connections could get them a table. Even with it snowing out. They ended up at a greasy spoon diner where she didn't even eat, followed by a late-night improv comedy jam, where he overlaughed because he knew she was a comedian. And then came the pokes, elbows, smiles and head nods.
"He would just sit there and die laughing, then look at me and be like (she gives the table the head nod. You know the head nod.) 'Hey. Hi. Hello.' "
Dana is up next and officially takes the cake. It was a recent OkCupid experience, and her first mistake was that she agreed to a second date on Valentine's Day, which would've been bad enough, except the first date hadn't even gone that well. Mediocre at best. Certainly nothing to text friends about.
"I was giving it a second chance, just because, you know," she says with a shrug of the shoulders.
Then came the second bad idea; she agreed to go to a movie — "You know, it's kind of awkward, no speaking and just sitting there." Now add on the fact he was late. So late that they couldn't see their original movie choice. So Dana paid for tickets to their second option to make sure they could at least get in, and soon after he finally arrived, he fell asleep in the theater. Not the occasional head bobbing kind of doze. But the chin-in-the-chest, snoring-through-the-whole-thing kind of slumber. Oh, and it was an afternoon matinee, of Deadpool, "a great, funny movie."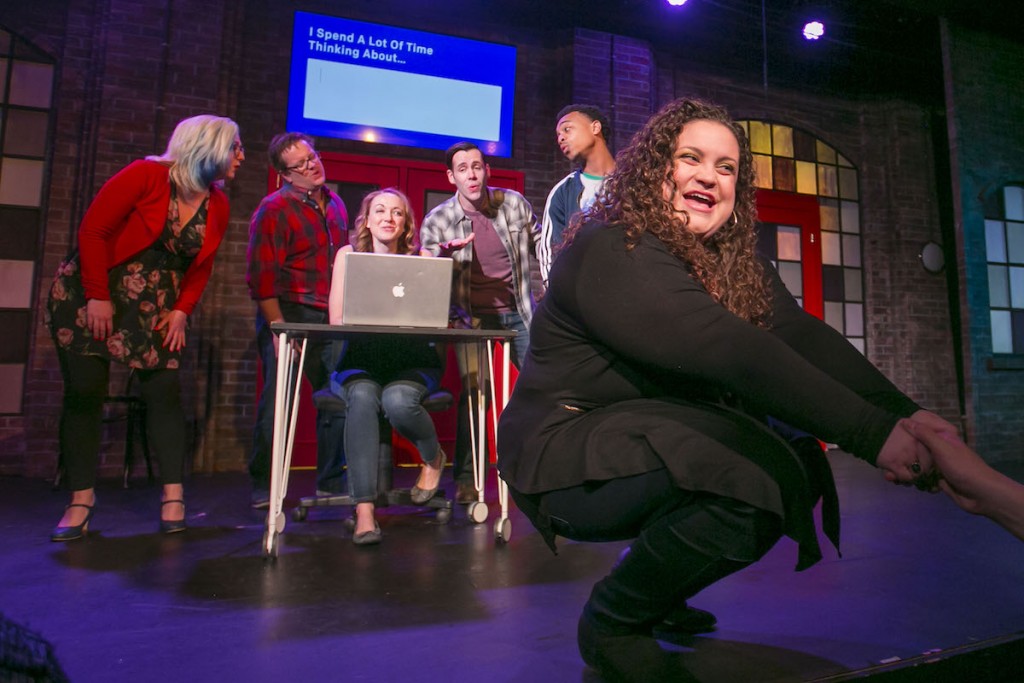 On top of that, they had to share a train part of the way home, and he couldn't stop bringing up the next time they'd hang out. "I'm like, 'Uh huh.' I have no idea why I didn't cut it off right there," Dana admits.
"Later that day I texted him to say, 'You know, I don't really see this headed anywhere, thanks for hanging out, good luck out there, blah, blah, blah.' It was a great Valentine's Day."
"And he was nice too, right?" asks Robyn.
"He was nice. And OkCupid will tell you when somebody looks at your profile. We haven't talked since Valentine's Day, but he just looked at it two days ago. I was like, 'Ohhh, man.' "
"Oh, he did?" says Robyn, chuckling.
"Ohhhh, no," moans Stacey.
"Oh, and my guy was unemployed, so I don't know what he was so tired from," Dana adds, drawing sympathetic laughter from the peanut gallery. "I'm in rehearsal and doing shows, and I'm exhausted, and he's the one who's asleep."
Sense of humor, loyalty and s'mores
Hidden among the laughs during #DateMe is an underlying theme about remaining hopeful amidst the chaos and uncertainty.
During the time she was writing the show, Robyn was certain she'd lost hope completely. All the horrible experiences, those times when she thought she was in love, only to find herself consistently disappointed.
"But then something happens over time where you get that hope back again," she says. "I think that's what keeps people going, knowing we should all be able to connect with people on some level eventually."
"I'm not going to write that I'm a health nut. What's your build? 'Well, I've done Zumba, and I'm a little doughy.' "
During a scene in #DateMe, the cast asks audience members what they're looking for in a romantic partner, and the answers are routinely the same: sense of humor, loyalty, honesty.
"It's just a matter of being yourself and not being the internet version of you," Dana explains. "Like a stand-up comedian, that's not really who they are, but it kind of is. It's like your stage character. That's what online dating is. You post the best pictures of yourself. You're trying to be the smartest and the funniest you're ever going to be, and it kind of is who you are, but not completely. And at the end of the day, it comes down to people who are almost always looking for the same things."
"I wrote some real weird shit when I was (on OkCupid)," Stacey throws out there. "I wrote real specific things I like and want to do. People loved it and they would respond: 'I want to build a fort with you, eating s'mores.' "
I'd like to do that too, I tell her — build a fort and eat s'mores. Sounds like a good time. And that's not code for anything weird, I promise her. I really want to.
"I know," she laughs. "It's OK. It's cool."
According to these women, being yourself, or something reasonably close, may be the most important aspect to finding success. You can actually learn a lot about that person staring back at you in the mirror when you're creating a profile.
"You don't really pay enough attention to yourself out there in the real world," Stacey suggests. "Because I'm not going to write that I'm a health nut. What's your build? 'Well, I've done Zumba, and I'm a little doughy.'
"I've gotta explain it because if I meet them, they're gonna say, 'She's not athletic looking.' I mean, I can do a workout class, but it's only once a year."
There's nothing wrong with cat shirts
Numbers, staggering numbers actually, suggest that the future of dating will be online driven, and heavily so. The show creatively uses some of these statistics, and studies show that the stigma that used to be attached with meeting — and dating — people via the internet is fading fast.
The cast of #DateMe regularly has couples from the audience regaling them with stories about how they met online. A lot of people come to the show on a date.
"Bromance groups" are a big thing too, like the night before, when a bachelor party of 10 were a hit during the show and hung out with the cast at the bar afterward. A performance about the complexities of dating isn't just appealing to females, as it turns out.
What makes #DateMe so applicable revolves around, let's face it, the weirdness of it all: developing a meaningful relationship through a keyboard. The oddities that tumble out of people, especially when they can hide behind a computer screen. Robyn's fake OkCupid characters had plenty of creative quirks of their own, which were celebrated in their profiles in order to draw others in and, in turn, generate enough fodder for what would turn into a 90-minute show.
"I think (people putting their oddities on display) is a good thing in a way," says Robyn. "… They do say that the more specific you are in your profile, the better chance you have of finding a match. If you actually get past the whole 'Look at me, I'm trying to look care-free and I travel and I'm this or that' and instead just say, 'I'm kinda weird. I have this weird thing that I love, this fetish or this weird hobby' and put it out there and someone sees it, I think that it's way better.
"I identify with them because I'm outgoing, but I'm also an introvert. And it's really cool that you can connect with people and find a commonality. … Especially in smaller towns where you may not have the opportunities."
Stacey ventured online awhile back to look for men outside of her acting/comedy circle.
"But that didn't work," she deadpans. "So now I've got my silly, goofy boyfriend who wears cat shirts."
Casanova, ghosting and corgis
The biggest challenge with online dating seems to be that it's too easy. Too easy to build your profile up into someone you're not. Too easy to type quick messages these days instead of (gulp) actually having a conversation. Too easy to charm 10 different people at once, sounding every bit like a modern-day keyboard Casanova.
"I think that's the thing I hated the most," Stacey says, "or the thing I was most afraid of, is that they're talking to soooooo many people."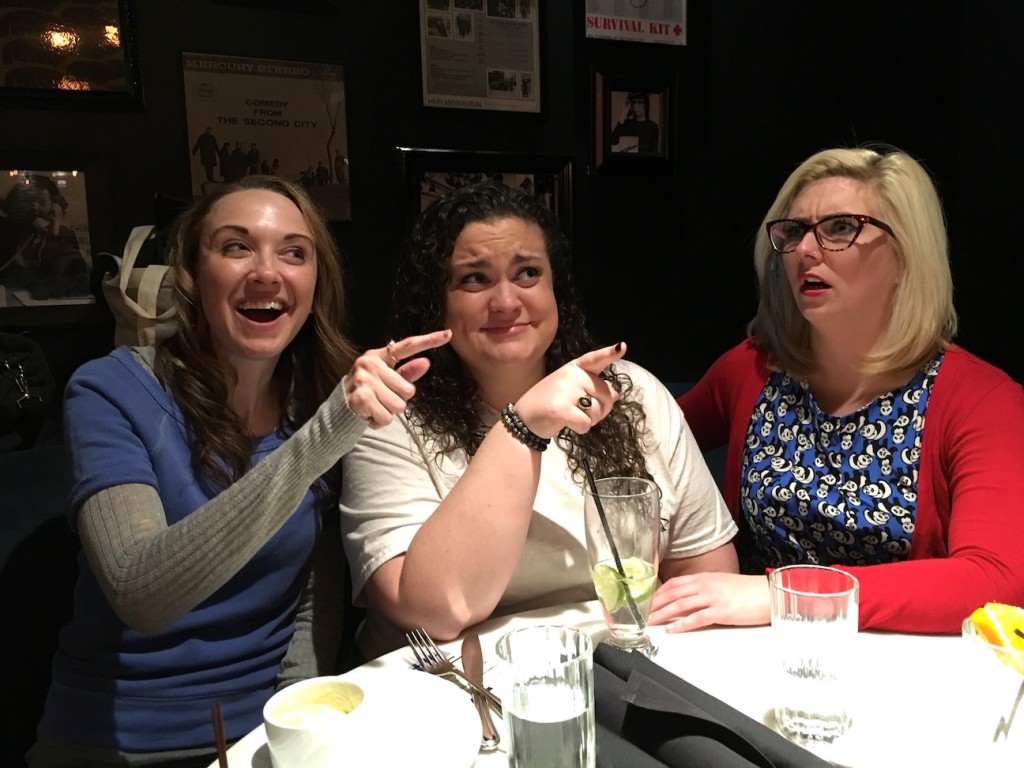 "And they are," Robyn agrees.
"And I was too," says Stacey, wincing.
Stunning satistic from #DateMe — Women, on average, get messages from 17 different men on OkCupid for every one message a man gets from a woman.
And that can be overwhelming. How do you actually know when you really connect with someone? Or when someone sends you a really nice personal message, but you're sure they're copying and pasting the same thing off to dozens of others at the same time.
For three years, Stacey dated a guy from OkCupid who wrote her a four-page message, complete with a joke about everything she had written in her profile, and in full detail so she knew it was personalized to her. To show you care more than the next guy means a lot. But it's a fine line.
"Women get so many messages, and you don't have time to respond to all of them," Robyn says. "But if you don't respond to some of these guys right away, they get real aggressively pissy and call you names.
"Their first message could be so nice, but if you forget or you're not online that day or you don't respond immediately…"
"They can turn on you," exclaims Dana. "Turn on a dime."
"I'd much rather have a medium-looking guy treat me like gold than a hot guy who's going to treat me like…"
At this point of the evening, Dana familiarizes me with the internet phenomenon of "ghosting," in which people you've been chatting with suddenly disappear. Never to be heard from again.
If you frequent online dating sites and have never ghosted someone, you're apparently in the extreme minority. People, in general, do not like to confront one another and explain they're not interested. A sense of decency is lacking, and they just vanish.
"I can't do that," Robyn jumps in. "Even during the writing of the show, I wrote to every guy who seemed like a nice guy and just said that I was seeing somebody. Because I feel like that's the meanest thing in the world is to just disappear on someone like that."
Robyn's sympathetic approach aside, this kind of thing happens constantly.
As it turns out, actually going so far as to deactivate your OkCupid account and waiting several weeks before returning under a different name, or deleting the app on your phone for a bit, is actually an easier, more stress-free approach than letting someone down the old-fashioned way.
"We're all afraid that we're not going to find someone, and then we're all afraid that we're going to find someone who disappears on us," Robyn says. "… I think a lot of this is pre-online dating. People have always been wusses when it comes to calling or texting to say they don't want to see you anymore. It's hard, but the thing is, it's so common now I almost wouldn't take it as personally."
Speaking of taking something personally, Stacey admits she could never venture onto Tinder, the OkCupid rival centered around sifting through photos of those who live nearby and measuring compatibility more on appearance than substance.
"Do we like a lot of the same things?" she asks. "Am I at least mildly attracted to them? I'd much rather have a medium-looking guy treat me like gold than a hot guy who's going to treat me like…"
Her voice tails off, drowned out by the din of the now-crowded bar.
"Babies and corgis," she eventually goes on, drawing laughter from two of the women who know her — and her fascination with the small breed of dog — all too well. "If you don't want them, time to back down. … I'm only looking for two things in a relationship. Just don't tell my boyfriend that."
I think we just did, Stacey. I think we just did.
What can men do better?
"I think there are a lot of nice guys out there," suggests Robyn, sounding every bit convinced. "I would say guys should just take the time to read the woman's profile and be specific with responses. You don't need to write a novel, but be more personal."
But not too personal. Men have a tendency to go too far too quickly. Shocking, I know.
"I would venture to say that a lot, if not most men that I come across online, definitely are looking for someone to hook up with and have sex with," adds Dana. "And I can almost guarantee you there's no woman that doesn't also want to have sex. But if you don't bring it up in, like, the first 10 interactions, I can promise you it's way more possible you're going to get laid. Just don't bring it up."
"Yeah, we know what's going on," Robyn says. "You just don't have to say it."
So certain things are implied. You read it here first, gentlemen.
"Men might think, 'I'm just being honest, I'm being straightforward and I'm letting her know what I want,' " Dana continues. "But women are more complex, and if you nuance it and it comes up later, that's a way higher success rate in my opinion."
"If they come on too strong, I'm totally disinterested," seconds Stacey.
"We want a little bit of that game in there," Robyn says. "Don't be so overt."
"Do one wink emoji and then back off," adds Stacey, as chuckles and more drinks circulate.
So, overtly sexual messages can irritate, and more than a few men could use a refresher course in proper etiquette. Think about it: Robyn and her friends saw thousands of OkCupid messages from all over the country arrive at the doorsteps of their 38 fabricated characters, so if she's saying it's a problem, who are we to argue?
Another downfall is when men are so nice or overly romantic at the outset, only to find out later
they're slightly less than genuine or, worse yet, cheaters.
"It makes you stop trusting the next time somebody says something nice to you," says Robyn. "Or the next time a guy tells you you're special, you're like, 'No, I'm not.' "
When it comes to the long-term relationships in Dana's past, the common theme is that she was always friends with the guy first, often stemming from a general interest in the same things.
"I think guys feel this added pressure like they have to be extra creative or extra unique and be so memorable, and not necessarily," she says. "The best experiences come from simple, fun, friendship-style interaction."
"Totally agree," adds Robyn. "I also understand why they feel the need to try so hard."
It's those damn movies, I blurt out. We can't all live up to your favorite romantic comedy.
The table nods in agreement.
"… It's so important to try to find someone who takes an interest in you and your specific personality," Robyn says.
"First dates are so important, so do something fun that you both like," adds Stacey.
Like matinee movies on Valentine's Day?
"Yes!!" Dana yells, laughing at the memory. "And always pay for him and let him sleep if he needs to. But if he doesn't have a job, you might want to reconsider."
Second City's #DateMe: An OkCupid Experiment is playing at Up Comedy Club through July 24. Visit www.UpComedyClub.com for ticket information.