Shop Around the Corner: Exploring The Book Cellar in Chicago's Lincoln Square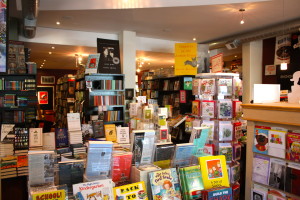 Don't let the name fool you, this is much more than a bookstore
By Taylor Tolbert
Book lovers know that it's fairly easy to spend hours getting lost in a bookstore. But this is usually only the case with two-story book behemoths like Barnes & Noble and Borders of days past. Small, independent book stores may lend themselves well to fun finds and intimate experiences, but usually not hours upon hours of book exploration and discovery.
This, however, is not the case with The Book Cellar in Lincoln Square. Not only do they have an incredible selection of books, including new releases and best-sellers, but they also offer a calendar jam-packed with events and a café complete with beer and wine, great coffee and delicious sandwiches.
The Book Cellar's food and beverage menu is as varied as their selection of books. Grab a book or a
magazine and settle into a table with a sandwich, salad or a hummus plate. Craving something sweeter? You can also take your pick from an assortment of pastries or a root beer float. If you're looking to treat yourself to something a little more adult, The Book Cellar has an unbelievable wine and beer list to satisfy you. You may never want to leave.
Most bookstores offer their "staff picks," but The Book Cellar actually gives their employees a chance to explain their picks and give qualitative reviews. Who doesn't love a book recommendation every now and then? You'll find flagged selections on every aisle, every shelf, every section of the store along with some fun author cartoons.
"The cool thing about our customers is that they really listen to our recommendations and are open to some of the off-the-wall selections we suggest," says sales associate Riley. "A few of them will even give us recommendations. It's nice to have customers who are really smart and interested in books."
The Book Cellar also hosts eight different book clubs, each with a unique voice. Are you a grown adult looking to talk about your favorite young adult book with others like you? Do you love reading about the envir
onment and long for a place to discuss your passion? Do you just like examining new books and authors? You're in luck because The Book Cellar has a book club for you. Check out their website for the complete list of clubs and when they meet.
And if all that wasn't enough to draw you into one of Chicago's finest bookstores, The Book Cellar also hosts a ton of events every week, from monthly Local Author Nights to book signings and readings, free of charge. Book lovers know that there's really nothing better than hearing your favorite author read his or her book in a close setting.
To call The Book Cellar a bookstore really only encapsulates a small portion of what it offers. The atmosphere, the food, (the alcohol), the events and the care that the store and its employees exhibit in picking books and offering assistance all come together to compliment a great book selection wonderfully.
"We probably have some of the cheapest beer and wine in the city, and we'll definitely give you a heavy pour," adds Riley.
Heavy pours, books, active clubs and plenty of recommendations coming together in the heart of Lincoln Square — sounds like a good way to spend a fall afternoon.
The Book Cellar is located at 4736 N. Lincoln Ave. www.BookCellarInc.com