First Look review: Second City's 'Miracle on Wells Street' at Up Comedy Club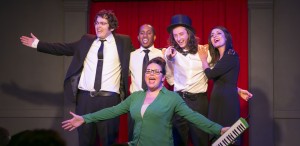 By Corey O'Day
Playing at: UP Comedy Club, 230 W. North Ave. www.UpComedyClub.com
When: Thursdays at 8 p.m., Fridays and Saturdays at 8 p.m. and 11 p.m., and Sundays at 7 p.m. through December 31.
Basic storyline: Second City strays a bit from its usual performances and debuts a brand-new holiday revue, Miracle on Wells Street. It's a jumble of song, dance, sketch and Second City's signature improvisation that darts about at the frantic pace of the holiday season.
What to expect: A fast-paced, sketch-heavy show about shopping, carol-singing, family road trips with an angry Siri, misspelled letters to Santa, and an attempt at acknowledging other winter holidays via PowerPoint — like Kwanza and the Festival of Wild Women.
What stood out: The improv skills of the cast. While the sketches and scripted snippets garnered chuckles from the audience, the genuine guffaws were a result of Second City's tried-and-true strength: improvisation. Another particularly laugh-inducing moment was the impassioned duet between ensemble member Rachel LaForce and musical director Jacob Shuda: "We're Finally Gonna F**k on Christmas."
Final thoughts: Miracle on Wells Street is a fun, untamed combination of filth and family. The audience is tossed from comedy to sympathy and back again as the cast members flex their sketch-writing muscles to offer a little something for everyone during the holiday season.