First Look review: Step Up Productions' "HoliDaze" at the Athenaeum Theatre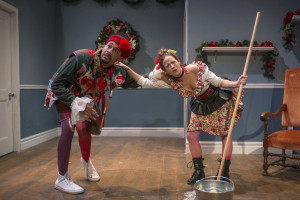 Your ads will be inserted here by
Easy Ads.
Please go to the plugin admin page to set up your ad code.
Christmas cheer and… death? It all comes full circle in this original, true-to-life collection of one-act plays
By Jim Luchetta
Playing at: The Athenaeum Theatre, 2936 N. Southport Ave. in Chicago through Dec. 22. Tickets are available online at www.StepUpProductions.org and or by calling The Athenaeum box office at (773) 935-6875.
History: In the grand tradition of Christmas, playwrights around the city have begun to dole out holiday-themed plays and one-act shows like people ship out fruitcakes to relatives and friends. This year, Step Up Productions has produced a collection of original one-act skits called HoliDaze, "showcasing the dysfunctional chaos and joyous celebration the holidays bring."
HoliDaze features works by Lisa Dillman, Tate Geborkoff, Nambi E. Kelley, Joshua Rollins and Steve Simoncic.
What to expect: While the name can make it seem like a dime-store rendition, HoliDaze is actually put together quite well. There are five one-acts in the production, each dealing with a Christmas theme in some way. While it should be mentioned that these skits have at least some of the holiday cheer you're looking for, it comes at a bit of a price.
The first three skits, while performed well and stocked with some good writing, were heavy on the heart. All three focus, at least in part, on a close family member dying, with the first being the most subtle and the third actually being entirely about how a family is dealing with their first Christmas since their mother passed away — and how she's come back as a ghost to repair what's been broken. Though a little on the morbid side, it is sort of refreshing to see a more real production of what the holiday season can be like for some people.
Your ads will be inserted here by
Easy Ads.
Please go to the plugin admin page to set up your ad code.
Other topics for the skits included two people meeting for the first time after using a dating site, a son-in-law fighting with his mother-in-law, two 20-somethings spending their first Christmas away from home, and a classic medieval love tail about a fool and scullery wench. Each of these had elements of the problems many of us face around the holidays, making them that much more powerful in terms of emotional content.
Despite this caveat, all five of the plays are pretty well stocked with laughs stemming from references to Norman Bates and Poltergeist that will have the pop culture dorks giggling, as well as a few jokes that are a little too racy for a young audience.
What stood out: The actors performed particularly well. Standouts include the mother in the third play and the pairs in first, fourth and fifth plays all had an incredible chemistry that really brought the writing together. Each play seemed to be tailored to the actors participating in them, which, for the most part, brought out the best in each performance.
Final thoughts: The production as a whole was cute, and it could be taken in by almost everyone except for children. The diverse and talented cast lends to the emotional content of each skit in such a way that you could believe we're peering in on their real lives. It may not be The Nutcracker or Miracle on 34th Street, but if you are looking for a Christmas play with real-life situations and sentiments, HoliDaze may be the one for you.
Your ads will be inserted here by
Easy Ads.
Please go to the plugin admin page to set up your ad code.