No vegetarians allowed: Examining Chicago's love affair with steak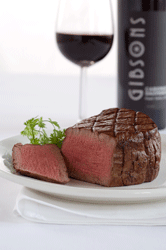 Your ads will be inserted here by
Easy Ads.
Please go to the plugin admin page to set up your ad code.
We have too many 'experts' for it to be an easy decision, but that didn't stop us from coming up with a list of great steakhouses worth checking out
By Trent Modglin
Chicago may be more identifiable with deep dish, its mafia past and the Wrigley Field ivy, but we also know a thing or two about a good steak. In case you need some evidence, just walk a few blocks of this town and open your senses to take in the sizzling sights, sounds and smells of the many stellar steakhouses, whether their names roll off the tongues of locals or they're hidden away in a quiet neighborhood. Alas, we've come up with a list of a few of our favorites for when the craving hits. And in Chicago, it better.
TEXAS de BRAZIL
51 E. Ohio
(312) 670-1006
www.TexasdeBrazil.com
Don' t you dare forget your appetite at this Brazilian churrascaria, as you'll see more variations of sizzling beef, chicken and pork than you knew existed, all in a vibrant and spacious dining room that boasts a wine-gathering trapeze artist. Enjoy a decadent salad bar first, which could easily be a meal in itself with more than 60 items (fresh buffalo mozzarella, grilled Portobello mushrooms, shrimp ceviche, fresh-made sushi, artisan breads, whitefish, soups, etc.), and then sit back and enjoy the service, as trained skewer-yielding gauchos circle the room in dizzying fashion, offering up choice selections of meats such as top sirloin, lamb, chicken, bacon-wrapped filet mignon, sausage or pork ribs to name a few. "I love this place, and can't wait for them to expand closer to me," says Floridian Kurt Kendall. "You really have to come hungry, because the variety of everything can be a little overwhelming. But I'm not complaining. Not one bit."
Our suggestion: A tempting passionfruit caipirinha from the bar and then pace yourself to get a true taste of the variety of meats. It may be difficult, but leave room for dessert.
GENE & GEORGETTI
500 N. Franklin
(312) 527-3718
www.GeneandGeorgetti.com
For a taste of vintage, old-school Chicago tradition, this legendary Italian steakhouse would be a good place to start. Family owned and operated since its opening in 1941, Gene & Georgetti may not look like much from the street, but it's hosted legends like Frank Sinatra, Lucille Ball and Bob Hope, and current celebs like Vince Vaughn and Russell Crowe. The extensive menu, full of steaks, chops, Italian specialties and seafood, can seem overwhelming, but a seasoned waitstaff is more than eager to help.
Our suggestion: Go with the mussels marinara as an appetizer, and then try a filet mignon, bone-in ribeye or the veal chops.
GIBSONS
1028 N. Rush
(312) 266-8999
www.GibsonsSteakhouse.com
Easily one of Chicago's more famous restaurants, Gibsons' history in the Windy City is long and distinguished. Found in the heart of the Rust Street entertainment district, it shares the same kitchen as Hugo's Frog Bar, one of the Gibsons' family of restaurants and a dynamite seafood joint. Gibsons embodies the big-city dining experience with its unmistakable vibe and wide array of filets, sirloins, T-bones, porterhouse and chops. "Gibsons is the Michael Jordan of Chicago steakhouses," says Chicagoan Mark Schwalenberg. "It just has that unique something extra."
Your ads will be inserted here by
Easy Ads.
Please go to the plugin admin page to set up your ad code.
Our suggestion: Enjoy the atmosphere as much as the great steaks, as Gibsons is a regular stop for Chicago's social elite, and celebrity sightings are a common occurrence.
TANGO SUR
3763 N. Southport
(773) 477-5466
Tucked away on the trendy Southport Avenue in the Lakeview neighborhood just blocks from Wrigley Field, Tango Sur is a serious favorite among locals, so much so that it's not uncommon to see lines outside under the heat lamps in the dead of winter. In its cozy, crowded, low-lit atmosphere great for dates and groups alike, Tango Sur offers up delectable Argentine specialties. Two details of note: They don't take reservations for fewer than six, but if you leave your name with the host at the door, you can head to one of several nearby bars for a drink, and they'll call you when your table is ready. Also, it's BYOB, a major plus in this economy. "The food is wonderful — flavorful and authentic," says Chicagoan Rachel Johnson. "The ambiance is energetic and romantic at the same time. And they don't rush you out despite how busy it can get."
Our suggestion: A plate of flaky empanadas as an appetizer, and then the El Filet — tender medallions in a red wine sauce, served with spinach mashed potatoes. And don't forget to bring the bottle of red, as it's BYOB.
WEBER GRILL
539 N. State and two suburban locations
(312) 467-9696
www.webergrillrestaurant.com
If you adhere to the philosophy that the best steaks are cooked over an open charcoal grill, you'll have to make a stop Weber Grill during your stay in Chicago, especially because unlike that summer barbecue in the backyard, you can leave the cooking to someone more qualified. Weber Grill, located in the popular River North neighborhood on the corner of State and Grand, utilizes Weber kettles with real charcoal to showcase your food sizzling right in front of you as part of a lively, open kitchen. Though the steaks come highly recommended, don't ignore the zesty barbecue options or the unique beer can chicken with garlic mashed potatoes. "We always have people come in just because they smell the grills, or they want to compare our barbecue to what they have back home," says Weber's Wesley Conger.
Our suggestion: A hand-cut New York Strip, aged 21 days, or the garlic-and-herb-crusted prime rib, hickory-smoked to perfection. Smokey Joe's Bar next door is a perfect spot for pre- or post-dinner cocktails.
Your ads will be inserted here by
Easy Ads.
Please go to the plugin admin page to set up your ad code.