Chicago Insider: Samantha Cybor on West Loop restaurants and First Fridays at the MCA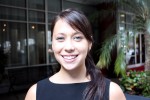 Your ads will be inserted here by
Easy Ads.
Please go to the plugin admin page to set up your ad code.
Ever wish you had an active local's advice on how to enjoy the city? We have too, so here are some answers
Samantha Cybor
Concierge at the Hotel Sax
How long you've lived here: 25 years
What you like best about Chicago: The first thing that comes to mind are the diverse neighborhoods consisting of people rich in their heritage, little shops and authentically ethnic restaurants. For example, the best tikka can be found on Devon Ave, dim sum in Chinatown and spanakopitas in Greek Town. And whether I'm walking along Lake Shore Drive or driving into downtown from the various expressways, I am always in awe at the gorgeous skyline.
Best meal you've had recently: I dine out about four to five times a week and would have to say that Stephanie Izard's newest addition to Chicago, Girl and the Goat, happily surprised my taste buds with a unique dish — the crispy pig face. (Yes, it is what it sounds like.)
Favorite big-name restaurant: Being a concierge, I find it hard to narrow it down to just one. For classic Chicago steakhouse dining, Gibsons takes the cake. Portillo's is ideal for anyone looking for an authentic Chicago-style hot dog or Italian beef. Rick Tramonto's internationally renowned restaurant Tru is remarkable to celebrate a special occasion.
Favorite "hidden gem" restaurant: I'll give you just one: Longman & Eagle. Enough said.
Best sports bar to catch the game: The Boundary on Division. TVs everywhere, extensive beer list and delicious (way above-average bar) food.
Your ads will be inserted here by
Easy Ads.
Please go to the plugin admin page to set up your ad code.
A great night out with friends usually includes… getting dressed up for dinner and drinks at a new restaurant…and of course plenty of laughs.
Favorite store or best shopping area: Akira and Akira Footwear on North Avenue in Bucktown. I just bought a killer pair of denim peep toe boots! For any occasion, you can't go wrong with their affordably priced clothes and accessories. The staff is also very pleasant with a great eye for fashion.
The best way to spend a summer Saturday in Chicago: Fall is a time when new theatre productions open in Chicago. If I had a Saturday off from work, I would go to see a matinee performance of either "The Lion King" or "Traces." Following the show, I would eat a relaxing late lunch/early dinner at RL and cap off the evening drinking a seasonally inspired cocktail from The Violet Hour. Finally, I'd rest up for the Bears game on Sunday.
One thing every visitor must do here: Pick up a local map (sometimes cell and GPS signals get blocked) and just start walking. So much is seen while on foot, and you never know what adventure you may find!
While in Chicago, don't bother… stopping in the middle of the sidewalk to take a picture, figure out directions, have a conversation, etc. Please, move to one side or another.
Secret Chicago spot: The West Loop. You will find great boutique shopping at 2 Sisters and dining at Blackbird, Carnivale and the Tasting Room. The bars West End and Market are always a good time for drinking and people watching.
Underrated activity in the city: The after-hours events at the museums such as First Fridays at the Museum of Contemporary Art, Adler After Dark and Frank Lloyd Wright's Robie House After Hours.
Your ads will be inserted here by
Easy Ads.
Please go to the plugin admin page to set up your ad code.