Good Eats at Weber Grill: A lively atmosphere with experts cooking over an open charcoal grill? Sounds like heaven in Chicago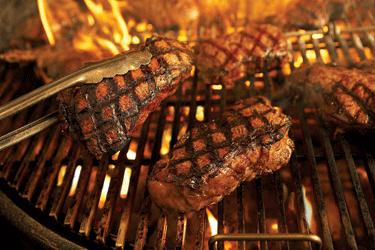 By Trent Modglin
The advice they give you at Weber Grill is to "Leave your tongs at home." In other words, let them do the work over the grill while you relax, soak up the bustling atmosphere and dive into scrumptious food grilled just right without an ounce of your own effort.
It's good advice, by the way, considering it's coming from folks who invented the Weber charcoal kettle grill and own more than 50 years of expertise over an open flame.
The most identifiable aspect of the Weber restaurant experience is that they cook on massive Weber kettle grills, in full view of their customers in an open kitchen, for that one-of-a-kind summer barbecue taste. In fact, 90 percent of Weber's menu has at least one ingredient that has been on the charcoal grills or in the smoker.
"It's quite an attraction, really," says Weber Grill's Wesley Conger of the open kitchen. "They work the grill right there in front of you, and our chefs are the life of the show. They're having a good time back there with the loud sounds and the flames and servers hustling to get the food out. There's always an audience watching, so it keeps us on our toes and creates that fun, lively atmosphere."
Weber's menu is noticeably more diverse than many other steakhouses in Chicago. Start off with appetizers like onion curls, fire-roasted pizzas or grilled vegetable quesadillas before moving on to
a host of salad possibilities and mouth-watering entrees like their award-winning burgers, slow-smoked regional barbecue entrees, parmesan-crusted tilapia, beer-can chicken roasted with garlic and beer with a signature spice rub, or a variety of thick and juicy Black Angus steaks.
Meeting clients or friends to watch the game, unwind or talk business over a cocktail and fire-grilled appetizer? Check out Smoky Joe's bar next door, boasting the same rich, dark wood and comfortable atmosphere you'll find in the restaurant.
"We always have people from out of town who come in just because they smell the grills, or they want to compare our barbecue to what they
have back home," Conger says. "And we're Chicago authentic, using a lot of local products, from the beer and liquor to the meats and ice cream. If you want to see what dining is really about in the city, you have to stop in."
Look for their annual BBQ festival in September, and if you happen to take a liking to one of the sauces or spices during dinner, you can pick up a bottle to try at home.
But until you get back home, to your much smaller grill in the backyard, enjoy kicking back at Weber — with no mosquitoes and your food grilled to perfection by those who now how to do it best.
The downtown Weber Grill is at 539 N. State in the River North neighborhood, and suburban locations exist in Lombard and Schaumburg. Call 312-467-9696 or log on to www.webergrillrestaurant.com.