Down-home Chicago: The search for the city's best comfort food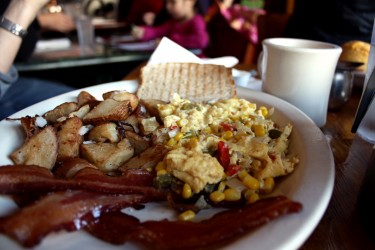 With the city's plethora of restaurant options, you don't have to venture south for good comfort food
By Patricia Hall
I know I'm in the minority here, but my favorite season is, and always will be, fall. I love the clothes, the smell of new school supplies, fresh apple cider, the start of my favorite TV shows…and the list goes on. With fall comes comfort food. There is nothing quite like that feeling when you come home on a crisp, cool day to a kitchen that's been warmed by the oven. You know that dinner is going to make all your troubles go away, even if just for a little while. There is no shortage of restaurants in Chicago that replicate that feeling, and these five are worth a visit. 
PODHALANKA
This Polish restaurant is decorated much like what your grandmother's house may have looked like a couple decades ago. It made sense to me, because after I had the potato and cheese pierogis — which were melt-in-your-mouth perfect — I suspected they had my grandmother hidden in the kitchen doing the cooking. The traditional Polish fare here, like the potato pancakes and the stuffed cabbage, made me remember Sunday dinners from my childhood.
Located in Noble Square at 1549 W. Division. Call 773-486-6655. 
BISTRO ZINC
Now, when you think of comfort food you don't automatically think of French food. But Bistro Zinc will change your mind. The menu is filled with belly-warming foods like roasted chicken, crème fraiche mashed potatoes and baked onion soup. Of course, it helps that they have one of my personal favorites: croque monsieur (grilled ham & cheese). Simple, I know, but it makes me feel warm and fuzzy. Be sure to leave a little room for their sinful chocolate cake, but beware I do not use the word "sinful" lightly.
Located in Gold Coast at 1131 N. State. Call 312-337-1131 or visit www.bistrotzinc.com
SOUTH WATER KITCHEN
Everything on South Water Kitchen's dinner menu looks like the perfect way
to warm up on a crisp autumn day. With entrees like braised lamb shank, pork tenderloin and pan-roasted duck breast, you'll have a hard time making up your mind. I could make a meal out of just some of the side dishes, like baked mac and cheese or roasted fingerling potatoes. The dining room is cozy, decorated with rich colors and warm, dark wood, making it easy to sink into your chair and enjoy their traditional American menu.
Located in the loop at 225 N. Wabash. Call 312-236-9300 or visit www.southwaterkitchen.com. 
STANLEY'S KITCHEN & TAP
I've always had a thing for classic southern food. I could watch chef Paula Deen on the Food Network all day. Stanley's Kitchen & Tap offers just that:
stick-to-your-ribs southern food. Any place that calls their entrées "supper" has me hooked immediately. Just the sound of the word automatically makes me think of comfort food. The Southern fried chicken with mashed potatoes is a must. Or try another one of my personal favorites — Carolina pulled pork. Nothing makes me happier than food covered in barbecue sauce. Stanley's has two locations: 1970 N. Lincoln in Lincoln Park or 324 S. Racine in the West Loop. Visit www.stanleyskitchenandtap.com. 
WISHBONE
Southern-style cooking is, if anything, typically made to make you feel good
down to your toes, and the decorative Wishbone, a staple in the Lakeview and West Loop neighborhoods, has been making throngs of regulars feel good for a long time. Wishbone offers a bit more of a Cajun style, with Jambalaya and blackened catfish on the menu and specials like shrimp & grits or Andouille hash to make you feel like a true Southerner. Wishbone is also the place to go for brunch on the weekends. Located at 1001 W. Washington in the West Loop and 3300 N. Lincoln in the Lakeview neighborhood. Visit www.WishboneChicago.com.