Good Eats at Saigon Sisters: Serving up a "bundle of goodness" in the Chicago French Market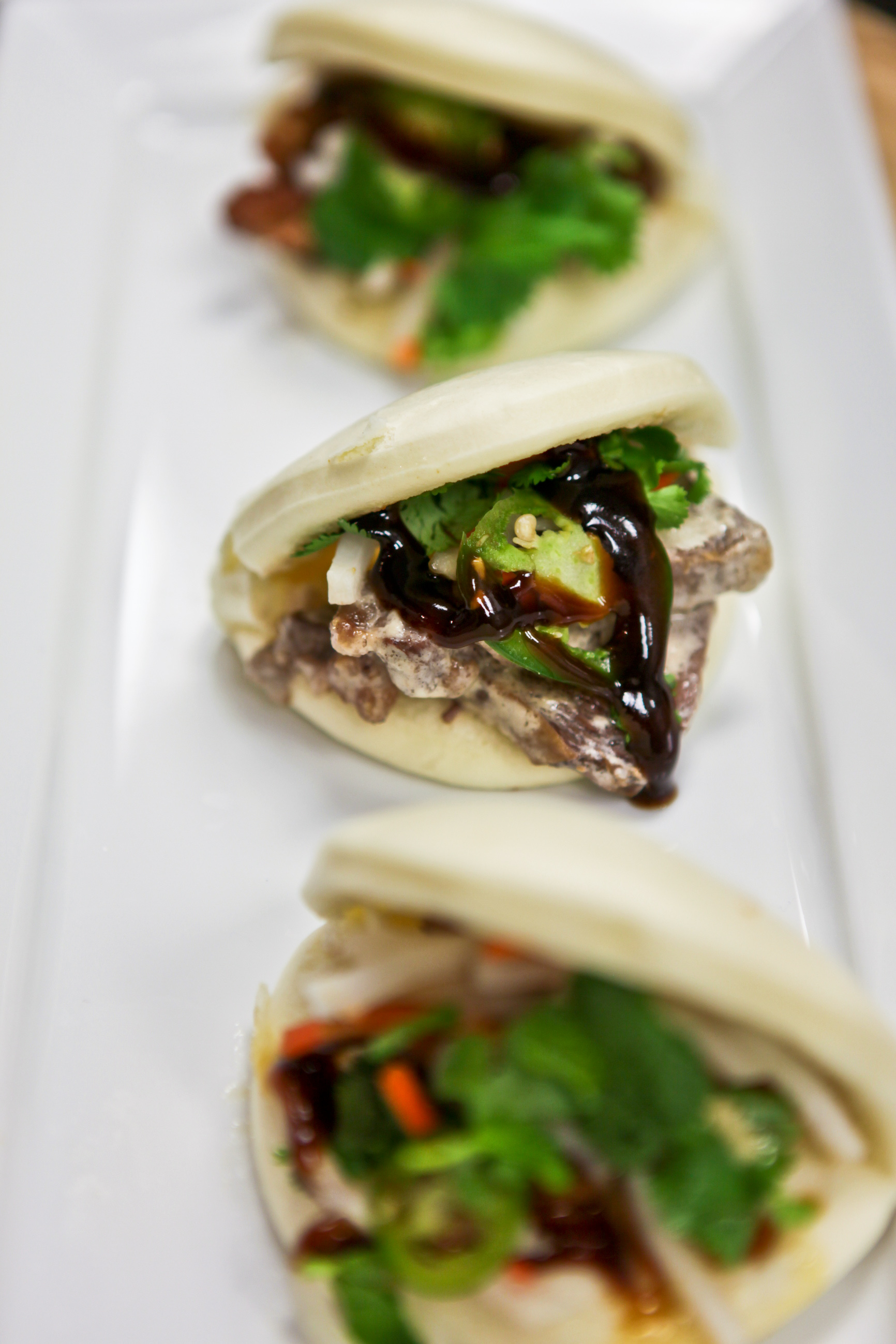 By Jennifer Billock
Saigon Sisters has only been open a few weeks, yet has managed to quickly develop a distinct personality.
The Vietnamese-French fusion restaurant is family-owned and family-taught, according to manager Mary Nguyen Aregoni, who says her mom teaches the chefs the more traditional recipes. But that's not to belie their natural talent — the head chef, Matt, worked at Charlie Trotter's.
Mary's vision is to allow the chefs to branch out to a different type of food but still maintain a controlled and manageable menu.
"They have to use traditional Vietnamese ingredients but can go to town with the meats," says Mary, whose mother and grandmother operated the family business in a bustling Vietnamese market similar to the Chicago French Market, the home of Saigon Sisters here in the city.
That guideline is definitely reflected on the menu. Standard Vietnamese fare like the banh mi sandwiches are supplemented with unique ingredients like braised pork belly (The Porky sandwich), sardines (The Fish Banh mi) and lemongrass teriyaki tofu (The Vegetarian). Saigon Sisters also serves up salad, spring rolls and pho, the Vietnamese noodle soup. The restaurant puts a new spin on the standard bao by serving the steamed bun open-faced, a sort of bao taco stuffed with full chunks of meat and onion.
If the "traditional food with a unique twist" leaves you craving more, you're in luck. Saigon Sisters will soon be switching to a full-service restaurant with an expanded menu starting at 5 p.m. every night.
Saigon Sisters is located right under the El on Lake Street, but you wouldn't know it from inside the restaurant. The sound of the train is muted by the beat of traditional Vietnamese music mixed with indie favorites. A chalkboard wall totes the menu, as is often the trend with newer independent restaurants. Soft gray and blue hues on the wall are complemented by hardwood accents.
The restaurant is the epitome of posh-casual, and in the course of one meal, you can see a businessman with his briefcase, a man clad in a track suit eating chips with chopsticks and an ongoing stream of college students. So if you find yourself craving a multi-cultural experience and needing a respite from the busy city life, head on over to Saigon Sisters for, as they say, "a bundle of goodness."
Saigon Sisters is open Mon.-Fri. 10 a.m.-7:30 p.m. and Saturday 10 a.m.-6 p.m. Located at (131 N. Clinton) in the Chicago French Market at the Ogilvie train station. Call 312-496-0094 or log on to www.SaigonSisters.com for more information.